You know how it goes, you want to make something special for Easter Sunday, but you need a little reassurance that you can pull it off. Fear not, these Lemon Pound Cake Mini Doughnuts are totally within the realm of everyone's culinary skills.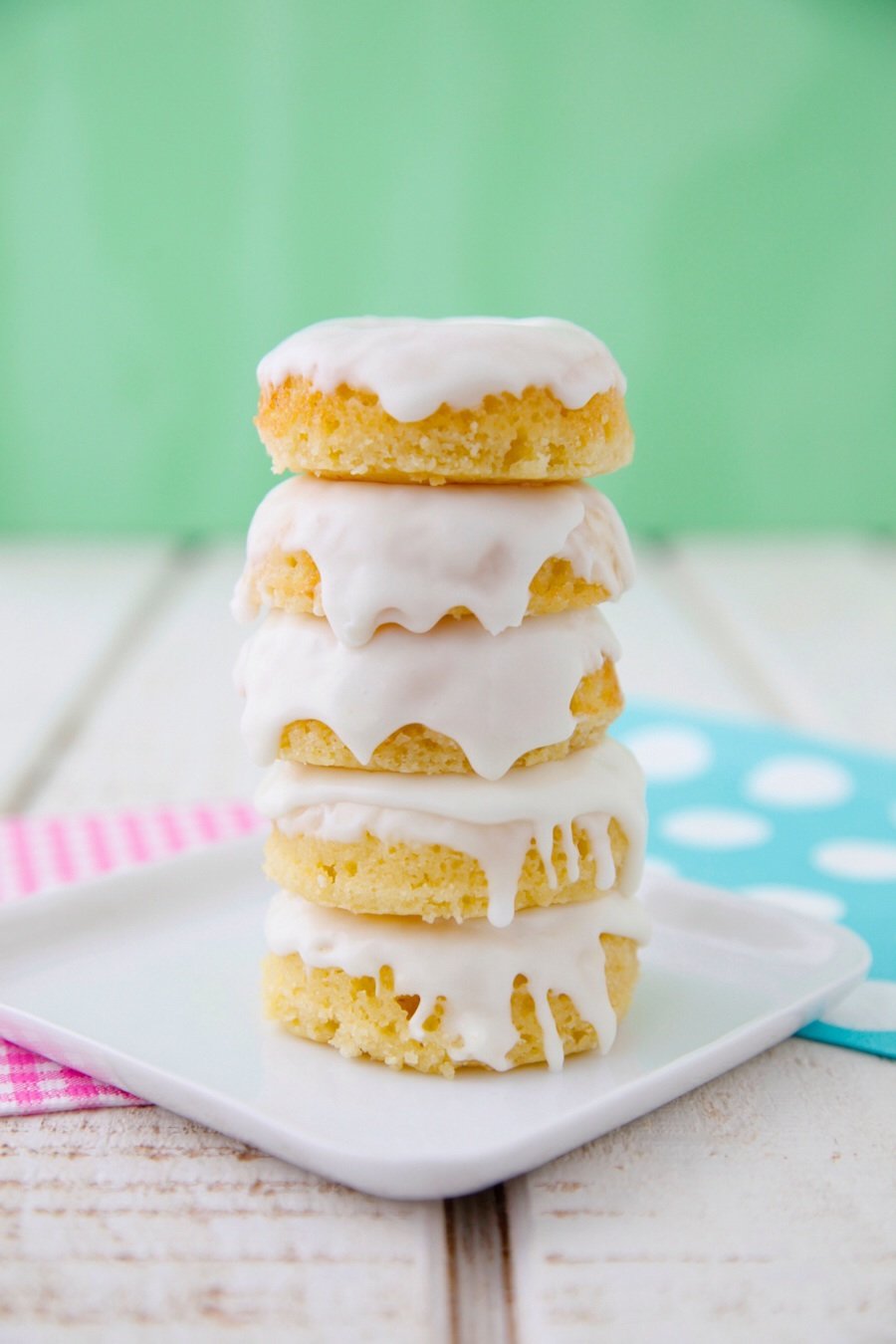 Pin
Easter is upon us and (to me at least) that means a big family brunch with lots of scrumptious treats — especially for the kids! Pound Cake was always a favorite of mine as a child and I've been thinking of ways to put a new twist on it for Easter. When I was recently gifted Kitchen Aid Mini Doughnut pans at a kids cooking event, I couldn't wait to get home and put them to good use for my pound cake experiment.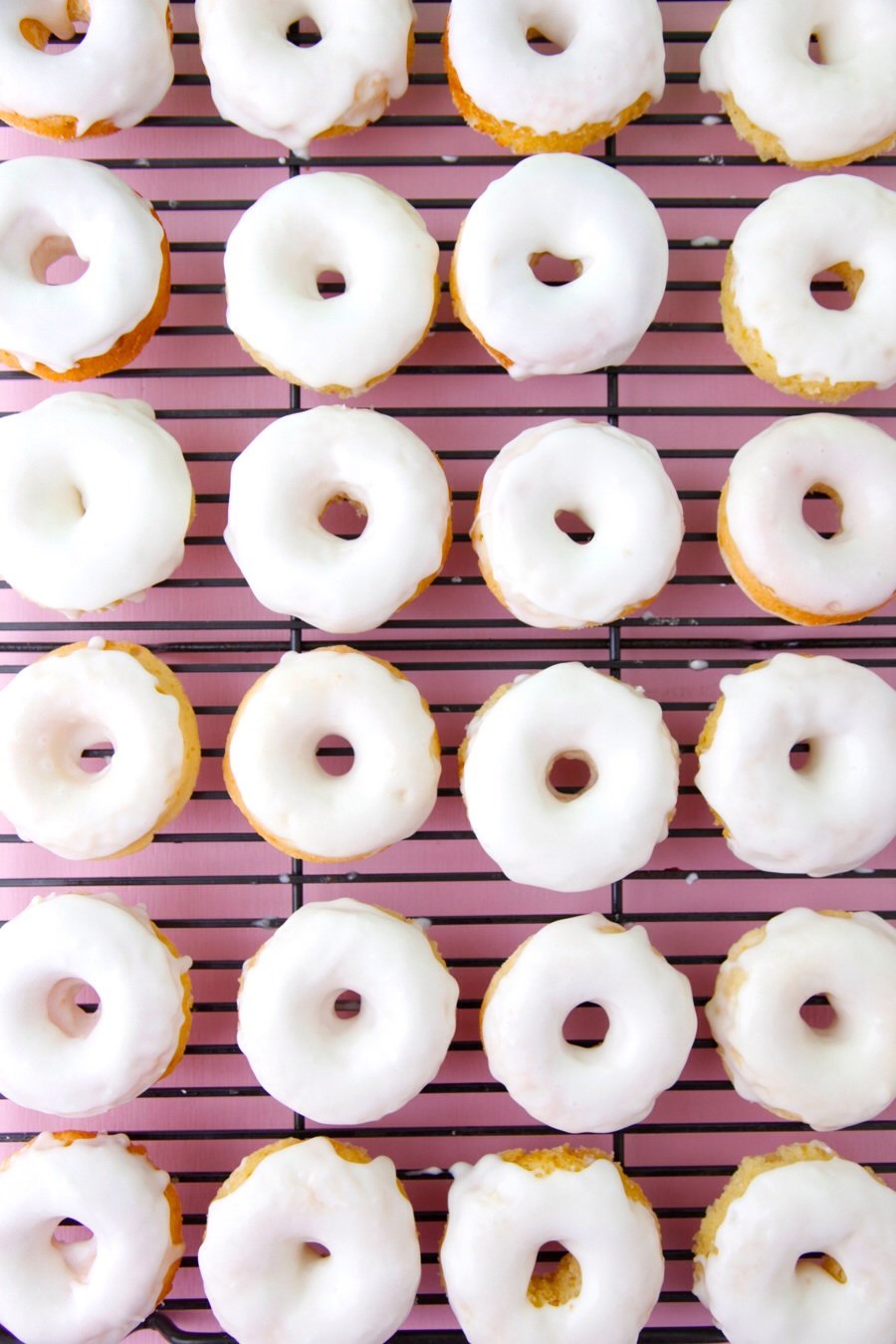 Pin
Baked (not fried!) these Lemon Pound Cake Mini Doughnuts are moist, delicate and lightly sweet. They may be small in size, but each one offers a burst of tart lemon flavor and is topped with a thin coat of icing (the icing part is totally up to you as these doughnuts are fall-off-the-chair good on their own).
It's really as simple as whipping together all of the ingredients for this lemon pound cake and then filling the tins. The best part about the recipe is that it totally works in both mini and regular sized muffin or donut pan.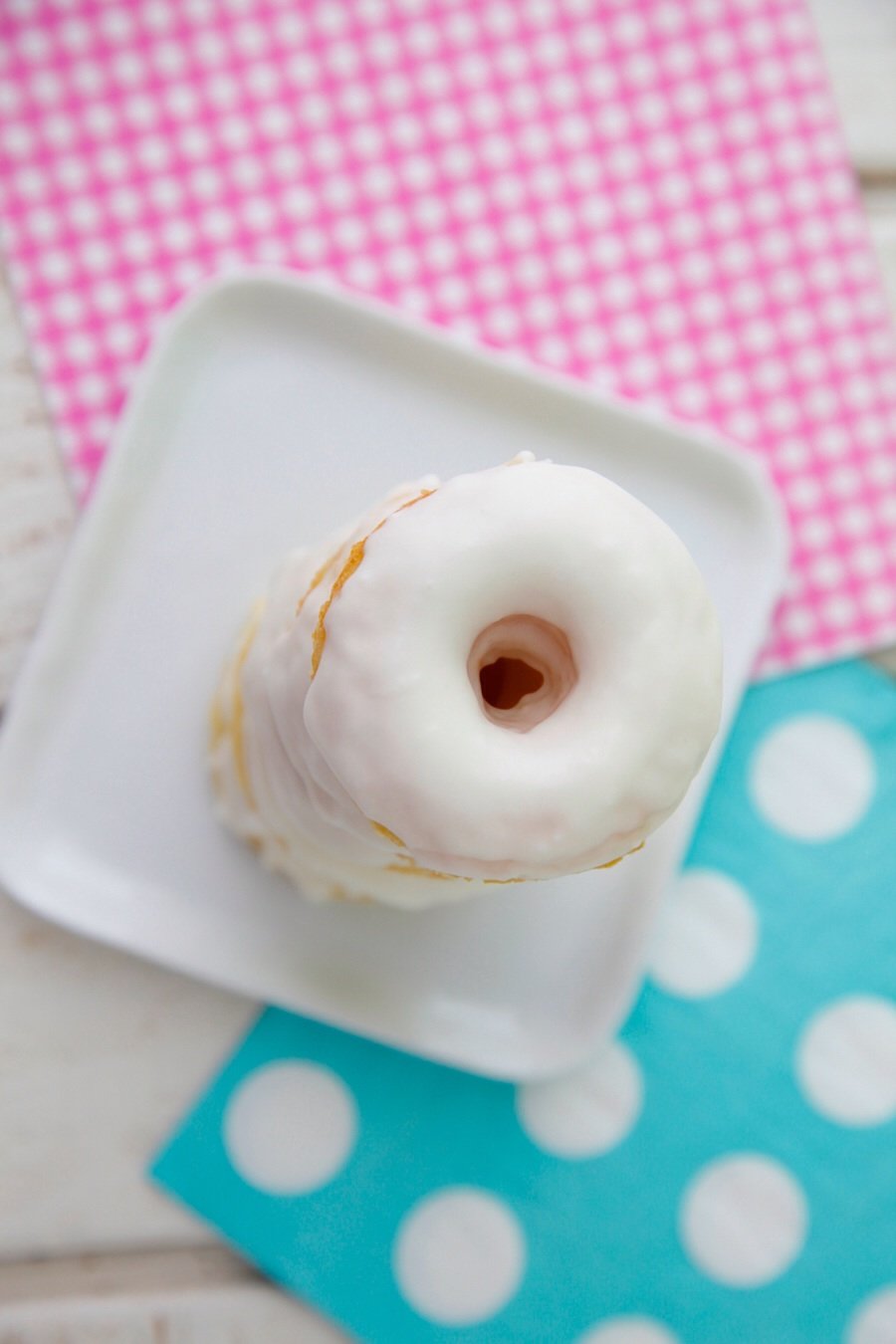 Pin
I've made two batches of these donuts in the past week. One I froze without the icing (to prevent sticking) so I could have a few on hand for whenever we're in the mood for a little treat. The other batch I set aside to pack for school lunch or serve as an after dinner dessert. I made the those with two different types of icings. Adding tart lemon juice to sweet powdered sugar makes for a flavorful clear glaze, while adding milk or cream to powdered sugar (hello decadence) makes for a white and creamy topping. Either way, these donuts are beauteous and a really tasty treat for Easter or any time of year!
Pin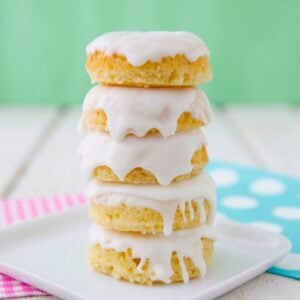 Lemon Pound Cake Mini Doughnuts
Ingredients
1

cup

granulated sugar

1

stick (1/2 cup)

unsalted butter, softened

3

large

eggs

1/2

teaspoon

vanilla extract

1

1/2 cups

all purpose flour

1/2

teaspoon

baking soda

1/4

teaspoon

kosher salt

1/2

cup

sour cream

1/4

cup

lemon juice

1

teaspoon

lemon zest
Lemon Glaze:
1

cup

powdered sugar

1-2

teaspoons

lemon juice, milk OR cream (to make the icing white)
Instructions
Preheat oven to 325 degrees F.

Using a standing mixer or electric mixer, cream the butter and sugar until light and fluffy, about 5 minutes.

Add the eggs one at a time, making sure to incorporate each one.

In a separate bowl, whisk together the flour, baking soda, salt and set aside.

Whisk the vanilla, sour cream, lemon juice and lemon zest in a separate bowl.

Add the flour and sour cream alternately to the egg mixture 1/2 at a time, until combined.

Spoon the batter into greased mini doughnut pans and bake for 18-20 minutes, until a toothpick inserted in the center comes out clean.

Mix together the glaze ingredients until smooth.

Allow the doughnuts to cool completely before glazing.