The Big Game is this weekend! We're not a huge football family, but we do love when there's a fun reason to make all the delicious recipes! Whether you're watching for the game or the commercials or the halftime show, these recipes are perfect for it. Keep scrolling for 23 of my favorite game day recipes!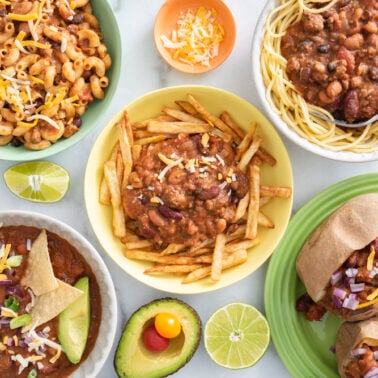 Four Bean Chili – 5 Ways
Serve up this Four Bean Chili on it's own with loads of toppings or as a topping itself on top of spaghetti, baked potatoes or even chili mac and cheese!
Easy Cheeseburger Sliders
This recipe truly couldn't be easier to make and is ready in under 30 minutes! No need to flip 12 separate slider patties either… we make them all at once!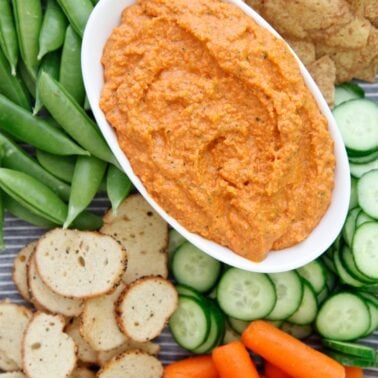 Roasted Red Pepper Almond Dip
Dips are almost mandatory when watching football. This Roasted Red Pepper Almond Dip is full of flavor and great with crackers or veggies.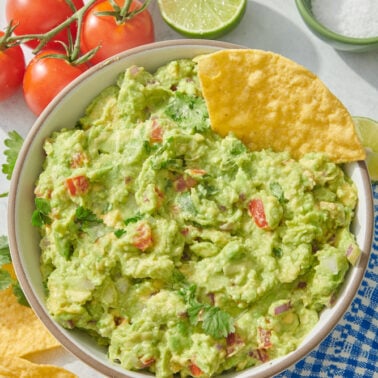 Guacamole
Place a big bowl of fresh, homemade guacamole in front of a crowd of football fans and be dazzled by how quickly it disappears!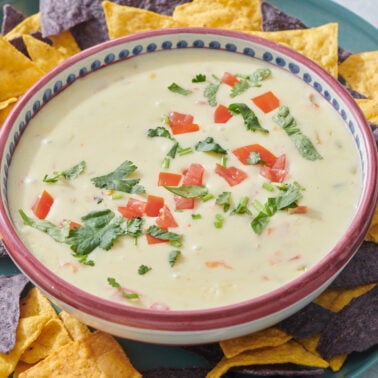 Slow Cooker Queso Blanco
Queso blanco in the slow cooker is the ultimate appetizer and simple to make. It's cheesy, delicious and perfect for taco night, game day or anything in between!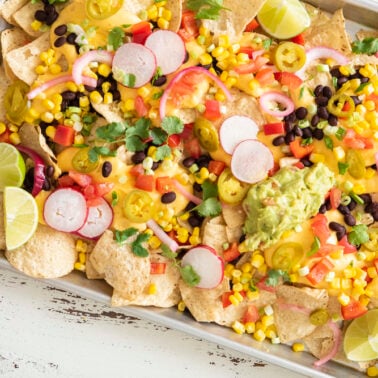 Vegetarian Sheet Pan Nachos
I love making these Vegetarian Sheet Pan Nachos for a large group. They're super simple and you can load tons of toppings on them.
Pull Apart Cheese Bread
This pull apart bread is absolutely irresistible. It's crispy, it's cheesy, it has Everything but the Bagel Seasoning. What's not to love? It's lights out delicious!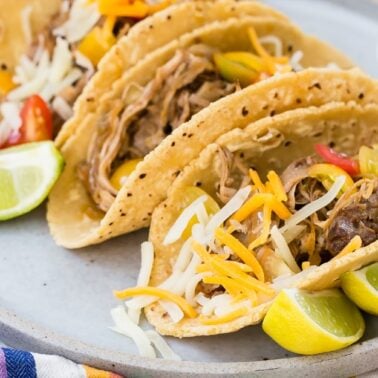 Crock Pot Pulled Pork Tacos
This recipe basically makes itself. Perfect addition to a taco bar for halftime!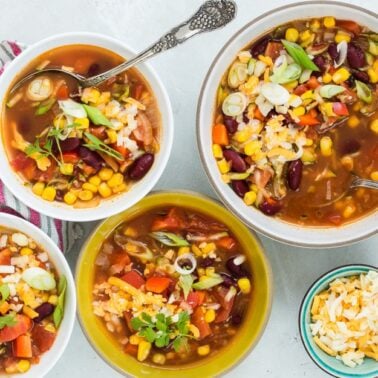 Crock Pot Mexican Corn and Bean Soup
If I can find a reason use my crock pot, I'm absolutely going to. It makes serving a crowd so easy! This Crock Pot Mexican Corn and Bean Soup is perfect for game day.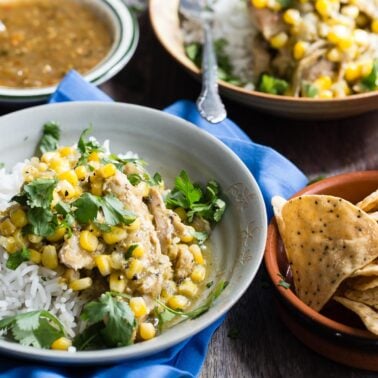 Crock Pot Chicken Chili Verde
Another perfectly simple crock pot recipe. Chicken Chili Verde is great over rice or in a taco shell with lots of toppings.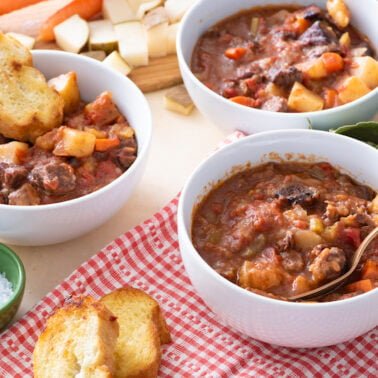 Beef Stew in the Crock Pot
Hearty and delicious Beef Stew in the Crock Pot is 100% one of our favorite recipes. Serve it with some corn bread and enjoy the game!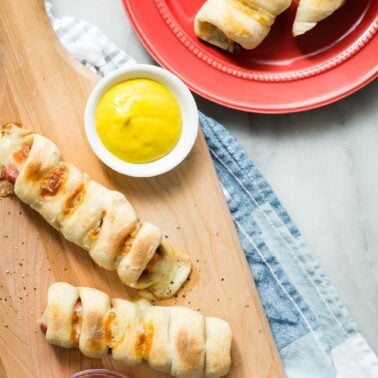 Cheesy Pizza Hot Dogs
Cheesy Pizza Hot Dogs are great for kids and adults alike! They're easy to make and fun to eat!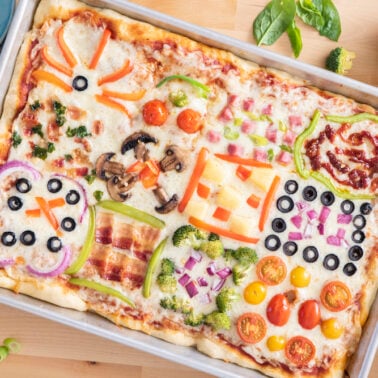 Quilt Pizza
When you can't agree on what type of pizza to order, make this Quilt Pizza instead. Everyone gets exactly what they want!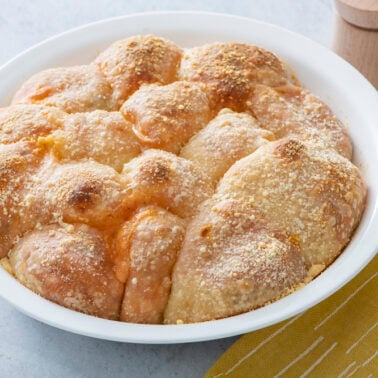 Pizza Balls
We love these perfect pull apart Pizza Balls. Great for a group that wants to snack on something while watching football!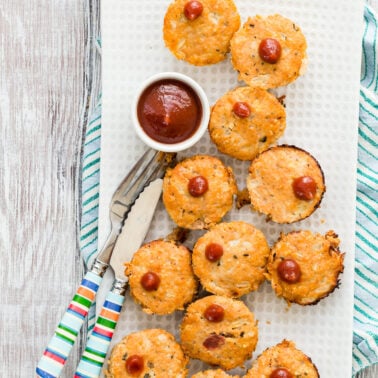 Chicken Parmesan Meatloaf Bites
Bite size food is great for game day! These Chicken Parmesan Meatloaf Bites are so tasty and easy.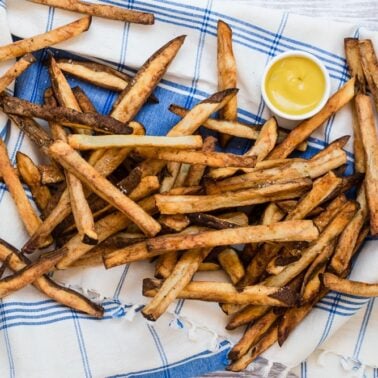 Air Fryer French Fries
Crispy crunchy fries are always welcomed at our tailgates. Make these in your air fryer!
Guacamole Cheddar Burger
A good classic burger on the grill when football is on the TV is almost unbeatable. Topped with guacamole and cheddar cheese! Yum!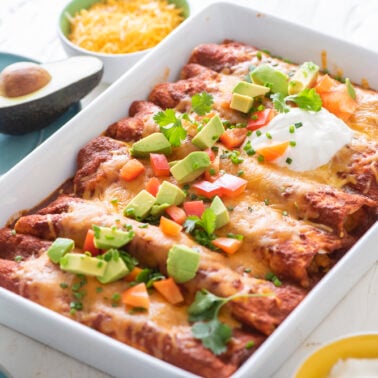 Sweet Potato Black Bean Enchiladas
These vegetarian Sweet Potato Black Bean Enchiladas are a game changer (pun intended). They're jam packed with flavor!
PO-TACOS!
A marriage of a baked potato and a taco… Po-tacos! Set out a ton of toppings with some baked potatoes to dress and you're winning!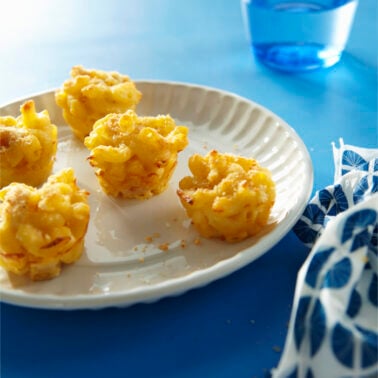 Mac, Chicken and Cheese Bites
Bite sized, cheesy and delicious. Mac, Chicken and Cheese Bites are a staple for us!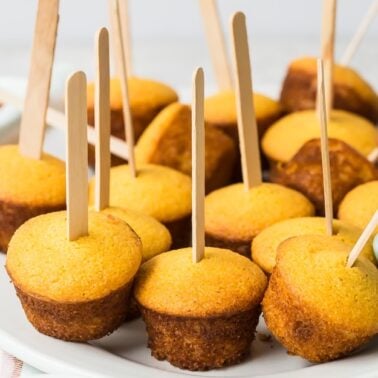 Corn Dog Muffin Bites
My kids adore these little Corn Dog Muffin Bites. They're way easier than a deep fried corn dog, and healthier too!
Microwave Mug Double Chocolate Brownie
Saying Microwave Mug Double Chocolate Brownie is a mouthful. However, it's the most delicious mouthful EVER!
The Best Chocolate Chip Cookies
A little sweet treat goes a long way whether your team is winning or behind!
Let me know what you're making for the Big Game this year!