You have to serve this Quilt Pizza at your next party. Or just try it for your next family dinner. It's a ton of fun to make and the best part is that everyone gets exactly the kind of pizza they want to eat!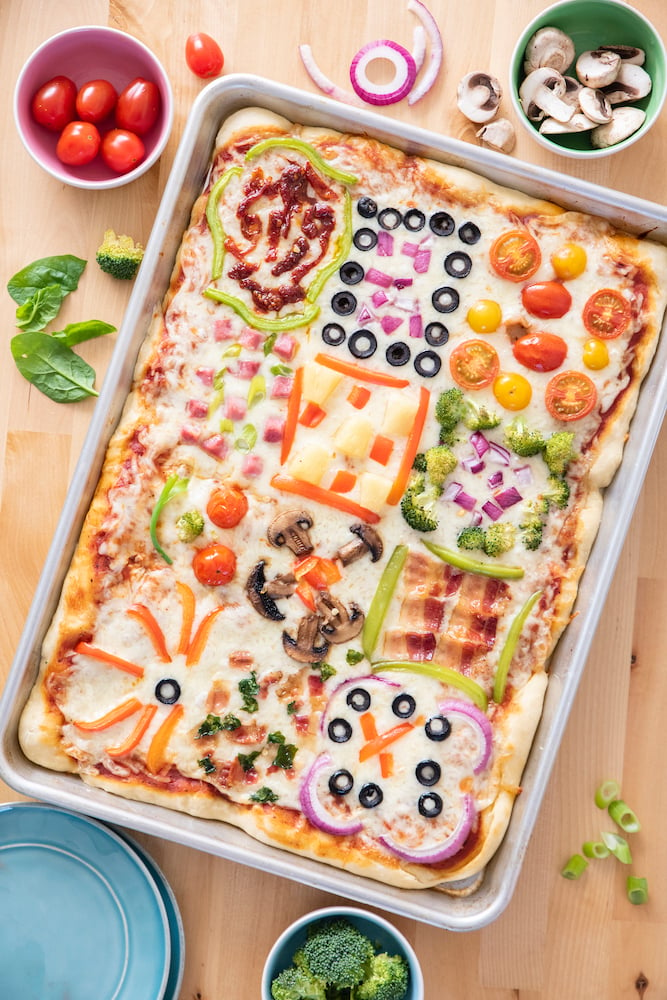 Planning a kid's birthday party always seems like an easy feat 4 months before the big day. Then, before you know it, you're a few weeks out and actually have to come up with those new and fun ideas to keep everyone entertained. It can be daunting to say the least.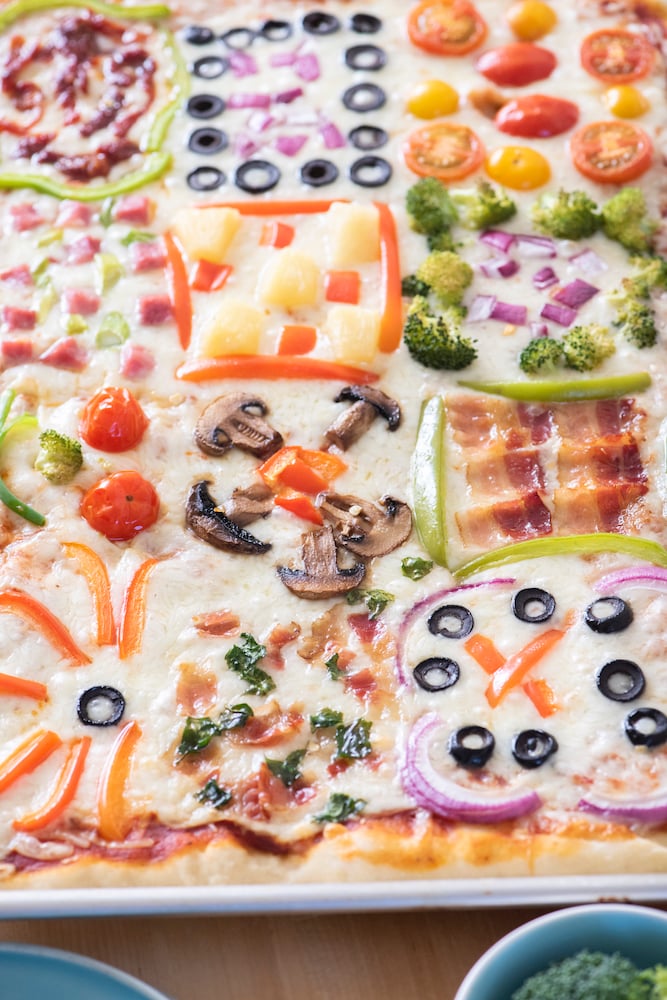 While I'm totally game for ordering a few pizzas and calling it a day, this Quilt Pizza is much more exciting, easy to make and a great way to get all your guests involved. It becomes an activity in and of itself. But, you don't have to have a big party to enjoy this pizza. It easily scales down to accommodate smaller gatherings like slumber parties, get togethers or an intimate family dinner.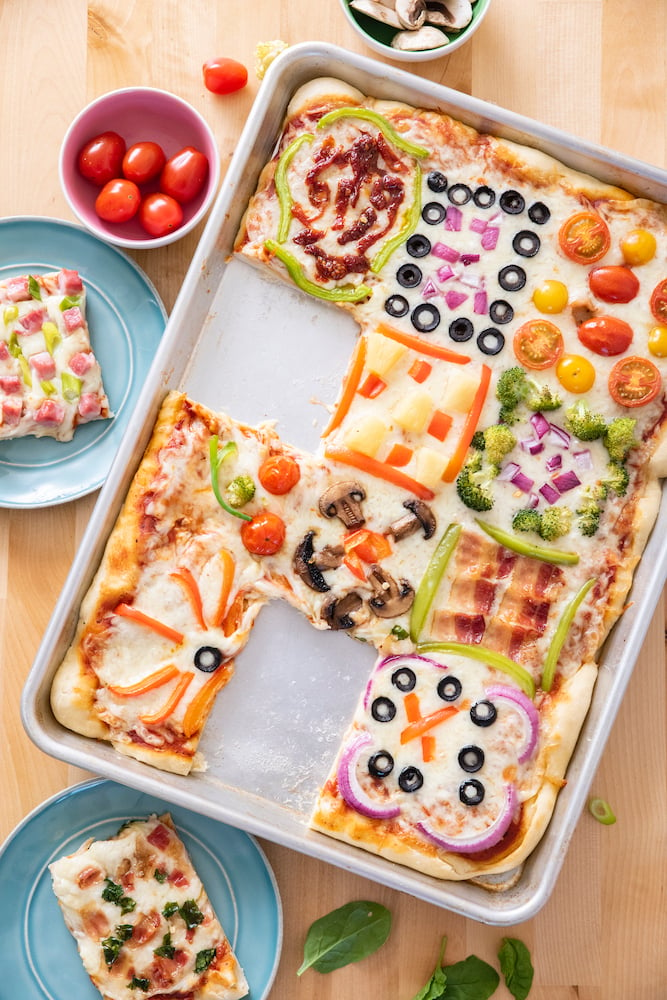 First, get a ton — I mean a TON — of toppings, veggies, meats and even some pineapple if you like, and divide them between separate bowls. Next, buy a few packages of pre-made pizza dough from the grocery store or your local pizzeria and roll and stretch it to fit a sheet pan. Then place everything out on a table, and let the kids go crazy! Each child gets a square to design their own handmade patch of pizza. Once the pies are all baked up and bubbly, you won't believe how excited the kids will be to chow down on their personalized slice!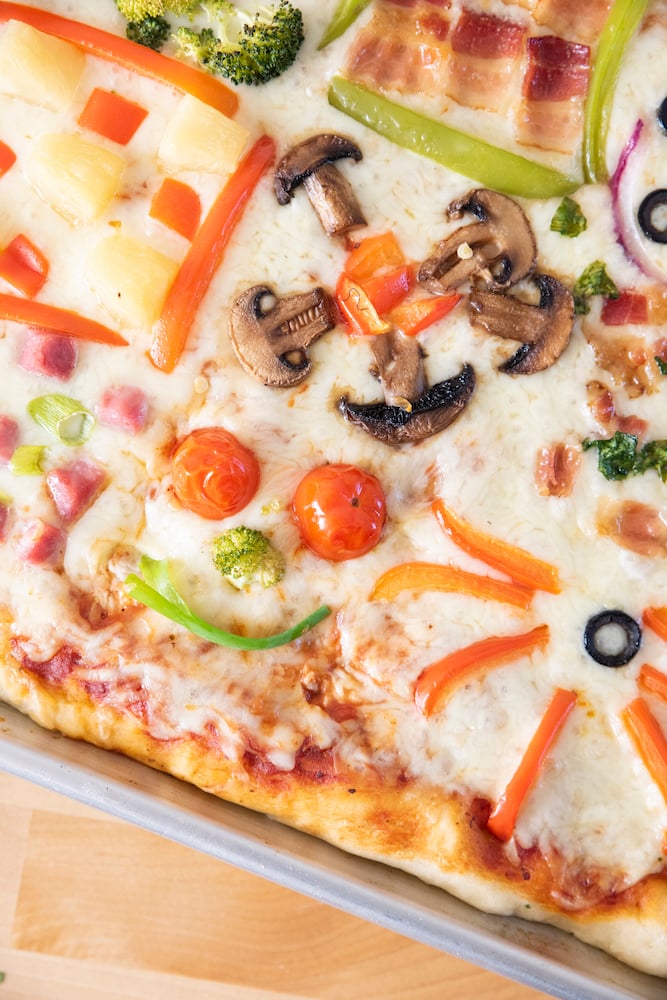 Not that pizza was every boring, but I love finding new ways to make pizza more fun! We trade off making this Quilt Pizza or Pizza Muffins, Pizza Pinwheels, Pizza Balls and this veggie packed, delicious Green Machine Pizza. The kids get super stoked when they hear it's pizza night in our house!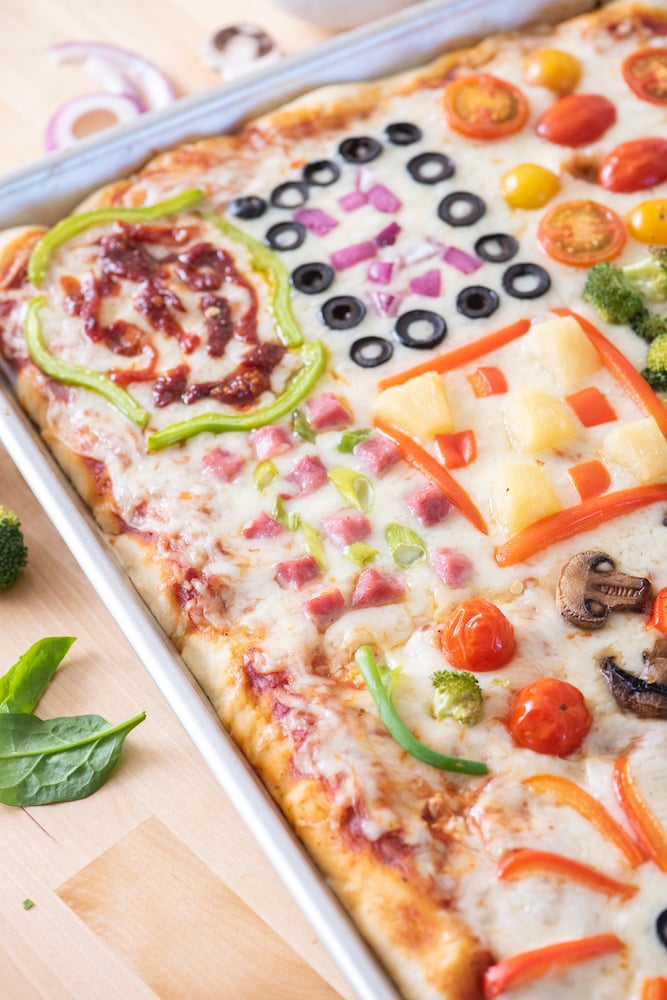 What would you put in your pizza quilt square?
Quilt Pizza
Ingredients
1

pound

pizza dough, at room temperature

1/2

cup

pizza sauce

2

cups

mozzarella cheese, shredded

1

small red onion, thinly sliced

1

cup

broccoli florets, lightly steamed

1/2

cup

pineapple, chopped

1/2

cup

cherry tomatoes, halved

1

bell pepper, sliced

1/4

cup

olives, sliced

1/2

cup

mushrooms, sliced

4

strips

bacon, cooked

1/2

cup

sun-dried tomatoes, sliced

1/2

cup

fresh baby spinach leaves

1/2

cup

green onions chopped

* These are just suggested toppings. Feel free to come up with your own. The possibilities are endless.
Instructions
Lightly grease the backside of a half sheet pan with olive oil and stretch the dough to fit the size of the pan (about 16″ x 11″).

Spread 1/2 cup of sauce on the dough and sprinkle 2 cups of cheese on top.

"Decorate" the pizza using the topping ingredients. Divide into 8-12 squares to create a quilt.

Brush the edges with olive oil and bake for 18-20 minutes or golden.
Video
Nutrition
Calories:
210
kcal
|
Carbohydrates:
31
g
|
Protein:
8
g
|
Fat:
6
g
|
Cholesterol:
5
mg
|
Sodium:
520
mg
|
Fiber:
4
g
|
Sugar:
9
g