Green Machine Pizza is a great way to get your little ones to eat their veggies with delight. If you've never tried pesto and green veggies on your pizza now is the time!
Do your kids ask for pizza as much as mine do? My kids ask for it a lot. In fact, for a while now I've sorta given up on offering them a choice of what restaurant we should go to (unless I have already narrowed the list down to the two I selfishly want to eat at) as their simultaneous answer is almost always, "PIZZA!"
However as much as Kenya, Chloe and Gemma love going to a pizzeria, they actually prefer making pizza at home. It became such a fun Sunday night family activity that I invested in a bamboo pizza peel and pizza stone which turns out a mad crazy crispy crust. The real challenge for me is getting my kids to want toppings other than their usual favorite, cheese.
The first time I made this Green Machine Pizza I was pretty pleased with myself since I figured it was a great way to get the kids to eat their greens while also serving them one of their beloved foods. They are had been thrilled that day knowing that they were getting homemade pizza for lunch, but when they walked into the kitchen they took one look at the first verdant pie I pulled out of the oven, they both shrieked in horror, "it's green!".
I still don't understand why green can be such a taboo food color for kids, but on this particular occasion, after I diffused all the negativity by putting a few zucchinis on my eyes for comic relief, I let them make the next two pizzas with me. As if by magic, the kids were then totally game for eating them.
If you've never tried pesto and green veggies like broccoli, spinach, and zucchini on your pizza, now is your chance. Sure tomato sauce and mozzarella will always reign supreme as the topping king and queen, but you might be surprised every now and then to watch a green machine pizza win the day!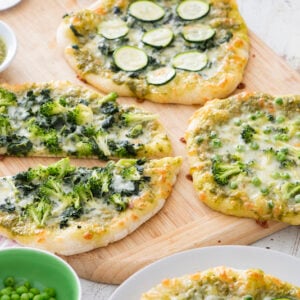 Green Machine Pizza
Ingredients
1

pound

pizza dough (see recipe linked below)

1/2

cup

pesto

1

cup

mozzarella cheese

1

cup

finely chopped broccoli

1

small

zucchini, sliced into thin coins

1

cup

frozen spinach, defrosted and water squeezed out
Instructions
Divide dough into four equal pieces and roll out or form each piece into a pizza disk.

Spread each disk with 2 tablespoons of pesto, sprinkle with 1/4 cup mozzarella cheese, and top with chopped broccoli, zucchini slices, and spinach.

Bake on a pizza stone or baking sheet for 15 minutes, or until crust is golden brown and the cheese is melted.

Tip: If you use a pizza stone, make sure to dust some cornmeal on whatever surface you're preparing the pizza so the pie transfers easily to the stone. If you are cooking on a baking sheet, assemble your pizza pie on the sheet so you don't make a mess when transferring.
Nutrition
Calories:
470
kcal
|
Carbohydrates:
53
g
|
Protein:
20
g
|
Fat:
20
g
|
Cholesterol:
20
mg
|
Sodium:
890
mg
|
Fiber:
8
g
|
Sugar:
1
g