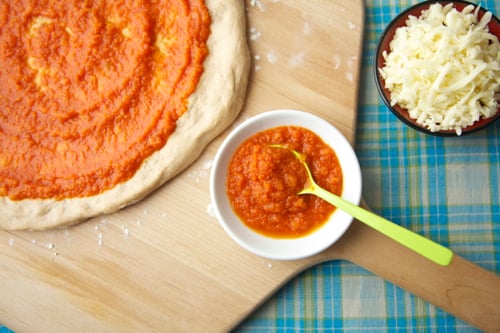 Pin
I don't sneak vegetables in my kids' food.
One of the reasons you won't find any vegetables masqueraded in my meatloaf or disguised in the dinners I make is because I'm too lazy to go to the trouble to cook, puree and find ways to surreptitiously incorporate them into recipes. But most importantly, I want my kids knowing that vegetables ROCK and will help their little bodies grow everyday. You can read more about my thoughts on all this (and strategies to help make your kids great eaters) in my new book, but trust me, if you simply make good stuff for your children and tell them repeatedly enough that they're going to get bigger, stronger and smarter from that handful of bell peppers or broccoli, I bet that sooner or later they'll take it to heart and dig in! I watch Chloe do this everyday as she eats her veggies while acting out making big muscles, trying to surpass her big brother. I know first hand it's not easy, but the work and persistence pays off.
If you're the parent of a picky or challenging eater, this Veggie Heavy Pizza Sauce is for you. It's basically a variety of cooked and pureed vegetables, but it tastes just like the sauce you get in your favorite pizzeria. While it is right at home on top of a crisp pizza dough, it's also perfect on pasta, rice or even quinoa. I find it so versatile in fact, that I usually make a double batch and freeze what I don't need so I can easily reheat it for dinner next week. Or next month.
So don't sneak! Tell your kids that not only is this is the most tangy, tasty sauce ever, it also happens to be entirely made from veggies! (O.K., tomatoes are actually a fruit, but that's a matter for another time.) Knowledge is power my friends, and I say that it also happens to be delicious!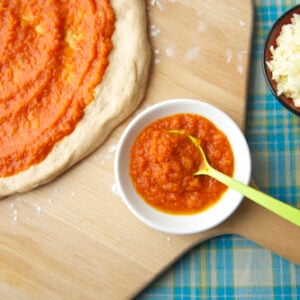 Veggie Heavy Pizza Sauce
Ingredients
1

tablespoon

olive oil

1

red, orange or yellow bell pepper, diced

1

medium

carrot

1

stalk

celery

1

small onion, diced

2

cloves garlic, minced

1

1/2 teaspoons

kosher salt

2

tablespoons

tomato paste

2

28-ounce

cans diced tomatoes, drained
Instructions
Heat the oil in a saucepan over medium heat. Add the bell peppers, carrots, celery, onions, garlic and salt. Saute until veggies are soft, about 5 minutes. Add the tomato paste and cook for 1 more minute, stirring constantly.

Add the tomatoes, reduce heat to low, and simmer for 10 minutes.

Remove from heat, puree with an immersion hand blender (or in a regular blender) until almost smooth.

Return sauce to the heat and simmer until thick, 10-20 minutes. The longer you simmer this sauce the thicker and more flavorful it will become. You can simmer up to 2 hours.
Nutrition
Calories:
190
kcal
|
Carbohydrates:
38
g
|
Protein:
8
g
|
Fat:
4
g
|
Sodium:
580
mg
|
Fiber:
9
g
|
Sugar:
3
g