It's back to school for our family which also means making super quick recipes with as few ingredients as possible. These Cheesy Pizza Hot Dogs have proven to be just that!
If you're like me it's about keeping a few base ingredients in your fridge and then coming up with filling dinner ideas that I can pull off fast. Last week I did a video on Facebook Live all about 'make-ahead meals' that are fast, but also packed with flavor. We made pesto, turkey pesto meatballs and crispy chicken nuggets from the Weelicious cookbook. By making these 3 recipes and cooking up quinoa, rice or pasta I have dinner for 3 nights plus some which I was able to freeze. When it comes to dinner I feel like it's all about strategy! Keep a few foods in your fridge that you know everyone will eat and then intertwining them together to make fun recipes.
I've had Halloween on my brain the past week and was thinking about Freaky Franks and Mummy Dogs (both made with hot dogs). If your family likes pizza and hot dogs (duh, who doesn't?!) then you need to make these Cheesy Pizza Hot Dogs STAT! They're made with pizza dough that turns out crusty and golden on the outside, soft and tender on the inside. The best part, though, is the surprise you get when you bite inside. Not only do you find a beefy hot dog, but also gooey cheese in every single bite. You can make them with vegetarian, turkey or beef dogs, so you can please everyone.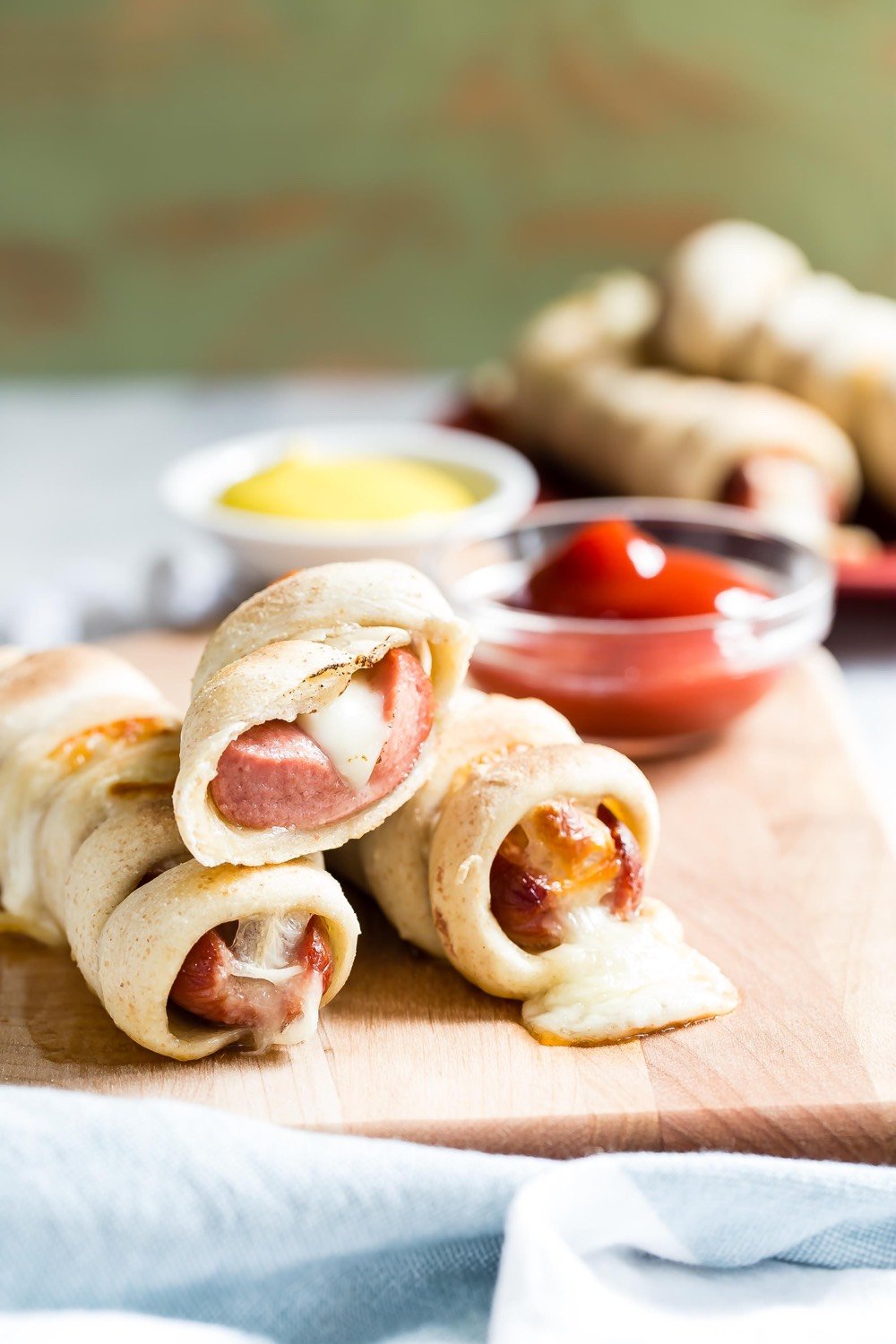 Watch the Cheesy Pizza Hot Dogs video for all of my little tips and tricks as there are plenty in this one! If you make them I would love to see! Just share it on Instagram and tag @Weelicious so I can see how you made them your own!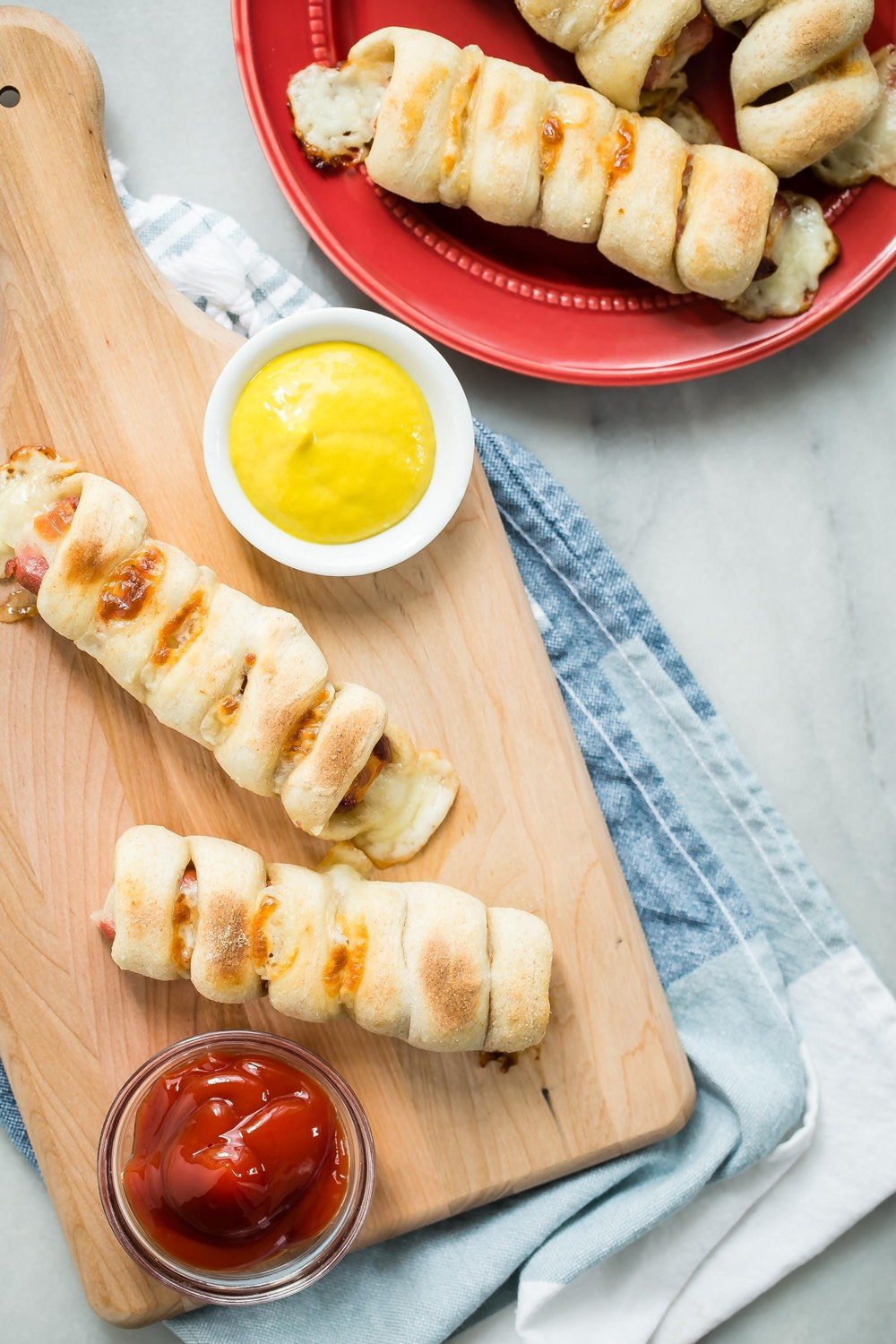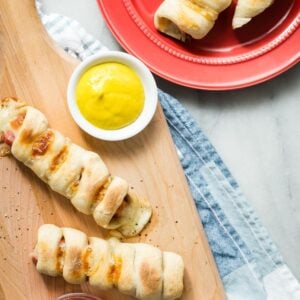 Cheesy Pizza Hot Dogs
If your family likes pizza and hot dogs (duh, who doesn't?!) then you need to make these Cheesy Pizza Hot Dogs STAT!
Ingredients
1

pound

pizza dough, at room temperature

6

beef, turkey, or vegetarian hot dogs

3

pieces

string cheese

marinara, ketchup or mustard for dipping
Instructions
Divide the dough into 6 equal sized pieces.

Roll each piece of dough into a long, thin rope about 4 times the length of the hot dog.

Slice each piece of string cheese in half lengthwise. Slice each hot dog in half lengthwise, but make sure to not cut all the way through. Place 1 piece of cheese in between each sliced hot dog.

Starting at one end of the hot dog, wind the pizza dough around the hot dog from one end to the other.

Place the wrapped hot dogs on a greased baking sheet and bake for 15-18 minutes, until the dough is golden brown.
Video