This Asparagus Ribbon Salad is the summer recipe of my dreams, and I am so excited to share it with you! The different textures and array of flavors in this salad make it a delightful surprise that will have everyone asking you how they can make it too. The good news is, it's actually fairly simple. Not to mention, fun!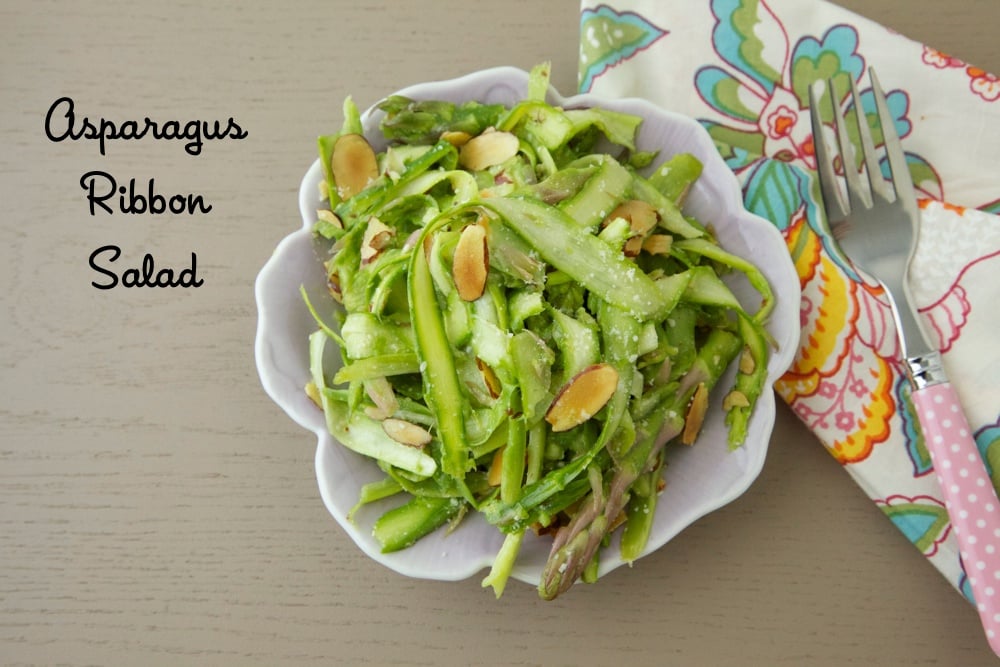 Pin
I'm obsessed with kitchen equipment. Always have been. I admire and respect the tools in my kitchen as a carpenter, gardener or mechanic does theirs'. I feel so passionate about my kitchen toys in fact, on occasion I've written about some of them for the Food Network's Product Puree.
The right kitchen tool can make all the difference in the way your food looks, tastes and feels with it's feather like pieces in every bite. This Asparagus Ribbon Salad is a perfect example.
Spring is here and emerald stalks of asparagus can be found all over our local farmers' market. Suffice to say, I've been cooking with them non stop. One of my favorite ways to prepare asparagus is to grill the spears with tons of lemon like this, but I also love them sautéed with sugar snap peas or even in a gorgeous quiche (this one is perfect for Mother's Day, just sayin').
But back to the salad. I spent last week using one of my most favorite inexpensive kitchen gadgets, this impressive OXO peeler, to create it. The peeler glides over the asparagus, transforming them into delicate ribbons of loveliness. I even enlisted my kids for the preparation, letting them adorn the salad with dressing, a light sprinkling of almonds, and grated parmesan. Together we created something simple yet enticing for our whole family. I have a strong feeling that you're family will feel the same way too!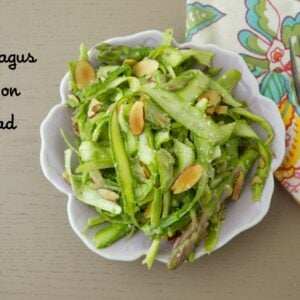 Asparagus Ribbon Salad
Ingredients
1

pound

asparagus

1/4

cup

sliced almonds, toasted

2

tablespoons

grated parmesan cheese

1

tablespoon

olive oil

2

teaspoons

lemon juice

1/4

teaspoon

kosher salt
Instructions
Place the asparagus flat on a cutting board, and using a vegetable peeler, shave the asparagus into thin ribbons. Hold down the asparagus with your hand on the woody end and start shaving about 1 inch from the bottom to avoid the fibrous section.

Place the shaved asparagus in a bowl and top with the almonds and parmesan cheese.

In a small bowl, whisk to combine the olive oil, lemon juice and salt. Drizzle on top of the asparagus and toss to thoroughly combine all the ingredients.