Avocado Honey Dip has recently become a new snack staple in our household. Simple, scrumptious and healthy, this dip is sure to become a favorite in your house as well.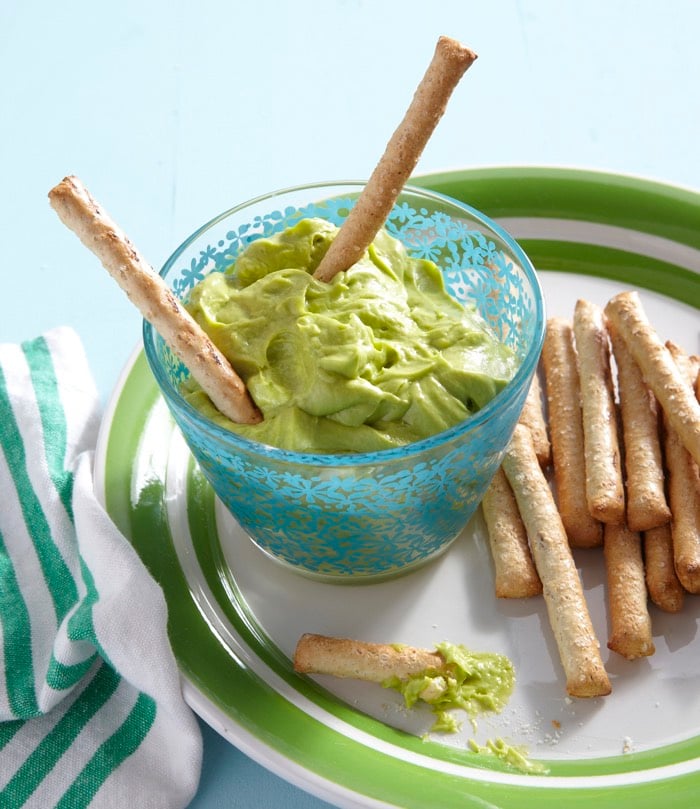 Pin
As many of you know, we're big on dips in our house. I find that if you put out a big platter of veggies next to a yummy dip for plunging into, the variety of vegetables you can get into kids' little bodies increases by….well, a lot! Case in point was the day that I made this Avocado Honey Dip. Chloe had just woken up from her nap and was sitting with me at the kitchen counter while I was concocting this creamy spread. She asked if she could try some, so I made her a little plate with baby carrots, sugar snap peas and pretzels. Chloe dipped a few times and then, in the time that it took me to turn around to grab something and turn back, she had her little arm wrapped around the mixing bowl and the spatula I had used to stir it in her mouth. Eventually I surrendered and let her finish it all.
Making this dip is so easy, you'll be happy to whip it up whenever your little ones (or you!) have a craving for it. All you need is an avocado, peeled and pitted, whipped cream cheese, honey and lemon juice. Place all of the ingredients in a bowl and mash together. Then dip and enjoy!
There's nothing worse than sending your child to school with a lunch box packed full of fresh veggies only to have them come back home exactly the way you sent them- uneaten. My advice? Add some of this dip and see if it adds to your kid's fun of wanting to munch and crunch on the good stuff that goes with it!
Photo by Maren Caruso
Avocado Honey Dip
Ingredients
1

avocado, peeled and pitted

1/4

Cup

whipped cream cheese

1

Tbsp

lemon juice

1

Tbsp

honey
Instructions
Place all of the ingredients in a bowl and mash together.

Serve with cut up veggies, crackers, pretzels or even as a spread on toast.
Nutrition
Calories:
130
kcal
|
Carbohydrates:
9
g
|
Protein:
2
g
|
Fat:
10
g
|
Cholesterol:
15
mg
|
Sodium:
40
mg
|
Fiber:
3
g
|
Sugar:
5
g