Carrot Snack Stick are a homemade treat that gets a vegetable in every bite and will replace the store bought stacks you rely on.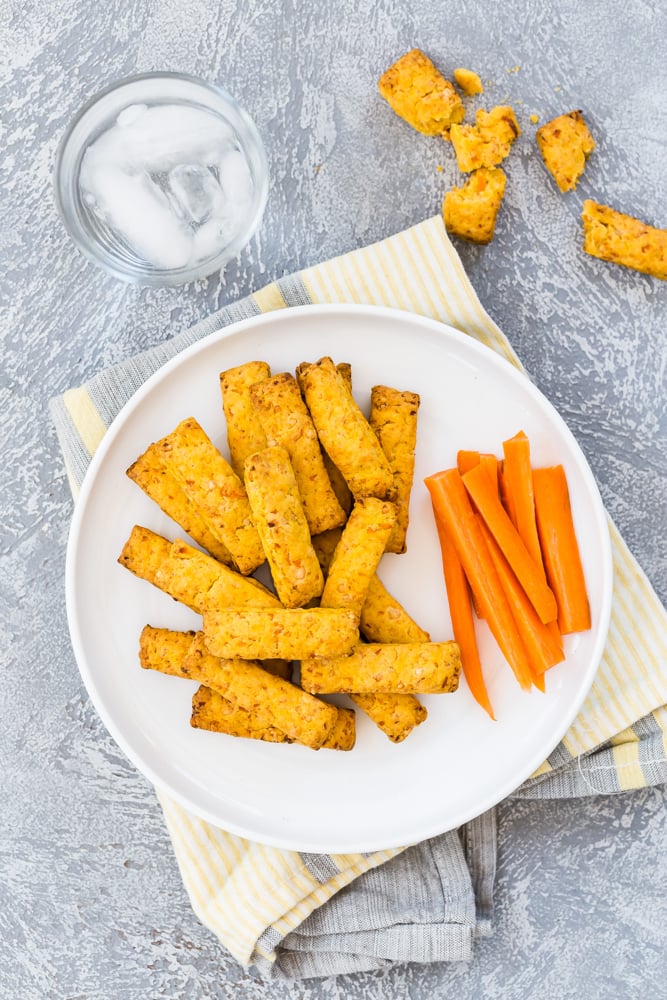 I never leave my kitchen. I'm constantly in there testing new recipes and trying to come up with fun and delicious ideas I think kids AND parents will both love. The kitchen is also where our family congregates, so the only time I'm not in that room is when I'm sleeping! I don't mind though. I like to think I spend all my time in the kitchen so you don't have to!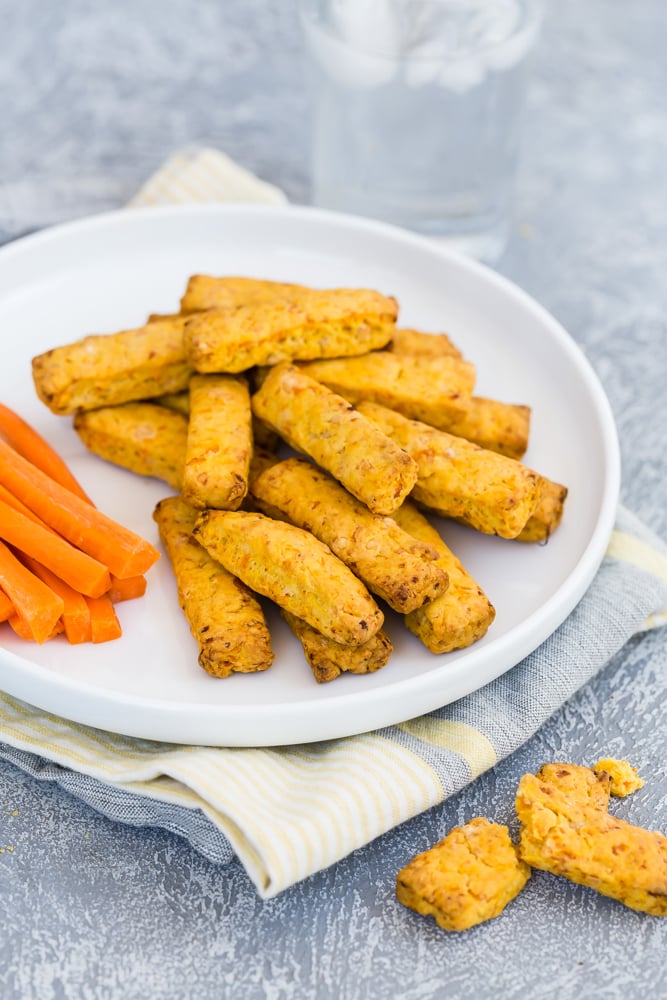 Coming up with recipes that will appeal to the whole family is not always easy — especially when it comes to adding vegetables, because kids can be very particular about which vegetables they'll eat (so can adults, for that matter). You can't please all the people all the time, but carrots are one vegetable I find most people enjoy. That's good news since carrots are not only delicious, but they're also a powerhouse of nutrition, containing a high concentration of beta carotene (a substance that converts to Vitamin A in the body) and are a good source of dietary fiber, Vitamins C and K.
I've made these Carrot Snack Sticks for our family and friends several times and they tend to go missing as soon as they come out of the oven. They're crunchy like a cracker and have a rich, sweet flavor. Even people who turn their noses up at veggies will ask for seconds of this yummy snack treat — and you'll barely spend any time in the kitchen making them!
The real trick to these Carrot Snack Sticks is your patience. It's the perfect recipe for getting kids involved cooking and having fun together at the same time. Measure out the ingredients and have little hands mix everything up over and over with their little hands in a big bowl. It's like a culinary art project. By mixing everything up over and over it helps the small amount of oil to be absorbed into the carrots and flour mixture creating the perfect crumb once baked.
What are some of your families favorite snack recipes? Tell me in the comments below.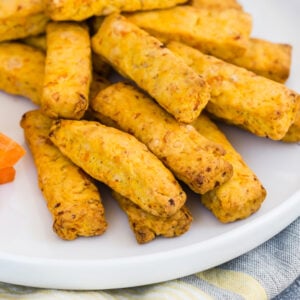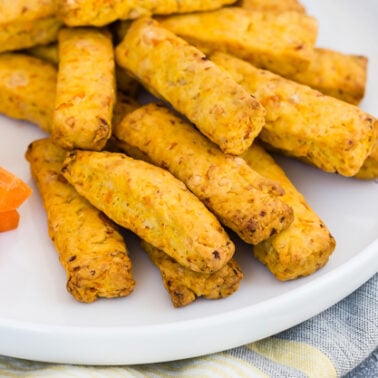 Carrot Snack Sticks
Ingredients
1

cup

all purpose flour

2

tablespoons

parmesan cheese, grated

1/2

teaspoon

baking powder

1/2

teaspoon

kosher salt

1/2

cup

carrot, finely shredded

2

tablespoons (3-4 tbsp if using regular shredded carrots)

vegetable or canola oil
Instructions
Preheat oven to 400 degrees.

Combine the first four ingredients and stir to combine.

Using your hands, add the carrots to the flour mixture coating the carrot pieces with flour.

Add the oil and work with your hands to bring the dough together.

(You really have to be patient with working this dough together so that the flour absorbs the oil. If you are concerned that it is not coming together, just add 1 extra teaspoon of oil to the dough and work it with your hands forming a ball until it comes together.)

Form the carrot parmesan dough into a flat rectangular disk and allow to rest for 1-2 minutes then roll out 1/2 inch thick on parchment paper or a dry clean surface.

Using a sharp knife, cut the dough into sticks, 2 inches long by 1/4 inch wide.

Bake on a Silpat or parchment lined cookie sheet for 15-17 minutes.

To Freeze: After step 6, place onto a baking sheet and freeze for 30 minutes. Remove and place in a ziploc bag, label and freeze. When ready, follow steps 7, adding an additional 2-3 minutes baking time.
Nutrition
Calories:
25
kcal
|
Carbohydrates:
3
g
|
Protein:
1
g
|
Fat:
1
g
|
Sodium:
55
mg