If you're trying to get your picky eater to eat their vegetables, then you need to try these Veggie Bunnies. After all, who's notorious for eating all of the vegetables in your garden patch? I would bet it's a bunch of Veggie Bunnies!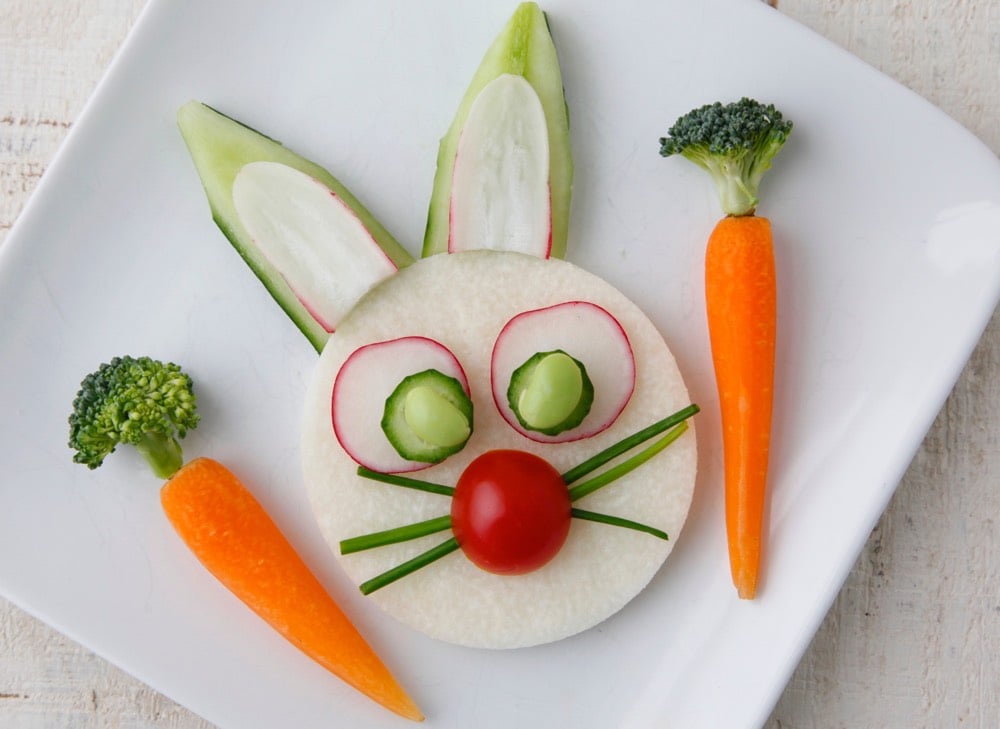 Pin
One of the most common questions I get asked is "How do I get my child to eat more vegetables?" I'd say these bunnies are a pretty good start to entice your little ones to take a nibble from this adorable creation. Another tip I tell people is to get your kids involved in the cooking process with you. If you prep the veggies before, having your little ones assemble them can be such a fun and rewarding activity for them to do. And for you too!
Now what if I told you that your family and child's school could take part in Bolthouse Farms UnBake Sale and join the 100 School Pledge making tons of these fun fruit and vegetable inspired recipes like this one that your kids will want to eat? We want the foods we feed our kids to taste and feel good in their bodies, but we also want them to be fun and these Veggie Bunnies are not only tasty with their edamame eyes, cucumber ears, jicama faces and tons of Bolthouse Farms carrots all around, but they will be as good as gone in minutes!
Pin
For more information on how to host your own school UnBake Sale go here and if you're pressed for time and need something quick instead of making snack items, consider selling Bolthouse Farms Kids Fruit Tubes at your UnBake Sale table! Round it all out with some crunchy Veggie Snackers, too. If you need more inspiration for how to make Veggie Bunnies you can watch the video above for a bunch of quick tips! #sponsored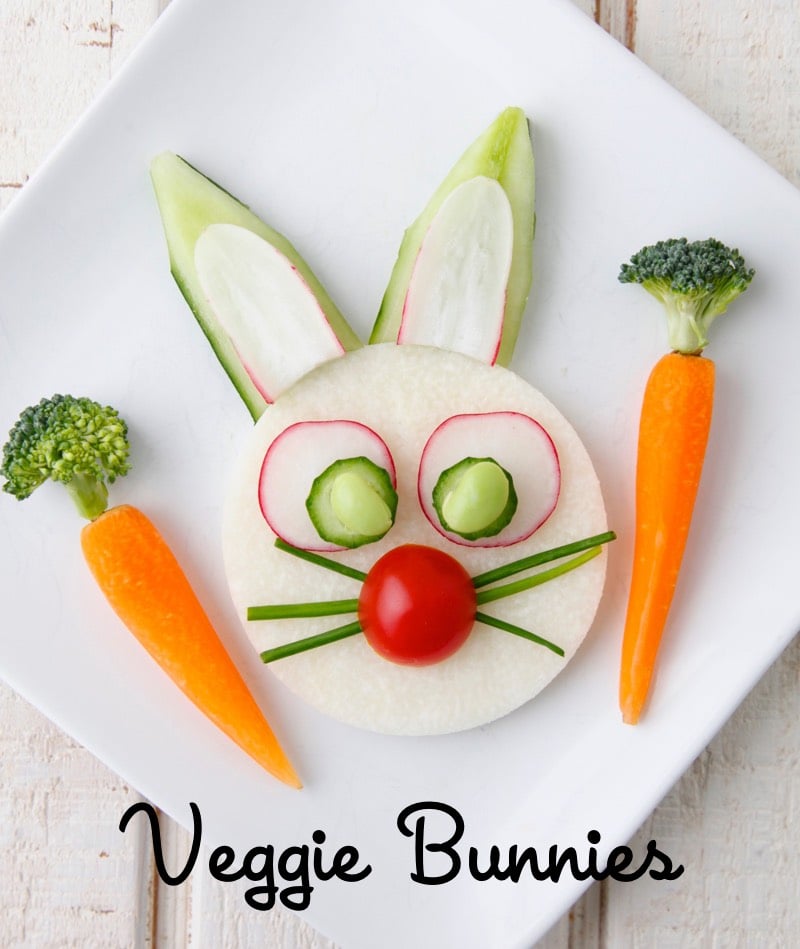 Pin
This post is sponsored by Bolthouse Farms. All opinions expressed are my own.
Veggie Bunnies
Ingredients
1

jicama, peeled and sliced into 1/2" circles

2

tablespoons

whipped light cream cheese

12

chives

2

cherry tomatoes, halved

1

persian cucumbers

8

edamame

2

breakfast radishes, tops removed and sliced lengthwise

2

red radishes, cut into coins

8

broccoli florets

8

small

Bolthouse Farms carrots, peeled
Instructions
Place a jicama circle on a plate.

Place the whipped cream in a ziplock bag and cut a small piece off the corner to create a piping bag.

Slice one half of the persian cucumber into coins and the other half slice on the bias.

Place 2 of the lengthwise cucumber slices at the top of the jicama to create ears. Squeeze a dollop of cream cheese onto the cucumbers and top with 2 slices of the breakfast radish.

Squeeze 2 small dots of cream cheese near the top of the jicama circle and press a radish circle onto each one to form eyes. Using the cream cheese as a "glue", press a cucumber coin and an edamame onto each radish eye.

Squeeze a small dot of cream cheese onto the center of the jicama circle and place 3 chives on top of the cream cheese, spreading them out to form whiskers. Place a cherry tomato half on top of the chives to create a nose.

Place 2 carrots next to the Veggie Bunny and place the broccoli florets at the top of the carrots.