These Green Veggie Pancakes are the best way to use an abundance of vegetables. They're super easy to prepare and are a perfect vegetarian recipe!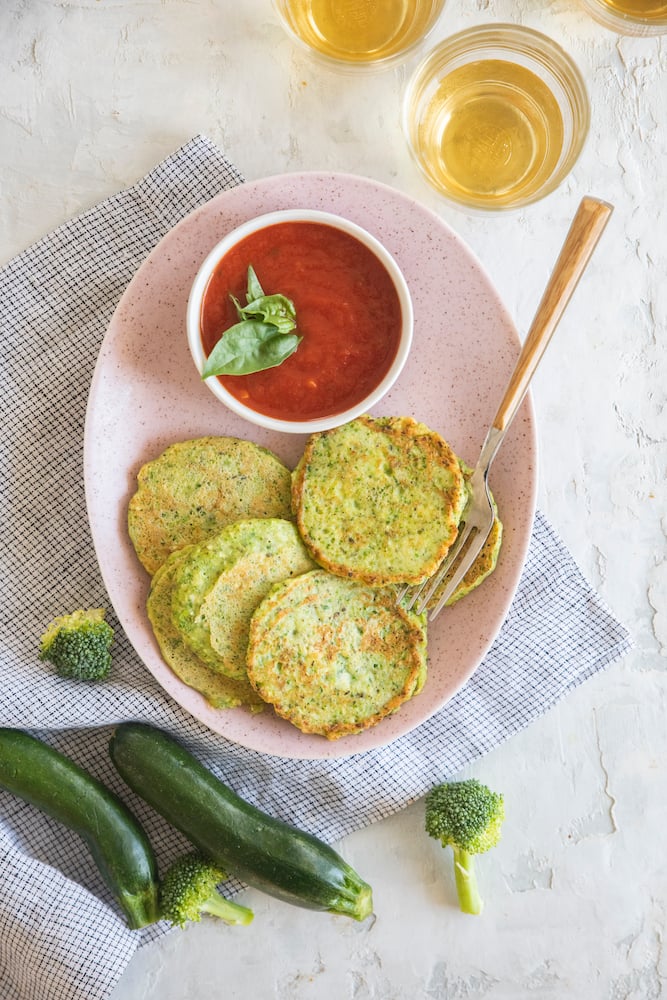 Especially after having Gemma life has gotten a bit easier since we started using One Potato three days a week. That still leaves me with 4 nights a week to cook since my kids don't really ever want to go out to eat these days. There's something about staying home after a long busy day that just feels good to all of us.
Since we buy all of our produce at our local farmers market, without fail I end up getting overly excited about the abundance of fresh food and buy too many vegetables.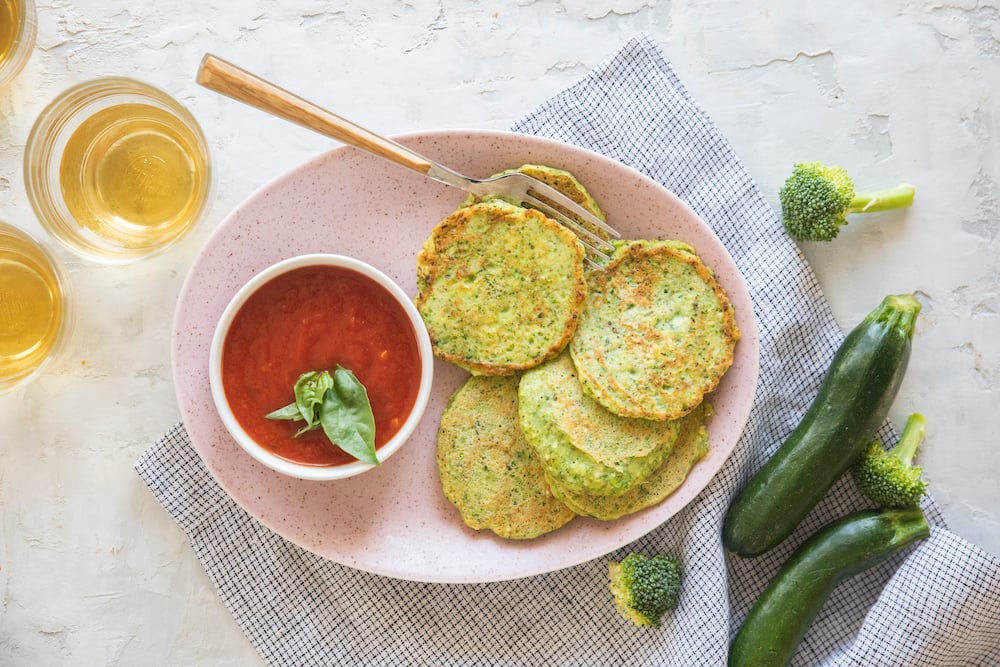 These Green Veggie Pancakes are the best use of a variety of vegetables that I've ever made. You can use broccoli, cauliflower or zucchini in these, but I have also tried grated Brussels sprouts and squash which work too. They're unbelievably easy to prepare, only take minutes to whip up and a perfect vegetarian recipe for kids like Kenya or for newer eaters who want to hold them in their hands. They freeze beautifully too, so you can have a bunch at arms reach on busy nights.
When you've got two kids running around the kitchen and you're trying to focus on too many things at once, mistakes happen (I guess welcome to motherhood, right?). The other night, I had tossed zucchini, broccoli and cauliflower into the food processor to make Crock Pot Lasagna and accidentally left it running while I ran to answer the phone. The next thing I knew, the veggies that were supposed to be roughly chopped were now chopped so fine that they wouldn't work in the dish. Argh. As you know, nothing bugs me more than wasting food, so I stashed the overworked veggies in the fridge and chopped up a new batch for the lasagna. The next day those finely chopped veggies were staring me in the face when I opened the fridge and I swear I heard them say, "well?"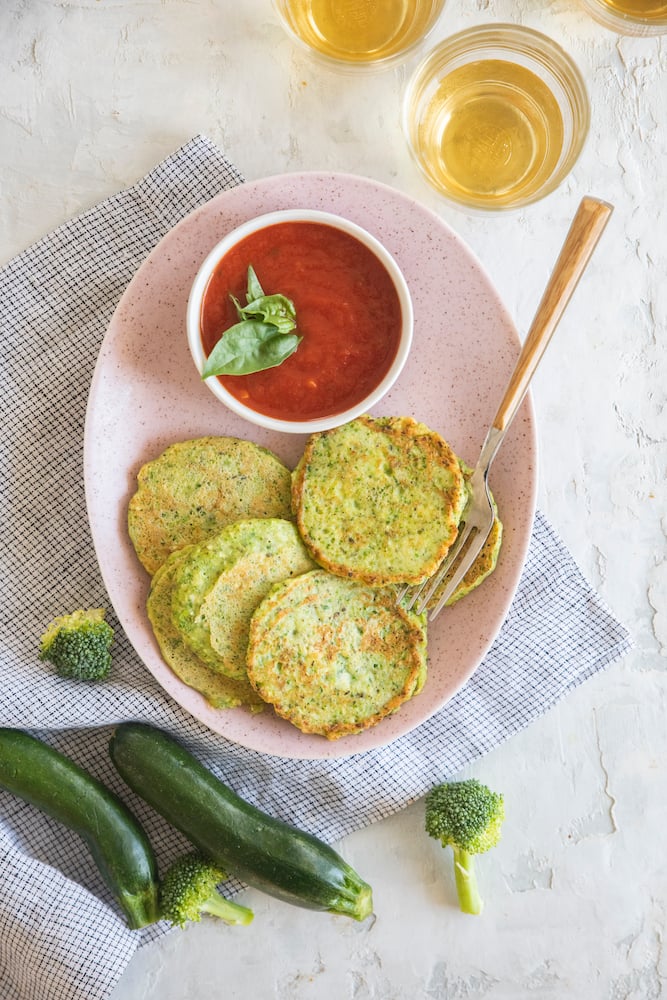 Whenever you have leftover vegetables (or flat out botch a recipe like I did), the addition of an egg, flour and some herbs can turn a mistake into one of the most delicious and happiest of accidents. Case in point are these Green Veggie Pancakes. They work great as a side dish or even on their own for lunch or a snack. Add any one of a variety of dips or sauces and things get even more fun. They are easy to make, fun to eat and perfect for the whole family….whether you intend to make them or not!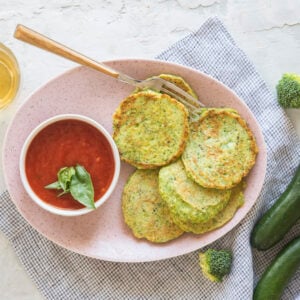 Green Veggie Pancakes
Instructions
Place the vegetables in a food processor and pulse to chop fine.

Add the chopped vegetables into a bowl along with the flour, salt, egg, basil and garlic powder. Mix to combine.

Heat oil in a skillet over medium heat and place 1 tbsp of the batter into the pan for each pancake.

Cook for 1-2 minutes on each side.

Serve with marinara sauce or dip of your choice.
Video
Nutrition
Calories:
51
kcal
|
Carbohydrates:
7
g
|
Protein:
3
g
|
Fat:
1
g
|
Saturated Fat:
0.4
g
|
Polyunsaturated Fat:
0.3
g
|
Monounsaturated Fat:
0.4
g
|
Trans Fat:
0.01
g
|
Cholesterol:
41
mg
|
Sodium:
309
mg
|
Potassium:
113
mg
|
Fiber:
1
g
|
Sugar:
1
g
|
Vitamin A:
123
IU
|
Vitamin C:
6
mg
|
Calcium:
18
mg
|
Iron:
1
mg