A Chocolate Chip Cookie Cake is the sweetest and most delicious gift you can give on Valentine's Day or really any time of year!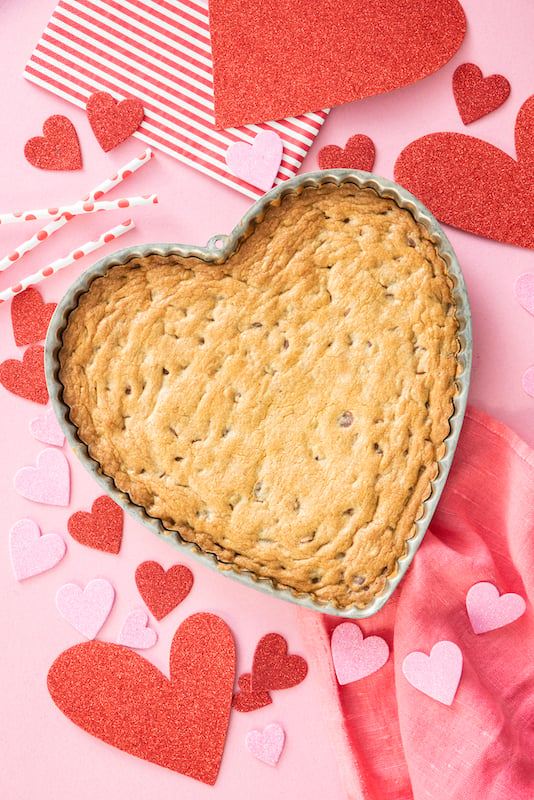 This cake should make everyone very happy, and it works extremely well if you have one of those kids who generally avoids cakes covered in tons of frosting (believe it or not they exist more than you might think). It's a really simple and special alternative to traditional cake for a Valentine's or birthday celebration, especially if you don't consider yourself much of a baker — the recipe couldn't be easier.
Just make the batter, pour it into your favorite tart mold or pie pan (like the heart one pictured here) and bake. You'll be left with a really impressive birthday creation that I guarantee won't be around long!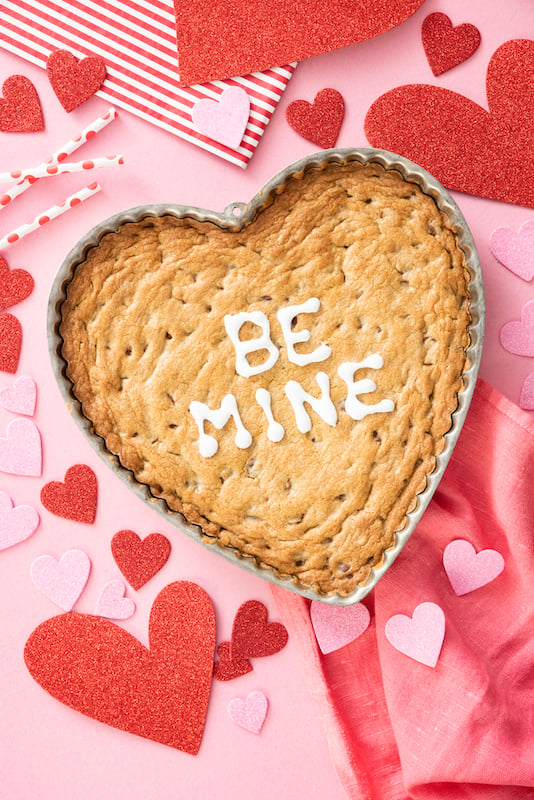 I've been making this heart shaped cookie cake for my kid's school Valentine's Day parties, but this year I made it for Chloe's birthday and it was a huge hit! For as long as I can remember prior to having children, I dreamt about what kind of birthday cakes I would make when I finally had little ones of my own.
When I was a kid, my birthday cake of choice wasn't exactly a cake, but rather a Chocolate Chip Cookie Cake, which is kind of more of cookie than cake (it's the size, I guess, that qualifies it as a cake). We used to buy them from Mrs. Field's decorated to the nines, our names written on top in creamy white icing.
Over the years on Chloe's birthday I've made her Carrot Pineapple Cupcakes, Tres Leches Cake, and her favorite, Dark Chocolate Cupcakes, but this year I made her this giant, heart-shaped Chocolate Chip Cookie Cake.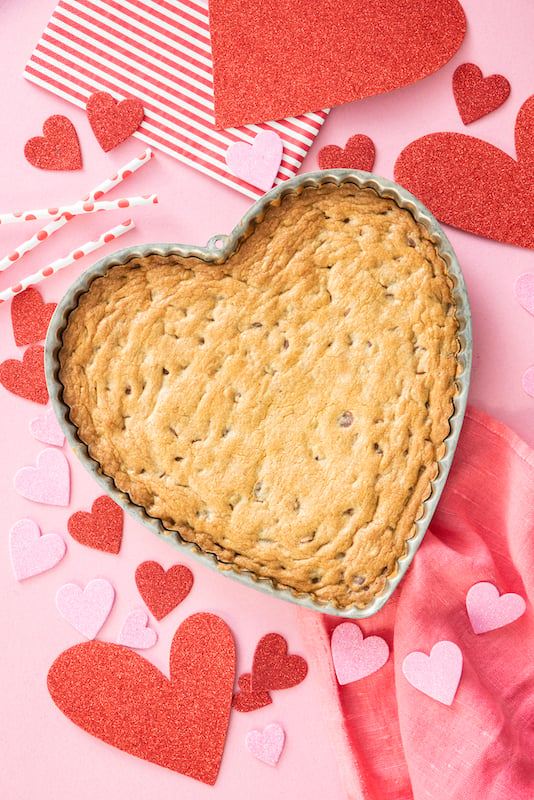 Somewhere between a cookie and a brownie, this cake is filled with gooey chocolate chips and a buttery moist crumb. It's truly off-the-charts good. We turned Chloe's birthday into an weekend-long affair, so I actually ended up baking two of these cakes for us to have on different days. The first one we cut into pizza wedges before serving everyone. The second cake had a somewhat less dignified (but far more fun) fate_ all the kids grabbed at it ecstatically, pulling away big chunks of cake before I could cut it up.
What heart shaped goodies are you making for Valentine's Day this year? Let me know in the comments!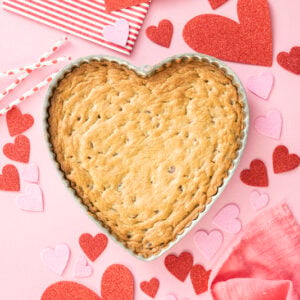 Chocolate Chip Cookie Cake
Ingredients
1/2

cup

unsalted butter, softened

1/2

cup

packed brown sugar

1/4

cup

granulated sugar

1

large

eggs, whisked

2

teaspoons

vanilla extract

1

cup

all purpose flour

1/2

teaspoon

baking soda

1/4

teaspoon

kosher salt

1

cup

semi-sweet chocolate chips
Instructions
Cream the butter and sugar in a standing mixer (or in a bowl using a hand mixer) for 4-5 minutes until light and fluffy.

Add the egg and vanilla extract and mix for 1 minute.

Combine the flour, baking soda and salt in a bowl and slowly incorporate into the butter and egg mixture.

Mix until combined then pour in the chocolate chips and stir.

Press the dough into a greased heat shaped pie pan.

Bake for 20 minutes, or until golden brown.
Nutrition
Calories:
280
kcal
|
Carbohydrates:
37
g
|
Protein:
3
g
|
Fat:
15
g
|
Cholesterol:
45
mg
|
Sodium:
135
mg
|
Fiber:
2
g
|
Sugar:
26
g