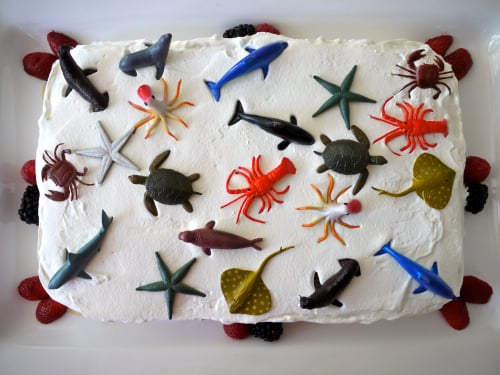 Kenya was intent on me making a Tres Leche Cake for his birthday party at school this year. I'm not sure where the idea came from as it's been years since I last made one. Had he heard it at school? From a friend? Or maybe I had mentioned the name to him in passing recently and he simply liked the sound of it. No matter what his reason, this was the dessert Kenya had his heart set on and like any mom wanting to make their child's birthday perfect, I was determined to make him the best Tres Leche Cake ever. I spent weeks thinking about the recipe but the pressure got the better of me_ would what I made be as delicious as the cake he was dreaming of? Would my recipe be a total flop at my son's 5th birthday party? These questions kept me awake at night. I had strapped my crazy pants on tight and couldn't get them off.
Cut to me receiving a package two days before Kenya's party. Inside was a signed copy of the utterly charming and uber-talented Ree Drummond's new book, The Pioneer Woman Cooks_ Food From My Frontier. There's very little besides a new pair of shoes that I like more than a cookbook, so getting one from the person I have had a massive girl crush on since the day I discovered her awesome The Pioneer Woman website was like having my birthday and Christmas fall on the same day. Ree's books take the pleasure of reading a cookbook to a whole new level and you feel like she has written it just for you. Her step by recipe recipe pictures are food porn at it's finest and the stories she weaves throughout truly make me laugh till it hurts. However, nothing made me happier than seeing that's Ree's new book had a divine recipe for…Tres Leche Cake.
I will never forget the smile on Kenya's face when I arrived at school carrying that cake. It wasn't until he finally saw it that I knew I had made exactly what he had envisioned. Kenya had picked out a variety of little toy sea animals for me to place atop his cake so that each of his classmates would get one with their piece and between the toys and the sweet moist cake, there were happy kids all around. Pioneer Woman to the rescue!
From The Pioneer Woman Cooks_ Food From My Frontier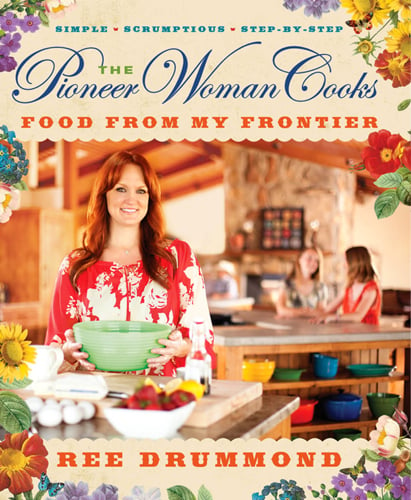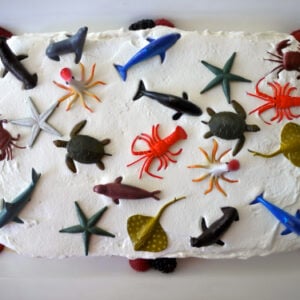 Tres Leches Cake
Instructions
Preheat oven to 350° F.

In a large bowl, combine the flour, baking powder, and salt.

In the bowl of an electric mixer, combine the egg yolks and 3/4 cup sugar beating until very light in color.

Add the milk and vanilla, beating until just combined.

Pour the liquid mixture over the flour mixture, and stir gently to combine.

In a clean mixing bowl, beat the egg whites on high speed until soft peaks form, about 5 minutes.

Add 1/4 cup sugar and continue beating until the whites are stiff but not dry.

Gently fold the egg whites into the previous mixture until just combined. Do not over mix.

Spread batter into a greased 9 x 13 baking pan.

Bake 35-45 minutes, or until a toothpick comes out clean.

Remove the cake from the oven and allow to cool completely in the pan.

When the cake is cool, invert it onto a platter and poke holes in the surface with the tines of a fork.

In a bowl, combine the sweetened condensed milk, evaporated milk, and 1/4 cup heavy cream.

Slowly douse the cake with the milk mixture, getting it all around the edges and evenly coating the surface.

Allow the cake to sit and absorb the liquid for at least 30 minutes.

In the bowl of an electric mixer, beat 1 pint heavy cream with the remaining 3 Tbsp sugar until thick and fluffy.

Spread the whipped cream all over the top and sides of the cake and serve.

*From The Pioneer Woman Cooks: Food From My Frontier
Nutrition
Calories:
410
kcal
|
Carbohydrates:
50
g
|
Protein:
8
g
|
Fat:
20
g
|
Cholesterol:
75
mg
|
Sodium:
220
mg
|
Sugar:
38
g