The cutest dessert for Valentine's Day are these Pink Cupcakes. They're super fun to make and 100% delicious too!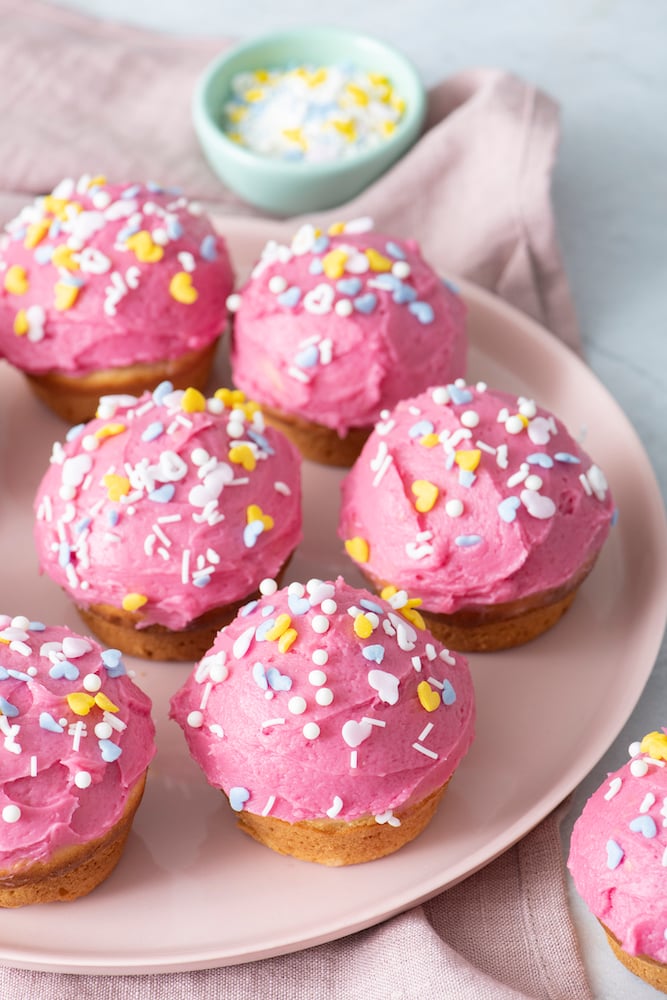 Sunshine, happiness, being in love, and getting smothered with hugs and kisses from your kids and husband. Those are a few of the little things in life we can sometimes take for granted, but they're the moments that sustain me. It may sound dorky, but I get such incredible joy and satisfaction from throwing a little Valentine's Day party for our family every February 14th. Complete with balloons, special love notes, and tons of Valentine's inspired food, I think I look forward to it as much as Christmas or my birthday.
Over the years I've made everything from Raspberry Cream Cheese Heart Tarts to Raspberry Shortbread Hearts and Waffle Heart Sandwiches (yes of course, heart shapes galore) for Valentine's Day, but this year the kids have specifically requested cupcakes. Red is obviously the color the holiday calls for, so I used my favorite dye free food coloring (this one too) to make these cupcakes topped with a gorgeous pink buttercream frosting and festive Valentine's Day sprinkles. 
I've made these cupcakes a couple ways over the years. If you wanted to skip the food coloring all together you could use raspberry juice instead. I'll put the substitutions in the recipe so you can know how to do it either way! I love making them with raspberries as well because you get a gorgeous natural pink color with a bit of a zip of raspberry flavor in every bite. I did a taste test for these cupcakes with Kenya, Chloe and Gemma both ways and got a big thumbs up from all three kids. I'm guessing that after just one bite, your crew will fall in love, too!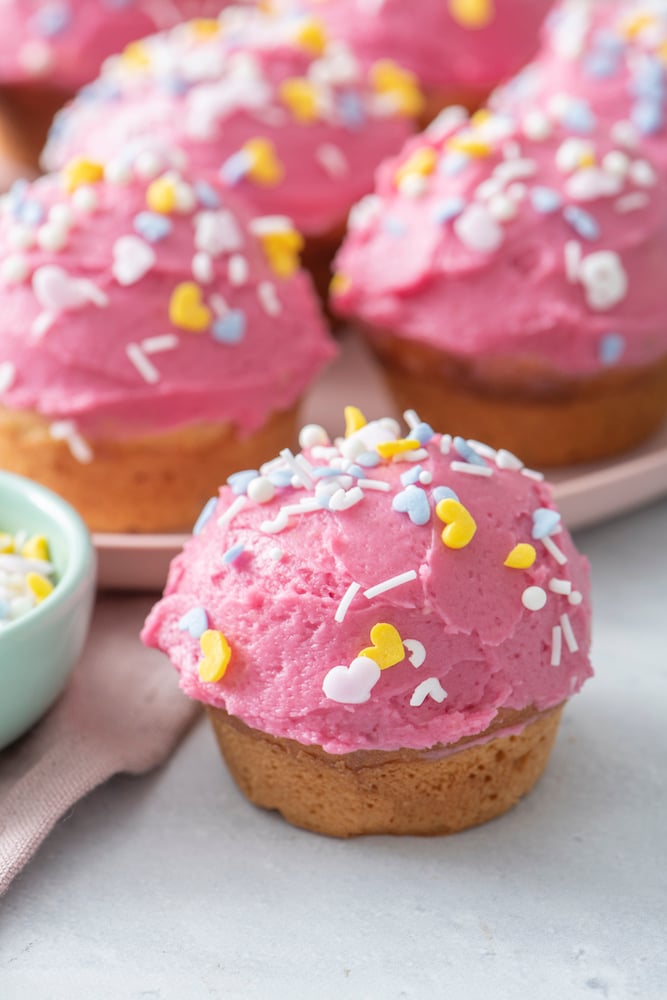 Celebrating the ones you love is never a bad idea. I love that Valentine's Day gives us a whole day to focus on it and appreciate what we all have. What treats are you making this year?
The Cutest Pink Cupcakes for Valentine's Day
The cutest dessert for Valentine's Day are these Pink Cupcakes. They're super fun to make and 100% delicious too!
Ingredients
For the Frosting:
2

sticks

unsalted butter, room temperature

3

cups

powdered sugar

1

1/2 teaspoons

vanilla extract

3

tablespoons

heavy cream or milk

dye free red food coloring or powder (linked in notes below)
Instructions
In a bowl, whisk together the flour, baking powder and salt.

In the bowl of a stand mixer or with an electric mixer, cream together the butter and sugar until light and fluffy, about 3 minutes. Add the eggs, and mix until combined. Then add the vanilla, milk and food coloring.

Gradually add the flour mixture to the wet mixture until combined.

Fill greased muffin cups about 2/3 full. Bake for 22 minutes or until a toothpick inserted in the center comes out clean. For mini muffin tin, bake for 15 minutes.
To make the frosting:
In the bowl of a standing mixer or with a hand mixer, combine the butter, powdered sugar, and vanilla extract. Whip until thoroughly combined.


Add the heavy cream or milk, and continue whipping until thick, fluffy, and creamy. Add the food coloring until desired color is reached.
If you want to use raspberry juice instead of food coloring:
*In the cupcakes, substitute the food coloring for 1/2 cup raspberry juice and use 1/2 cup milk instead of 3/4 cup.

*In the frosting, substitute the food coloring for 4 tablespoons raspberry juice.
Nutrition
Calories:
260
kcal
|
Carbohydrates:
44
g
|
Protein:
3
g
|
Fat:
8
g
|
Cholesterol:
20
mg
|
Sodium:
200
mg
|
Fiber:
1
g
|
Sugar:
28
g