Whenever you want a special gift for someone you love or even a naughty little treat to satisfy your craving for chocolate and peanut butter, these Chocolate Peanut Butter Cups with Sea Salt will hit the spot!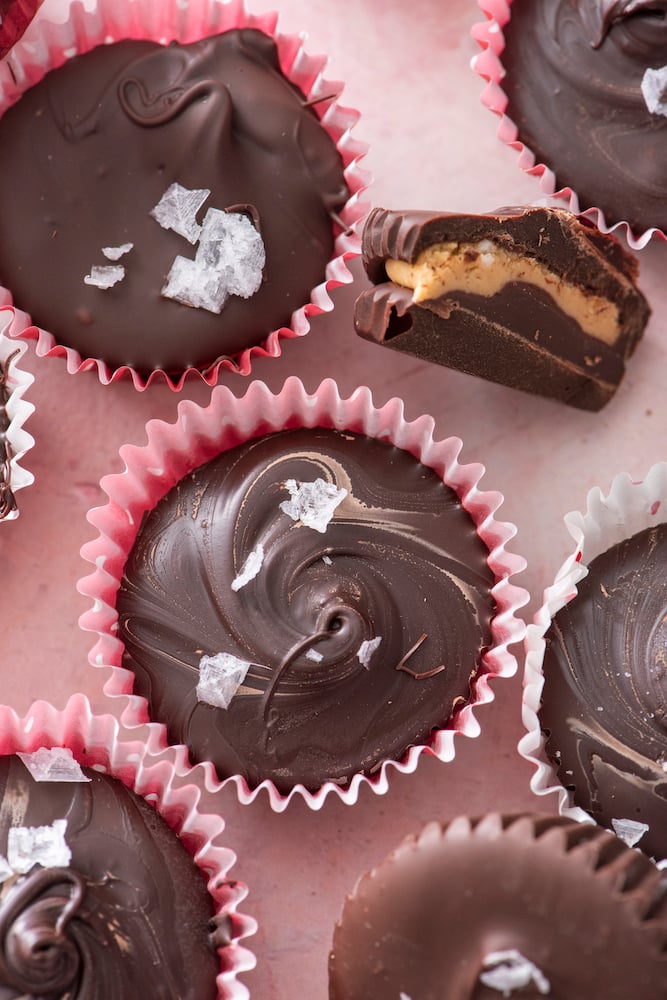 I have an absolute weakness for Reese's Peanut Butter Cups. I'm pretty good at resisting the candy in my kids' Halloween baskets, but every year, without fail, I can't help but pilfer a few packages of them for myself (that's just between us, okay?).
A few months ago I came across a recipe for Chocolate Almond Butter Cups posted by the oh-so-brilliant Recipe Girl and I was immediately drooled, I mean, drawn to it. After seeing it, I obviously thought about my love for peanut butter cups and was inspired to make my own homemade version. I mean, how could I resist?! Especially when they're so easy to prepare and made with two ingredients that my kids go absolutely wild for.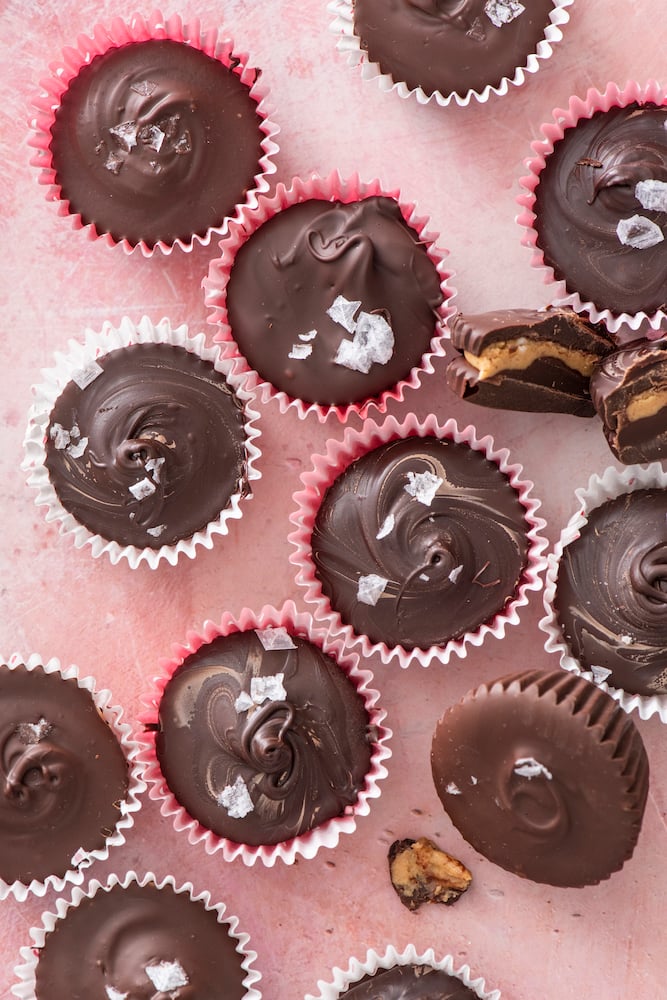 My kids have been more than willing to be my sous chef (tough job, I know) every time I make these homemade Peanut Butter Cups for cookie exchanges, parties, and recently, as Valentine's Day gifts. I top mine with a flake or two of fleur de del because it adds a fancy touch if you plan on giving them out as gifts to loved ones and friends. Also, the sweet blast of the chocolate and peanut butter combined with just a touch of salt is what makes them truly irresistible!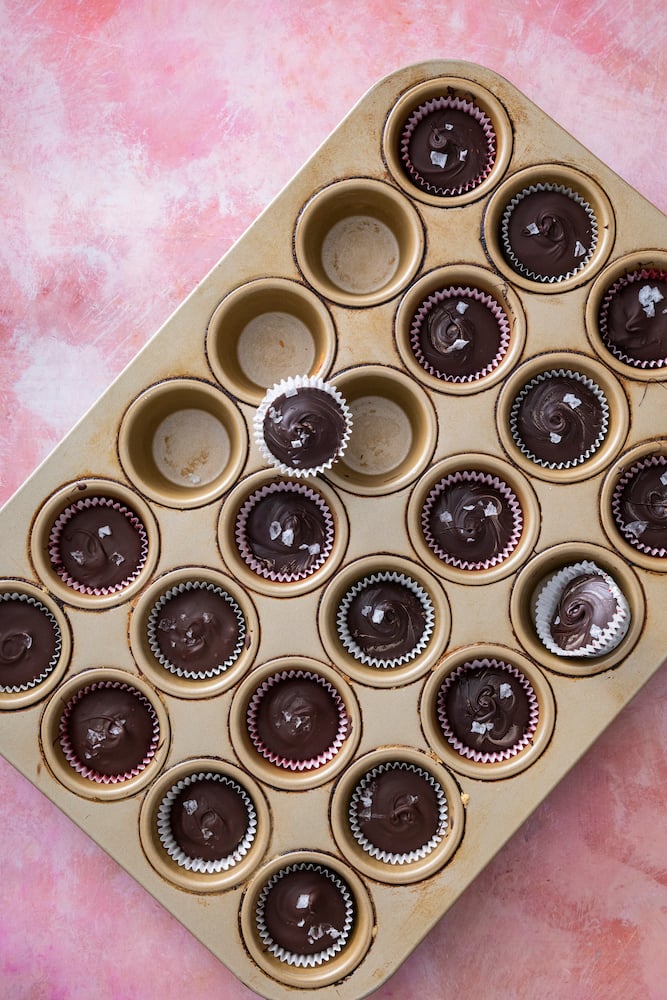 Over the years I've made several irresistible treats that use my favorite combination — chocolate and peanut butter. These delicious cups are high up on the list, but I also love these Frozen Chocolate Peanut Butter Banana Bites, a classic Chocolate Peanut Butter Smoothie or simply some Peanut Butter Chocolate Milk. You really can't go wrong with this combo!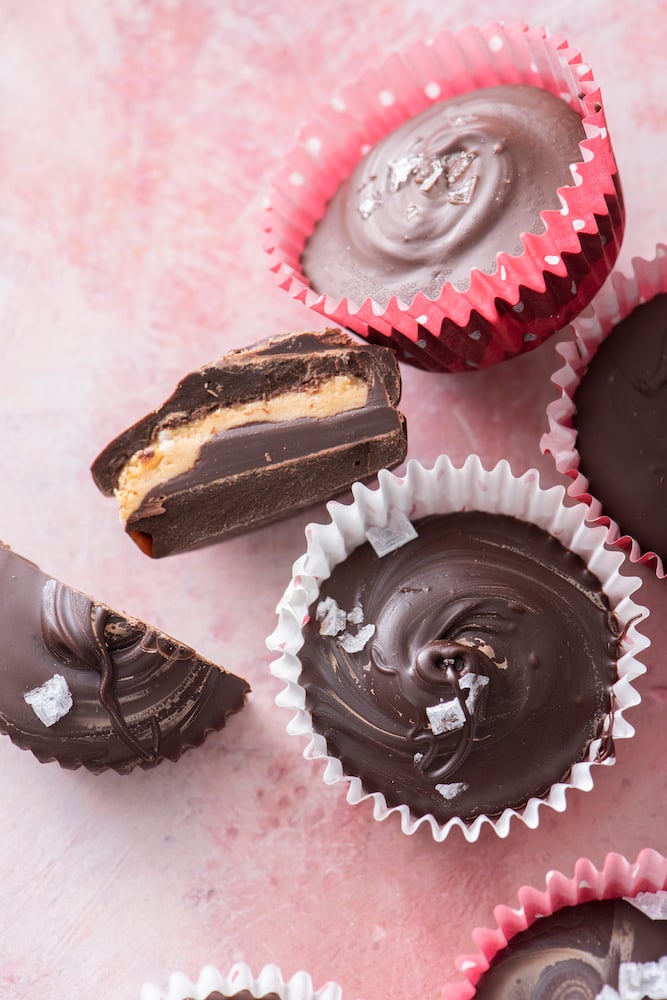 Pin
Let me know in the comments if you make these!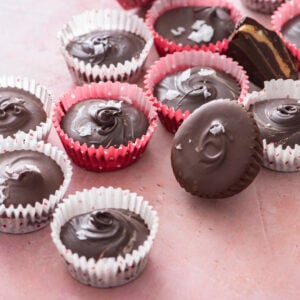 Chocolate Peanut Butter Cups with Sea Salt
Ingredients
1/2

cup

smooth peanut butter

3

tablespoons

powdered sugar

1

tablespoon

maldon sea salt

12

ounce bag

chocolate chips (milk, dark or bittersweet)
Instructions
Place the chocolate chips in a microwave safe bowl and melt for 90 seconds, stirring halfway through until smooth.


Place 1 heaping teaspoon of the melted chocolate into small paper liners in a mini-muffin tin and refrigerate for at least 10 minutes.

3. Place the peanut butter and powdered sugar in a bowl and stir to combine.

While the chocolate cools, roll 1 teaspoon of the peanut butter mixture into a ball and then flatten into a disk. Repeat with the rest of the peanut butter.

When the chocolate has cooled, place a peanut butter disk in each cup on top of the refrigerated chocolate mixture.

Top cups with the remaining melted chocolate to cover and finish with a few flakes of fleur de sel. Refrigerate until set.*

Peel the papers off and eat!

* Chocolate Cups can be kept refrigerated or at room temperature
Nutrition
Calories:
140
kcal
|
Carbohydrates:
12
g
|
Protein:
4
g
|
Fat:
9
g
|
Cholesterol:
5
mg
|
Sodium:
450
mg
|
Fiber:
1
g
|
Sugar:
10
g