Blood Oranges are in season and with Valentine's Day around the corner, I thought this Blood Orange Granita would be a great recipe for the occasion! Granita is similar to shaved ice or snow cones, except this isn't made with sugary corn syrup. Instead, you just use the sweet juice of the blood oranges and just a touch of agave.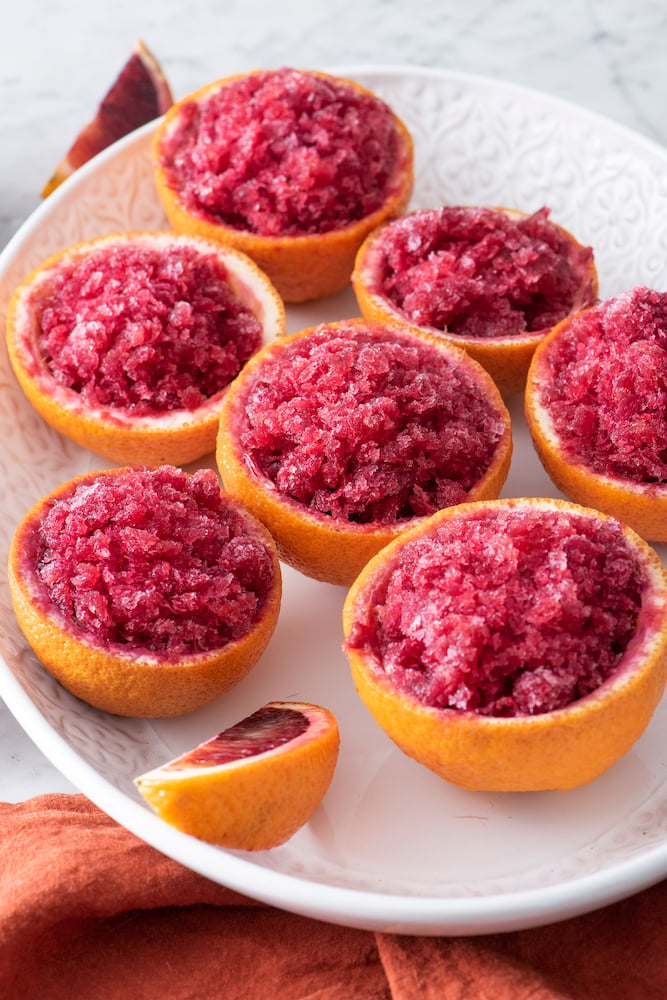 I'm a total sucker for holidays. I love decorating, baking, and doing things as a family that reflect the happy spirit of whatever the holiday is for. Valentine's Day was always THE Hallmark holiday to me, but now that I have kids, I have a whole new perspective on it and it's even more fun celebrating love.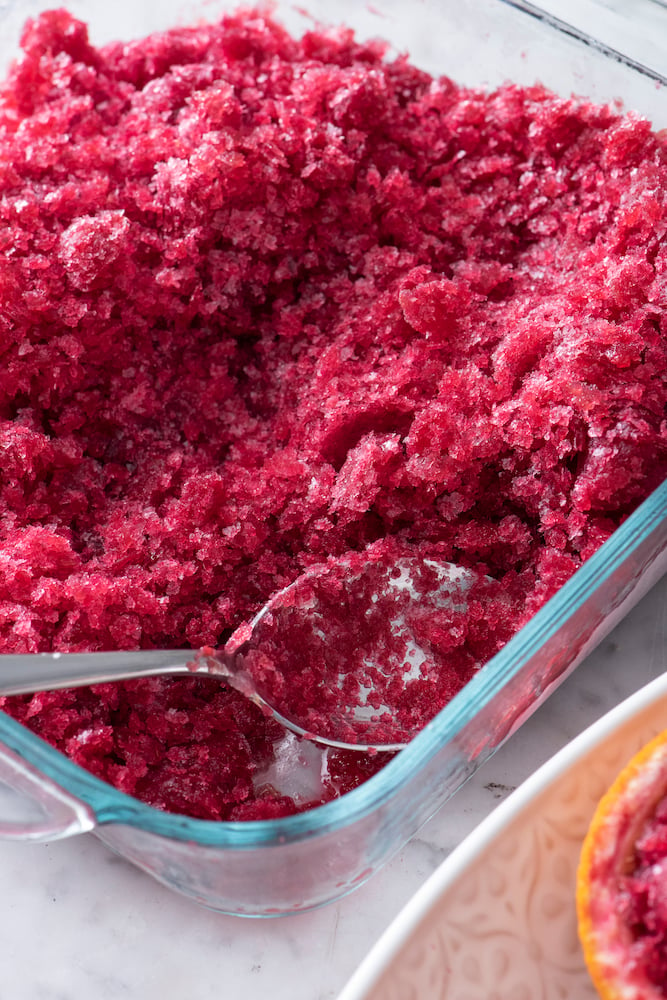 I've made more cookies, cakes and other treats like Puff Pastry Berry Hearts, Chocolate Chip Cookie Cake and Raspberry Cream Cheese Heart Tarts over the years than I can count, so this year I wanted to do something a little different. Ruby-red blood oranges are in season, and are a beautiful Valentine's color so I thought that it would be fun to come up with a recipe for them. This icy, delicious granita was so much fun to make and absolutely delicious!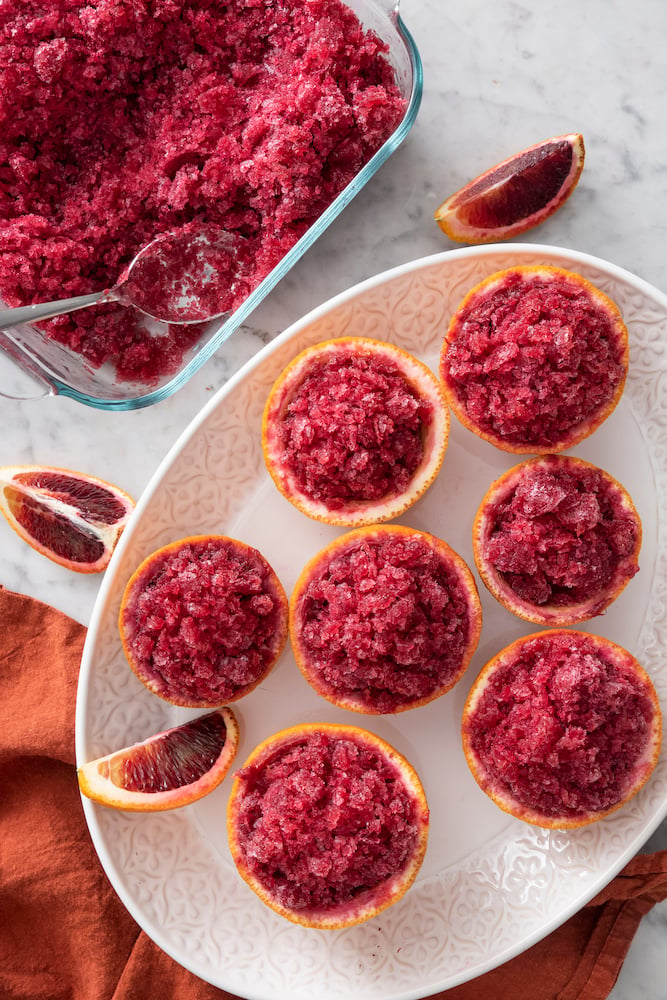 In honor of the holiday, I served this batch up in the skins of the orange which I thought was pretty and fun for kids to eat from. Gemma loved taking her fork and scraping the granita as the little crystals formed. It was so cute to watch and even more fun to eat with my Valentines.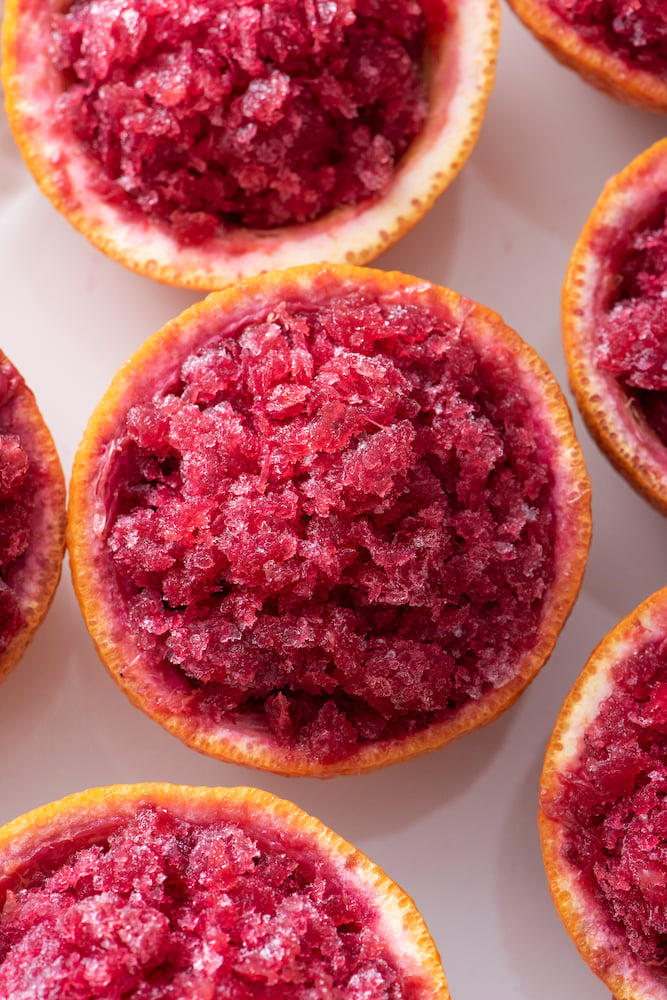 What's great about granita is that you can make it using just about any fruit and it's incredibly simple to make. And because it's made by hand the texture is like eating snow! So much fun for everyone! Next time you're looking for a chilly treat, this 2 ingredient dessert is the way to go!
Blood Orange Granita
Ingredients
4

cups

blood orange juice, reserve a few of the orange cups/ shells for serving

1/4

cup

agave or honey
Instructions
Combine the blood orange juice* and agave in a 8×8 inch Pyrex dish and whisk to combine.

Place in the freezer for 1 hour.

Remove from the freezer and scrape with a fork to break up pieces.

Place back in freezer for 1 hour.

Remove from the freezer and scrape with a fork to break up pieces.

Repeat this process over several hours until granita is similar to shaved ice.

Serve in orange peel "shells" or in bowls (cover the pan with tin foil to keep in the freezer).

* 4 cups of blood orange juice = about 8 oranges
Nutrition
Calories:
120
kcal
|
Carbohydrates:
31
g
|
Protein:
1
g
|
Fiber:
4
g
|
Sugar:
28
g