If it's true that we eat not only with our stomachs, but also our eyes then this Dragon Berry Smoothie is going to get you jazzed for a treat that's not only incredibly satisfying, but also nutritious beyond words! From the first bite of dragon fruit that Kenya and Chloe tried as babies they were hooked. It has a very mild taste, but just sweet enough with a soft, smooth texture that makes it perfect for gobbling up.
Pin
The fact that it's also one of the most gorgeous fruits on the planets is a total bonus. I always suggest this smoothie for kids as it's sweet and bright red, but it's also a perfect choice for anyone watching their weight. Dragon fruits have about 60 calories in them (about the same amount of calories in the frozen packets too) plus they are packed with vitamin C, iron, fiber, B vitamins and calcium. Pair that with raspberries which are crazy rich in fiber and you've got a smoothie that will keep you energized with antioxidants and pretty darn regular too (TMI?!)
Pin
Dragon fruit, also known as pitaya, can be used fresh in this smoothie but the kids and I are obsessed with the frozen kind that you can find at most health food stores. 8 out of 10 times that I give them their Smoothie Project Sheet to fill out they want it in their creation. Add a raw beet for a boost of sweetness and nutrition (p.s. I bet your little ones won't even be able to tell you there's beet in it) plus some hemp seeds, coconut oil and other nutrient dense foods into your blender and you've got a breakfast or day time pick me up you'll be dreaming about through your day!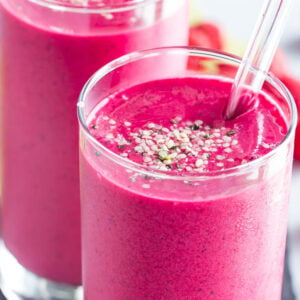 Dragon Berry Smoothie
Ingredients
1

banana

1

package

dragon fruit

3/4

cup

frozen raspberries

2

tbsp

raw beet, peeled

1

date

1

tsp

bee pollen

1

tablespoons

hemp seeds

3

tablespoons

cashews, soaked overnight

1

1/4 cups

almond milk
Instructions
Place all of the ingredients in a blender and puree until smooth.


Pour into a tall glass, pop in a straw and you're ready!