Cheesy Popovers light and airy dinner rolls with a crispy, golden exterior. They're irresistibly delicious and a perfect pairing with any meal.
What are Popovers?
Popovers are light and airy rolls made from an egg batter similar to that of Yorkshire pudding, typically baked in dedicated popover pans, which have straight-walled sides rather than angled like in a muffin tin. The name "popover" comes from the fact that the batter swells or "pops" over the top of the tin while baking. Popovers are made from an egg batter (no yeast, baking soda or baking powder), so no kneading or rising required.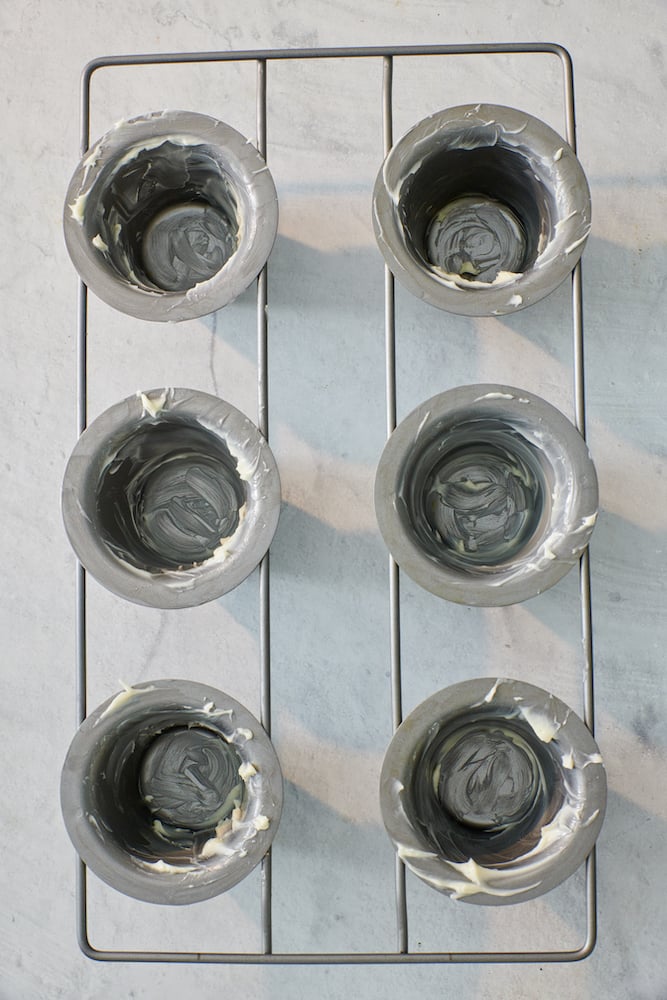 One of my dearest friends gave me a popover pan years ago, and I can't believe how long it took me to finally use it. When I finally made these Cheesy Popovers in it for the first time, I called to tell my friend how delicious they turned out. She took a few moments to guilt me (the way that only a good friend can for taking years to use a gift she gave you), and then wanted to know all about my recipe.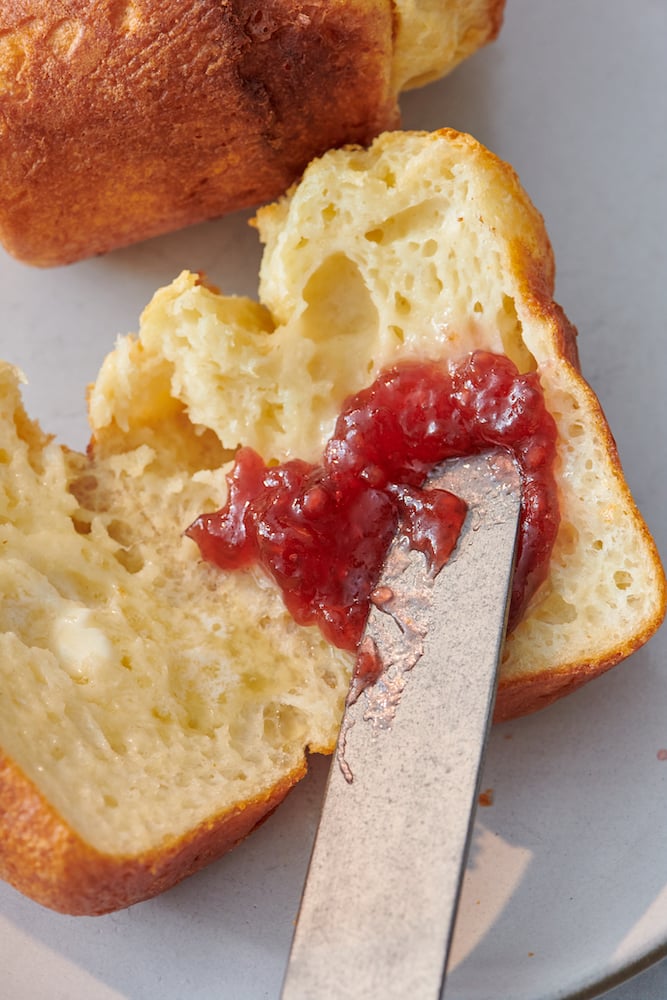 Popovers are super easy to make and when I say they are "kid friendly", I really mean it. My kids have become obsessed with them. They love watching them puff up in the oven and then breaking them open when they are done to see the steam pour out of the big airy puffs. They're perfect slathered with butter and jam for breakfast or as a side with dinner in place of rolls. My favorite part of Cheesy Popovers? You only need 5 ingredients that are pantry and refrigerator staples, so we can make these anytime we want!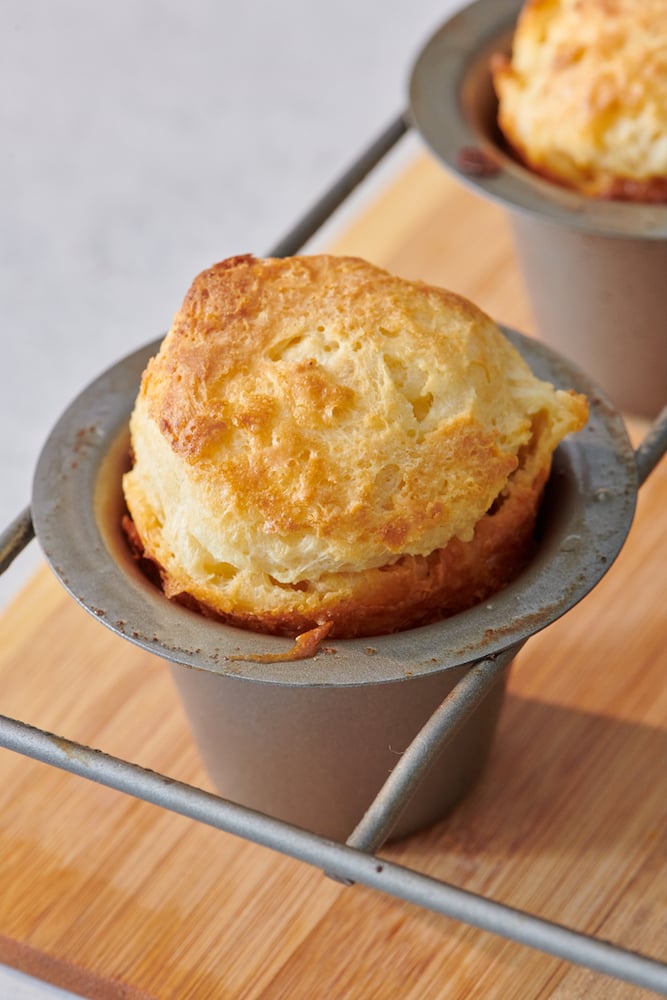 Tips for Cheesy Popovers Success
These Cheesy Popovers are super simple to make, but here are some tips for getting the best, most light and fluffy popovers ever!
Use a popover pan. While technically, you can make these in a muffin tin, they'll be so much better if they're made in a pan that's intended for popovers. Trust me. It's worth it!
Bring your eggs and milk to room temperature before making the batter. This helps with producing a light and airy popover instead of dense and chewy.
Let your batter rest at room temperature while the oven preheats. This also helps popovers rise better and make a fluffy popover.
GENEROUSLY grease the popover pan. Every part of it. The inside of the wells and the rim. The popovers rise over the edge of the pan and you don't want any part of it to stick!
Make sure your popovers have enough room to rise and won't hit the oven rack that's above them. Reposition your oven racks if necessary.
Don't open the oven while the popovers are baking. This will cause them to deflate, and there's nothing sadder than a deflated popover!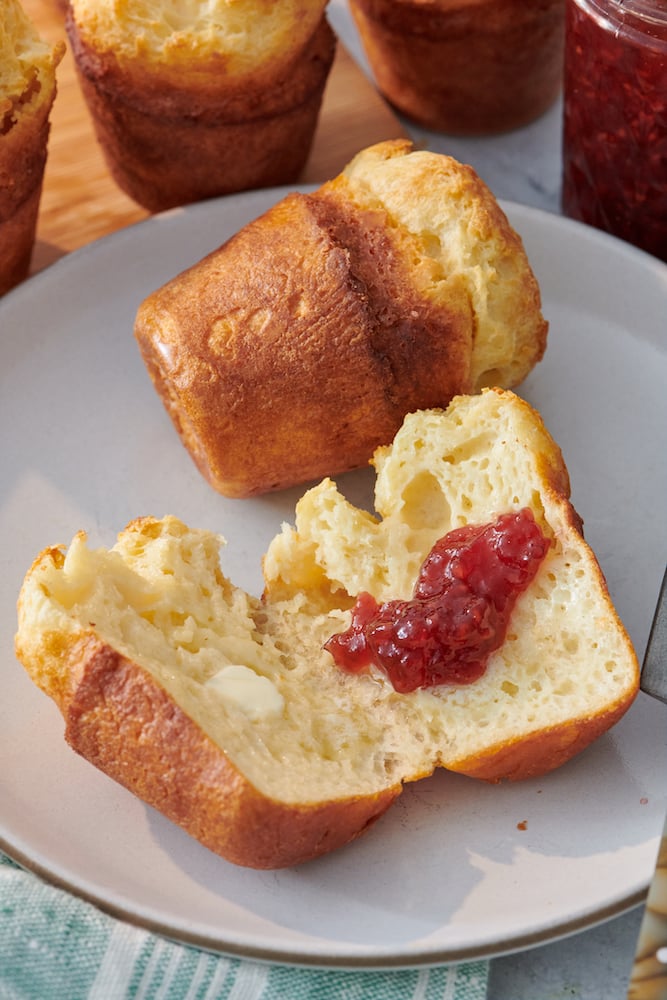 With all the Thanksgiving and Christmas cooking right around the corner, this is the kind of recipe that you can easily hand over to a relative while you are busy preparing the rest of the meal. It's super easy. Right before you are ready to sit down to dinner pull these extra special puffs out of the oven and I guarantee these will garner rave reviews from all.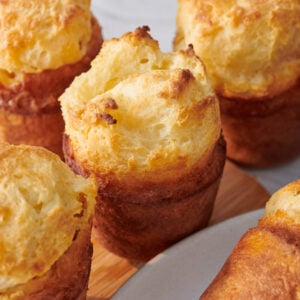 Cheesy Popovers
These popovers are light and fluffy on the inside and golden and crispy on the outside. A perfect pairing with any meal.
Ingredients
3

large eggs, at room temperature

2

cups

all purpose flour

2

cups

milk, lukewarm

1/2

teaspoon

kosher salt

1/2

cup

parmesan cheese, grated

2

tablespoons

unsalted butter, melted and cooled slightly
Instructions
Preheat oven to 425 F.

Place all of the ingredients in a bowl and whisk to combine. Allow mixture to come to room temperature while oven preheats. This helps with creating a light and fluffy popover.

Grease each popover tin with cooking spray or butter and fill 3/4 of the way up with batter.

Bake for 35 minutes and do not open the oven door while cooking.

Serve immediately.
Nutrition
Calories:
180
kcal
|
Carbohydrates:
25
g
|
Protein:
8
g
|
Fat:
6
g
|
Cholesterol:
15
mg
|
Sodium:
270
mg
|
Fiber:
1
g
|
Sugar:
3
g