This list of 20 Festive Christmas Cookie Recipes is filled with a wide variety of scrumptious cookies sure to make everyone happy during the holiday season. Not only are they fun to eat, they're fun to make!
Why I Love Making Christmas Cookies
Hands down, one of my favorite holiday traditions is baking cookies with my kids. I baked Christmas cookies with my mom and grandma every year growing up, and I couldn't wait to continue the tradition when I had kids of my own. The first year was like a nostalgic rollercoaster, hitting me with all those warm and fuzzy feelings! Baking Christmas cookies together isn't just about mixing ingredients. It's about creating timeless memories and over time you'll build a sweet collection of Christmas cookie recipes!
Baking during the holidays is also a great way to help little ones learn new skills in the kitchen. It gives them permission to express themselves creatively, from decorating cookies with festive holiday colors to experimenting with fun flavor combinations. And not to mention, Christmas cookies double up as fantastic gifts for friends, teachers, and family, adding a sprinkle of homemade charm to your holiday presents.
Overall, baking Christmas cookies encourages a sense of togetherness and unity. Whether you're having a chaotic but fun family baking day or exchanging cookies with friends, it's these shared moments that bring everyone closer. Wishing you all some beautiful kitchen moments with your loved ones this holiday season!
Christmas Cookie Recipes for Festive Holidays
Eggnog Sugar Cookies
Adding eggnog to your sugar cookies takes them to the next level! Host a party to decorate these with friends and family.
Holiday Chocolate Chip Sprinkle Bars
These Holiday Chocolate Chip Sprinkle Bars are soft, chocolatey and just downright delicious.
Gingerbread Cookies
Another holiday classic! These Gingerbread Cookies are just so much fun to decorate with your kids.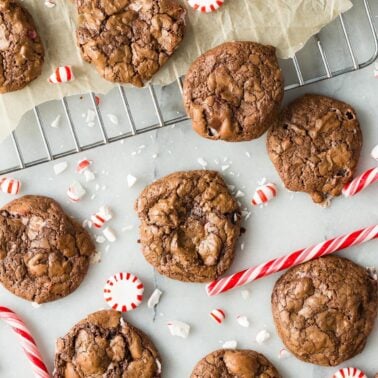 Peppermint Brookies
Nothing says the holidays quite like the flavor of peppermint! These Peppermint Brookies are a marriage of cookies and brownies and oh so delicious!
Gluten-Free Sugar Cookies
All the fun of sugar cookies without the gluten! Having a food allergy doesn't mean you have to miss out on holiday fun.
Missouri Cookies
When you want to make a holiday cookie that fits the bill no matter what you celebrate, these no bake Missouri Cookies are a mouthwatering treat!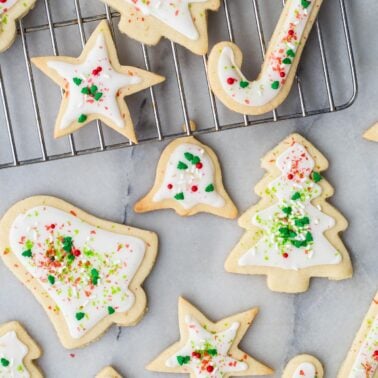 Sugar Cookies
The ultimate holiday cookie! We make classic sugar cookies every year and it never gets old making memories decorating these together.
Cake Mix Sprinkle Cookies
Only 4 ingredients and loads of fun adding the sprinkles to these cookies!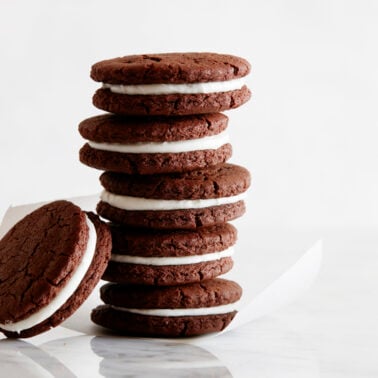 Homemade Oreo Cookies
Making Oreos from scratch isn't as difficult as it seems and they're a great holiday baking activity.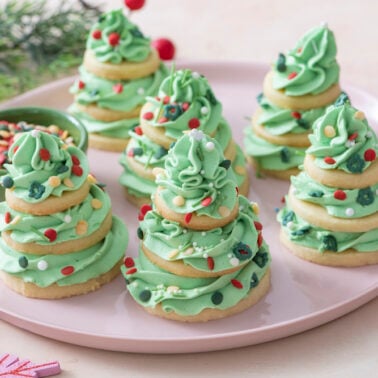 Sugar Cookie Trees
Want to surprise your family with a fun activity to celebrate the holidays? Make a batch of these uber adorable Sugar Cookie Trees and get in the holiday spirit!
Peanut Butter Oatmeal Cookies
Peanut Butter Oatmeal Cookies are simple to whip up and a huge crowd pleaser.
The Best Chocolate Chip Cookies
I know Chocolate Chip Cookies aren't considered the most festive holiday cookie, but who doesn't love one of these goodies anytime of year?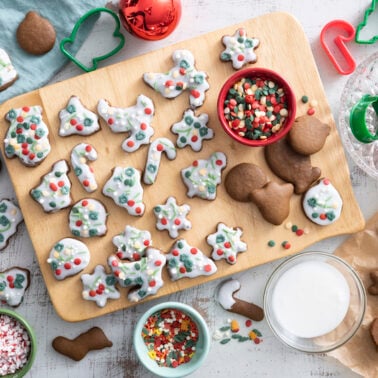 Soft and Sweet Molasses Roll Out Cookies
The texture and flavor of these molasses cookies is out of this world delicious!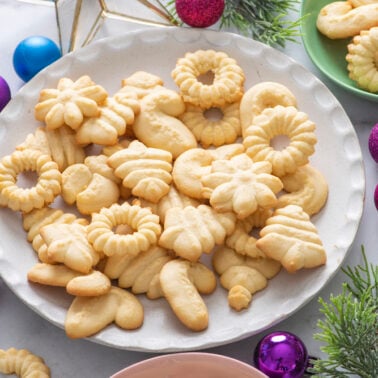 Classic Spritz Cookies
Making these cookies during the holiday season growing up is one of my fondest memories and now my kids love making them too!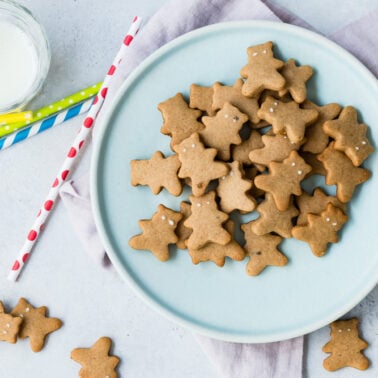 Graham Crackers
A classic graham cracker is always a win. Make these into fun holiday shapes like snowflakes and reindeer to boost the cheer!
Vegan Almond Cookies
Having certain preferences doesn't mean you have to miss out on the cookie making party! These cookies are vegan and gluten free and fun to decorate!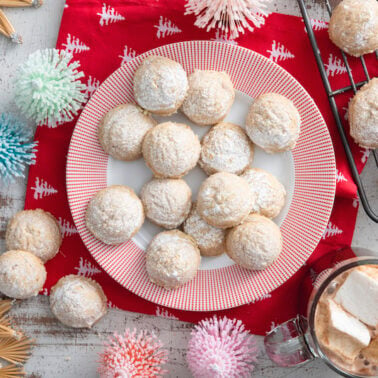 Cinnamon Mexican Wedding Cookies (aka Snowballs)
Make it snow whether the weather permits or not with these adorable "snowball" cookies!
Cheese Wafers
When you get tired of the sweet holiday cookies, try out these cheese wafers to change things up.
Chocolate Orange Snaps
For these cookies we combine two of our favorite flavors – chocolate and orange – for a little something different than your classic sugar cookie.
Chocolate Graham Crackers
If graham crackers aren't delicious enough, chocolate graham crackers should do the trick!
I hope you have the most wonderful holiday season! If you're wanting even more kid-friendly holiday recipes to make with your little ones try out these 23 Holiday Recipes to Make with Kids! Let me know in the comments what treats you're baking this year and tag me on social media if you make any of these!