Want to surprise your family with a fun activity to celebrate the holidays? Make a batch of these uber adorable Sugar Cookie Trees and get in the holiday spirit!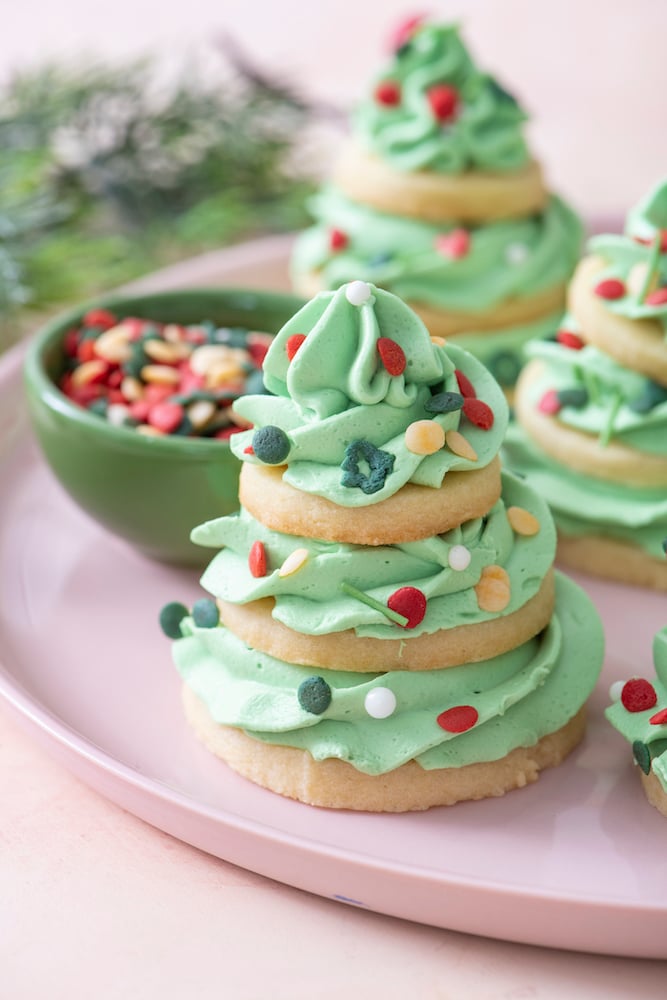 Okay, how cute are these little Christmas Cookie Trees? We make tons of sugar cookies every year during the holidays in fun shapes and decorate them with icing and sprinkles, but this year I wanted to change things up a little bit. These cookie trees are our new obsession! They're your classic sugar cookies, but instead of cutting them into the shape of a tree, you stack them with layers of decadent buttercream frosting to make a 3D Sugar Cookie Tree! How cute is that? 
The time of year always makes me really happy. The kids are excited and want to make all the holiday treats possible, and I'm happy to have extra time with family. Making sweet treats like Holiday Chocolate Chip Sprinkle Bars, Gingerbread Cookies, Cake Mix Sprinkle Cookies and now these trees always puts a smile on their faces. Anytime I can get the kids involved in the kitchen, it's a win for me. Although, convincing them to help me make tons of cookies has never been terribly difficult.
I love the idea of adding a "forest" of Christmas cookie trees to a dessert table at a holiday party. They look super adorable and festive. These are also a great activity to do to a school party — have the kids build their own cookie trees and decorate them how they like! It's so fun to see their creativity shine through when they're making these.
I used round cookie cutters similar to these to make these little trees. All you're looking for is for each cookie layer to be slightly smaller than the one below it to give the Christmas tree effect. I prefer to use dye free sprinkles like these or these to decorate and dye free food coloring to add to the butter cream frosting. You could even give these trees a more frosty snowy forest twist and leave the frosting white and add these blue sprinkles. So many possibilities!
There's no dessert more festive than these Sugar Cookie Trees for the holidays. Make them with your family and let me know what you think by tagging me on social media!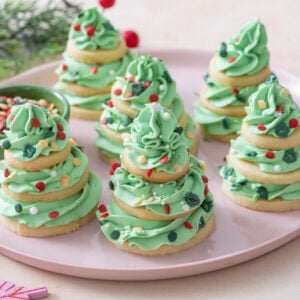 Sugar Cookie Trees
Want to surprise your family with a fun activity to celebrate the holidays? Make a batch of these uber adorable Sugar Cookie Trees and get in the holiday spirit!
Ingredients
Frosting:
2

sticks

butter, room temperature

1

pound

powdered sugar, sifted

2

teaspoons

vanilla extract

2

tablespoons

whole milk or cream

dye free green food coloring

holiday sprinkles
Instructions
Sugar Cookies:
Sift the flour, baking powder and salt into a bowl.

In a separate bowl using electric beaters or in a standing mixer, cream the butter and sugar for 3 minutes on medium to high speed until light and fluffy.

Add the egg and vanilla to the butter mixture and beat until incorporated.

Turn the speed to low and slowly add the flour mixture until the dough comes together.

Place the dough onto a piece of plastic wrap, parchment paper or wax paper and flatten into a round shaped disk.

Wrap the dough disk and chill in the refrigerator until firm, at least thirty minutes to overnight.

Once chilled, preheat oven to 325 degrees.

Let dough sit for about 10 minutes or until soft enough to roll out.

Using a lightly floured rolling pin, roll the dough out onto a lightly floured surface until 1/4 thick and even.

Use 3 circle cookie cutters (one large, one medium, one small) to cut out shapes to build the "trees". I like to start at one end of the dough placing the cookie cutters close together.

Using a spatula, transfer the cut-outs onto a cookie sheet (preferably a lined-silpat cookie sheet).

Bake for 10-15 minutes rotating halfway through until edges turn golden.
Frosting:
Meanwhile make the icing. In the bowl of a standing mixer or in a bowl using a hand mixer, beat the butter for 4-5 minutes or until thick and creamy.

With the mixer continuing to beat, slowly add the powdered sugar until fully incorporated.

Add in the vanilla, milk or cream and food color until the buttercream is smooth and creamy. Add more milk or powdered sugar if needed to achieve desired consistency.

Place the buttercream in a piping bag with star tip and pipe a thick layer of cream on largest cookie in a circular pattern. Top with medium sized circle cookie and pipe another layer or cream in a circular pattern and finally top with smallest cookie. Pipe a circular pattern and end with a tip to resemble the top of a Christmas tree.

Immediately add sprinkles so they will adhere.