I love this time of year! Holiday traditions, shopping, decorating, and cooking! My gift list is always long, and I love scoping out the perfect gift for everyone on the list. My favorite gifts to give, though, are the homemade ones. The kids' teachers, caretakers, and friends deserve the very best for brightening the lives of my family. There's something extra special about giving a gift made in your own kitchen… not to mention extra delicious! This holiday season give one of these Edible Holiday Gifts and see their face light up!
Cinnamon Streusel Coffee Cake
I grew up making this every year with my mom and now it's one of my kids' favorite traditions too! We love gifting this one.
Pumpkin Spice Mixed Nuts and Seeds
I don't know about you, but I'm still loving pumpkin spice during the holiday season. These Pumpkin Spiced Mixed Seeds and Nuts are super easy to make!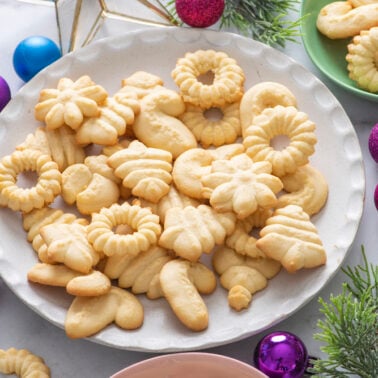 Classic Spritz Cookies
These Classic Spritz Cookies are so much fun to make and look absolutely gorgeous.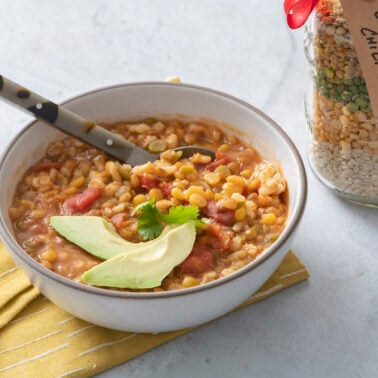 Easy Winter Chili In A Jar
I love giving this Winter Chili in a Jar for a holiday gift! It stays fresh for a long time until they're ready to make a big cozy pot of chili!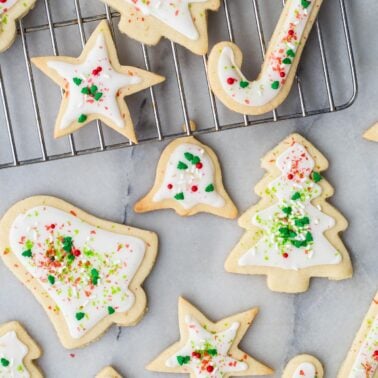 Sugar Cookies
There's nothing like receiving a tin of classic holiday Sugar Cookies.
S'mores on a Stick
These S'mores on a stick are super cute and way less messy than regular campfire s'mores.
Fresh Gingerbread Bundt Cake
Making this cake to gift someone is something special. Its warm and cozy gingerbread flavor is unbeatable.
Three Seed Brittle
Crispy, crunchy and sweet – this Three Seed Brittle has been a holiday favorite for our family for years!
Sun Dried Tomato Basil Pesto
For the person who likes something savory over sweet, this Sun Dried Tomato Basil Pesto is a great gift!
Mexican Hot Fudge Sauce
For the chocolate lover in your life. You can't go wrong with Mexican Hot Fudge Sauce!
Persimmon Cake
This cake takes winter's freshest persimmons and makes them into something anyone would love to receive!
Maple Roast Sunflower Seeds
For the person who has a nut allergy, try out these Maple Roast Sunflower Seeds! They're crunchy, sweet and absolutely delicious.
Hot Cocoa in a Jar
The kids and I love making these Hot Cocoa Jars every year for their teachers. Super simple and special.
What are your favorite edible gifts to give (and receive)? Let me know in the comments! Tag me on Instagram if you make any of these. Happy Holidays!