This Fresh Gingerbread Bundt Cake is a perfect holiday dessert, and makes a great edible gift for a friend, coworker or neighbor!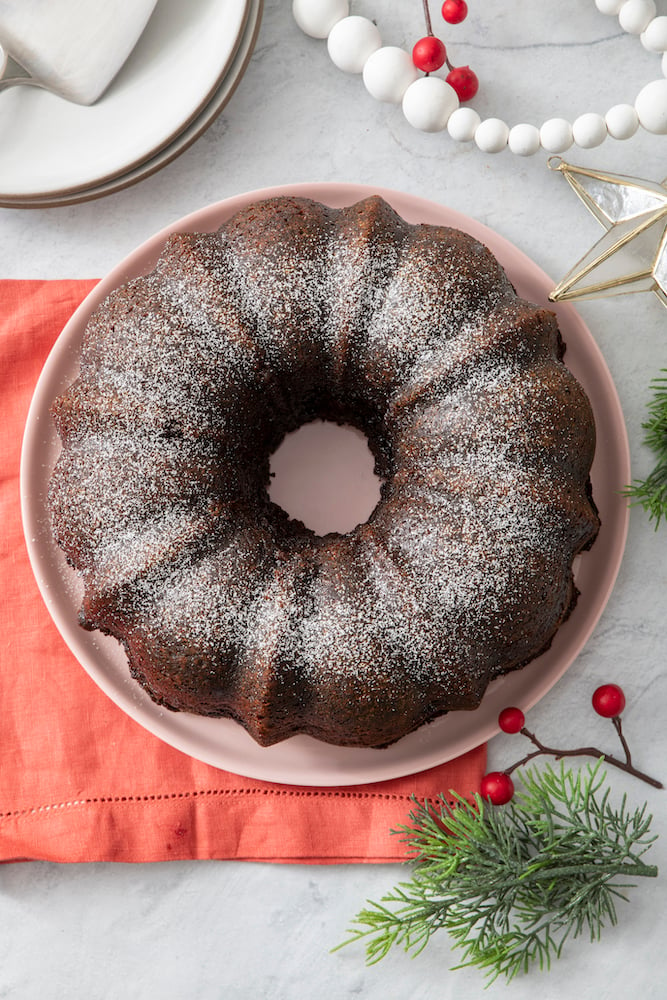 My kids absolutely love ginger. From Ginger Lemon Honey Tea and Carrot Ginger Soup to Stir-Fried Brown Rice Chinese Noodles, we go through our fair share of fresh ginger. This Gingerbread Bundt Cake recipe is chock full of fresh ginger and is absolutely delicious! I was initially wary of 1/2 a cup of fresh ginger being too much for a cake, but the flavor mellows with baking and totally makes this recipe what it is — the rich sweetness of molasses combined with the distinctive zip of ginger in each moist bite is totally insane tasting.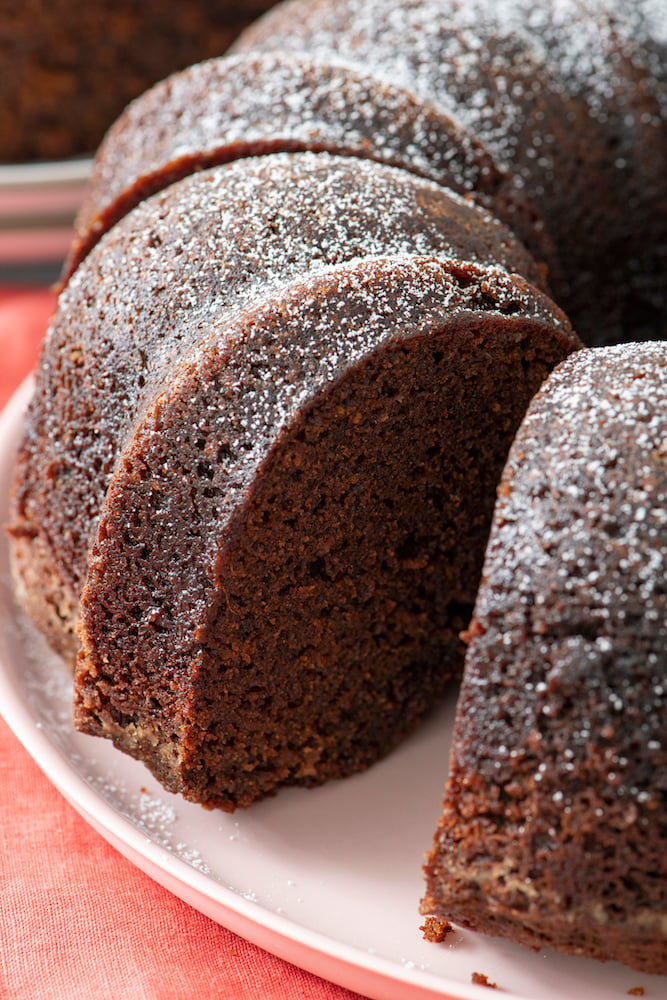 I gave the kids a big slice of this cake for their after school snack and they said it was the best thing I've ever made. Yes they've said that to me before about other things I've made, but this time I think they really meant it! I think I may agree too. There's something special about the cake – you've got to try it!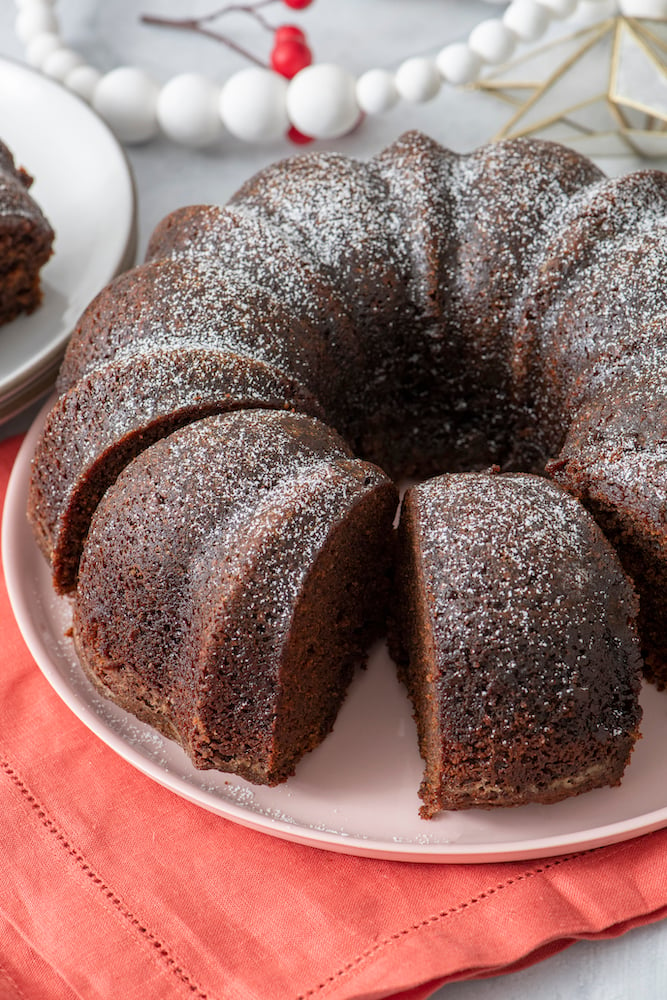 I have a couple tips for you when you make this cake. First of all, get yourself a good grater to mince the ginger with. It makes a huge difference and goes so much faster. Also, in case you didn't know, you can peel the ginger with the back of a spoon! It's super easy. Next, and I cannot stress this enough, DILIGENTLY grease your pan so that the cake doesn't stick and let it cool completely before you try to get it out. There's nothing worse than a delicious cake that ends up in pieces!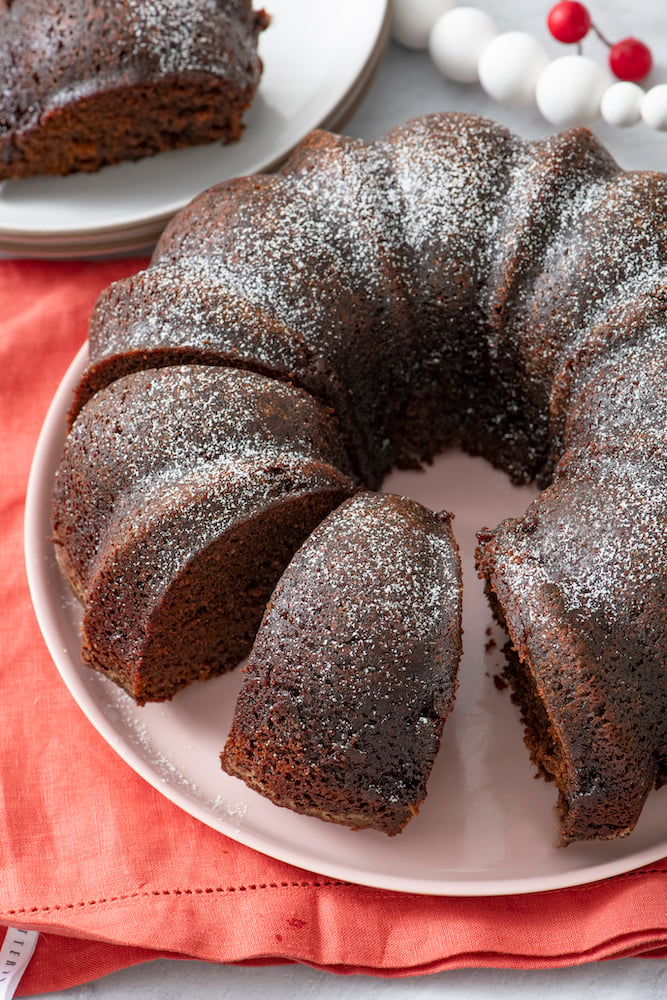 Baking during the holidays is so much fun. The kids always get involved and fill up the kitchen with their little smiles while we decorate sugar cookies or pour cake batter into a pan. If you're looking for some fun desserts to get you in the spirit try these Holiday Chocolate Chip Sprinkle Bars, Cake Mix Sprinkle Cookies, Cinnamon Streusel Coffee Cake or these Sugar Cookie Trees!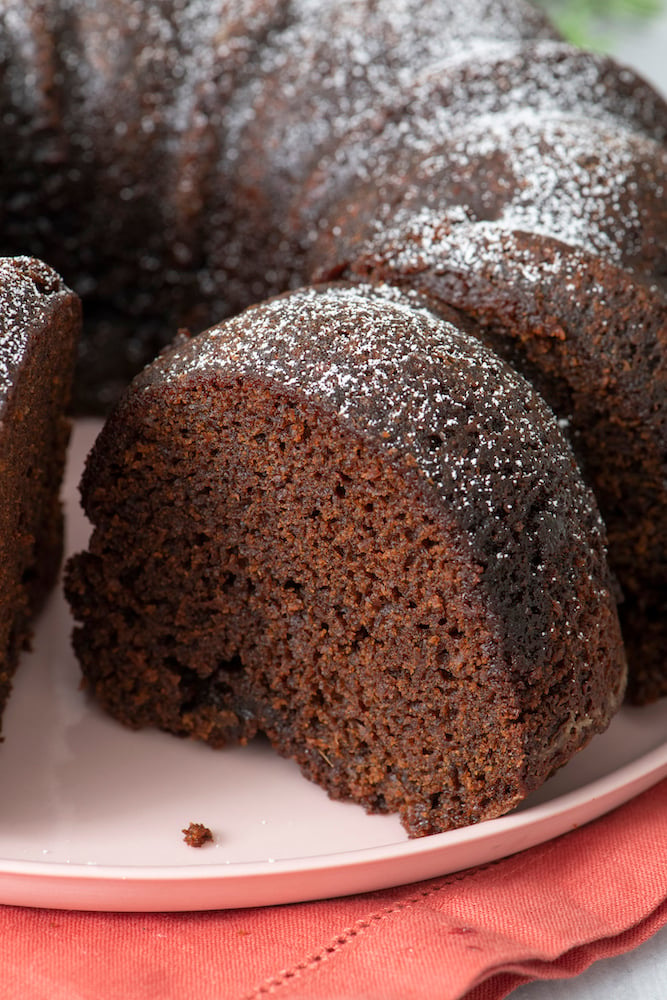 Let me know what you think of this Gingerbread Bundt Cake! It's one of my all time favorites!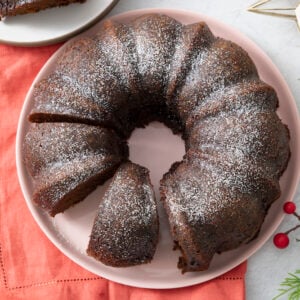 Fresh Gingerbread Bundt Cake
This Fresh Gingerbread Bundt Cake is a perfect holiday dessert, and makes a great edible gift for a friend, coworker or neighbor! 
Instructions
Preheat oven to 350°F. Liberally butter and flour a 10-inch bundt pan.

In a large bowl, sift together the flour, cinnamon, cloves and salt. In a separate large bowl, whisk together the molasses, sugar and oil.

In a small pot, bring the water to a boil. Remove pot from the heat and stir in the baking soda. Whisk the water into the molasses mixture and then whisk in the ginger.

Gradually add the flour mixture to the molasses mixture, and stir just until the flour is absorbed. Whisk in the beaten eggs. Pour the batter into the prepared bundt pan.

Bake for about 1 hour, or until a toothpick inserted in the center comes out clean. Allow cake to cool in the pan, about an hour, before removing. Use a knife to gently cut between the cake and bundt pan to help loosen the cake before placing on a large plate.
Nutrition
Calories:
570
kcal
|
Carbohydrates:
88
g
|
Protein:
5
g
|
Fat:
23
g
|
Sodium:
350
mg
|
Fiber:
1
g
|
Sugar:
49
g