This Cinnamon Streusel Coffee Cake is what dreams are made of! It's absolutely delectable and one of my favorite cake recipes of all time. It never fails to remind me of my childhood every time I take a bite.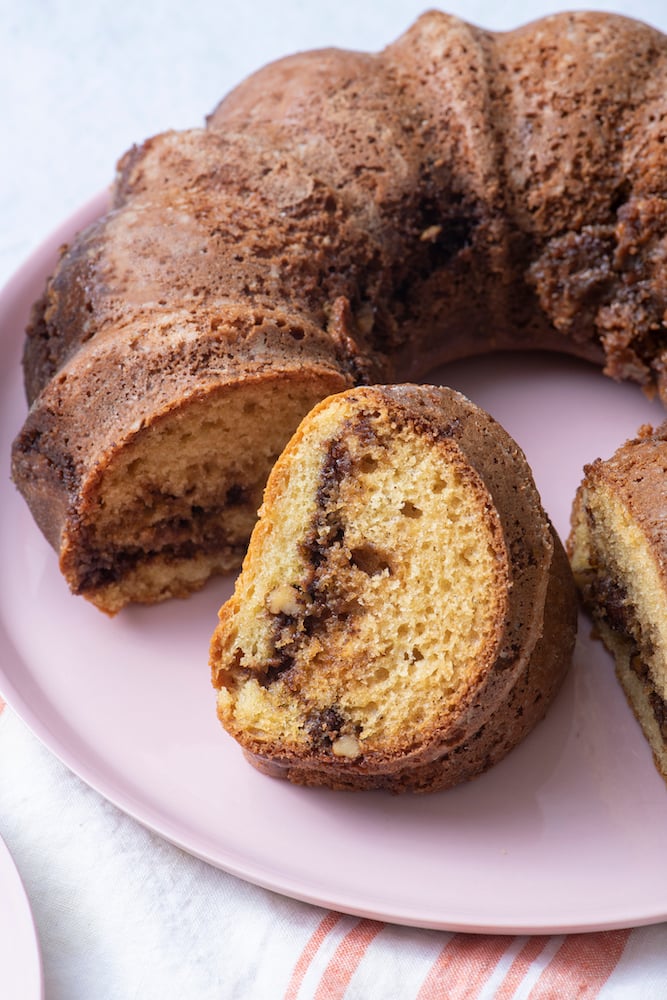 One of the first recipes I ever made myself was a Cinnamon Streusel Coffee Cake that I found in the Pillsbury Cookbook. My infatuation with this scrumptious cake began when one of my parents' friends brought her take on it to our house one Christmas and it became her holiday calling card. I would dream about that cake for the next 364 days until she'd come over again. To me, aside from the aesthetic beauty of a cake baked in a fluted bundt pan, the marbling of cinnamon streusel throughout tender sour cream cake is like the perfect couple in love.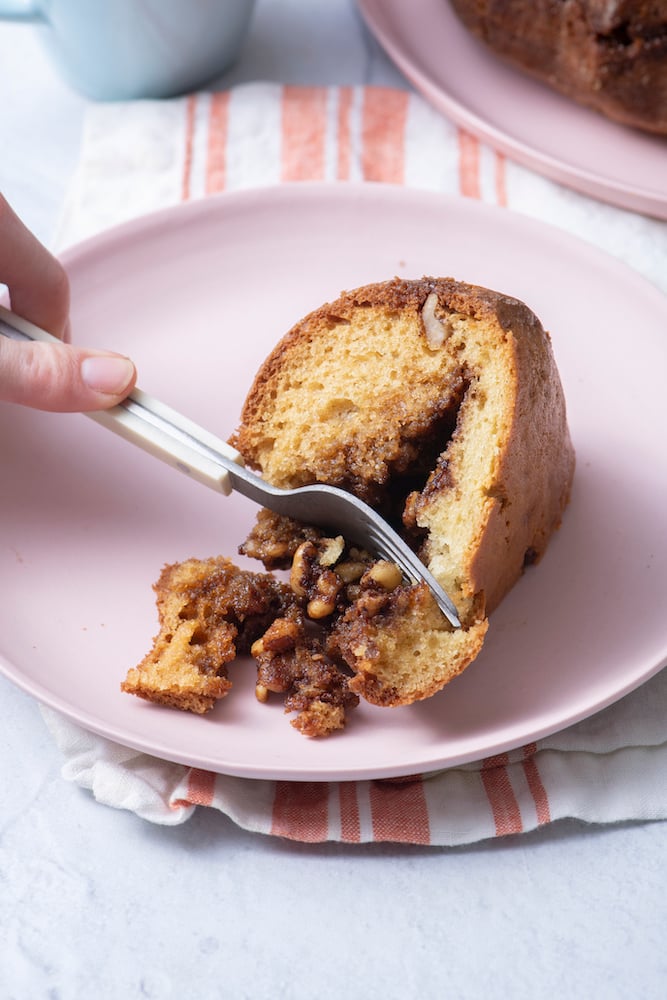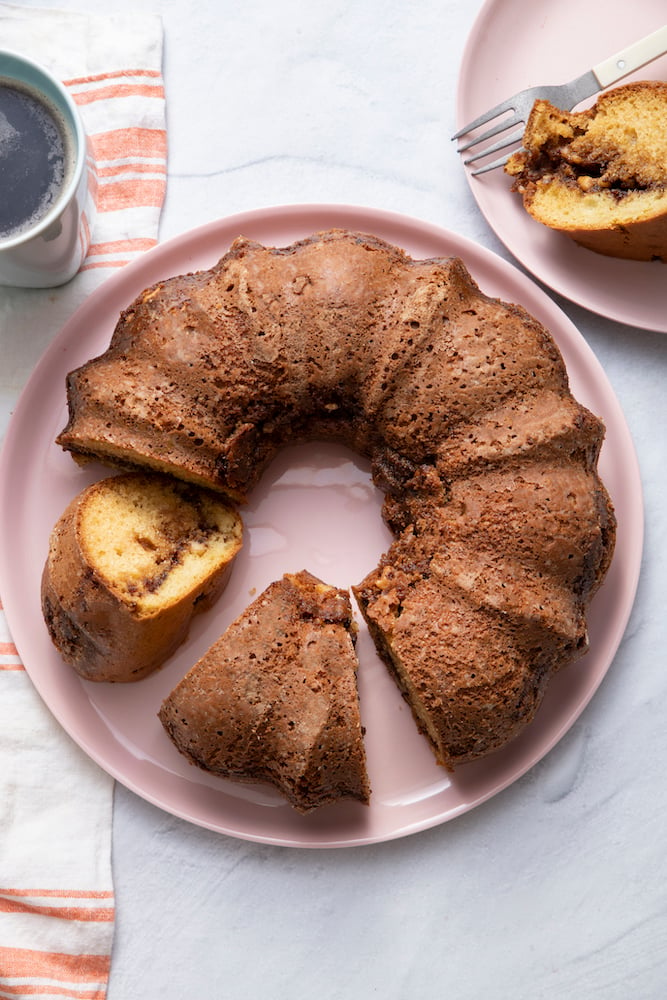 When I became an adult, whenever I went to someone's home, I would bring a Cinnamon Streusel Coffee Cake of my own. It was one of those foolproof recipes in my repertoire and it always seemed to the recipient like I had made something truly special, even though it was beyond easy to make. If you looking for more simple holiday desserts that will always impress, make these Holiday Chocolate Chip Sprinkle Bars, Cake Mix Sprinkle Cookies or Fruitcake Bars.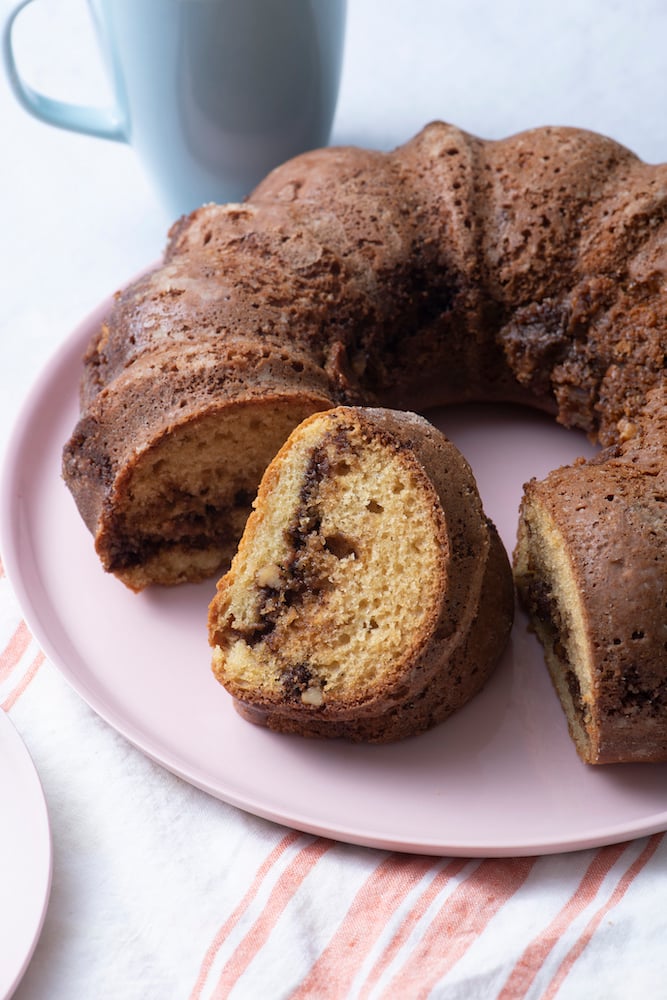 Many years passed since I last made this cake, but then one day on the drive to school I was telling Kenya a story about this cake and he asked me if I would make one for him. Always one to oblige, I picked up all the ingredients and together we baked it every step of the way. It wasn't long before I had people asking me for the recipe. Over the years I've made several twists, most notably placing the filling in the center so that every fork full has a luscious bite of caramelized cinnamon walnuts. This cake is a majorly decadent treat, but one that really impresses!
Let me know what you think of this recipe and if you make it by tagging me on social media!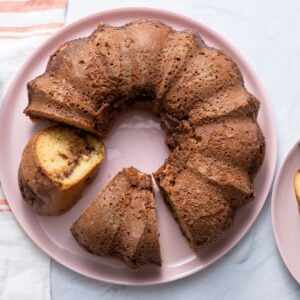 Cinnamon Streusel Coffee Cake
This Cinnamon Streusel Coffee Cake is what dreams are made of! It's absolutely delectable and one of my favorite cake recipes of all time.
Instructions
Preheat the oven to 350F degrees.

In the bowl of a standing mixer or with a handheld mixer, cream together the butter and sugar for 4-5 minutes, until light and fluffy.

Add the eggs, one at a time, making sure to fully incorporate before adding the next one. Add the vanilla.

In a separate bowl, whisk together the flour, baking powder, baking soda, and salt.

Alternate between adding the flour mixture and the sour cream to the butter/sugar mixture until combined.

In a small bowl, combine the brown sugar, walnuts, cinnamon and melted butter, and stir to combine well.

Pour half the batter into a greased bundt pan, and smooth down with a spatula as this batter is thick and fluffy.

Sprinkle the brown sugar mixture all over the batter in the bundt pan and pat it down lightly.

Pour in the remaining batter and smooth down with a spatula.

Place the bundt pan in the oven and bake for 45-50 minutes, until a toothpick inserted in the center comes out clean.

Remove from the oven, and allow to cool for 15 minutes. Flip cake out of pan into a cooling rack. If necessary, run a sharp knife carefully around the edges of the pan to loosen the cake to flip.
Nutrition
Calories:
500
kcal
|
Carbohydrates:
59
g
|
Protein:
7
g
|
Fat:
28
g
|
Cholesterol:
105
mg
|
Sodium:
340
mg
|
Fiber:
2
g
|
Sugar:
38
g