These Fruitcake Bars are not your mother's fruitcake! Made with the freshest of ingredients only, this recipe is sure to change your opinion on what a fruitcake is.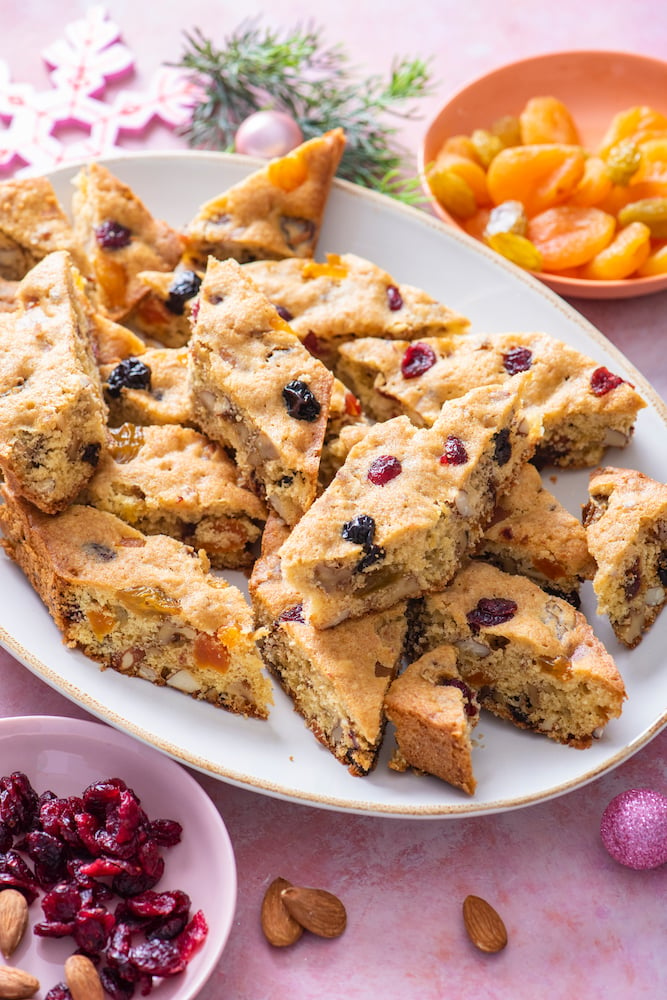 I have such fond childhood memories of the holidays when, in lieu of gifts, friends and family would stop by our house bearing the most delectable baked goods. I remember how often the doorbell would ring and, one after the other, husbands making the rounds would walk in with everything from pound cakes, to sugar cookies, to coffee cakes, and more. It was never long before our entire dining room table was filled with scrumptious, yummy treats. Similarly, it was never long before all you could find were a bunch of plates covered with nothing but crumbs.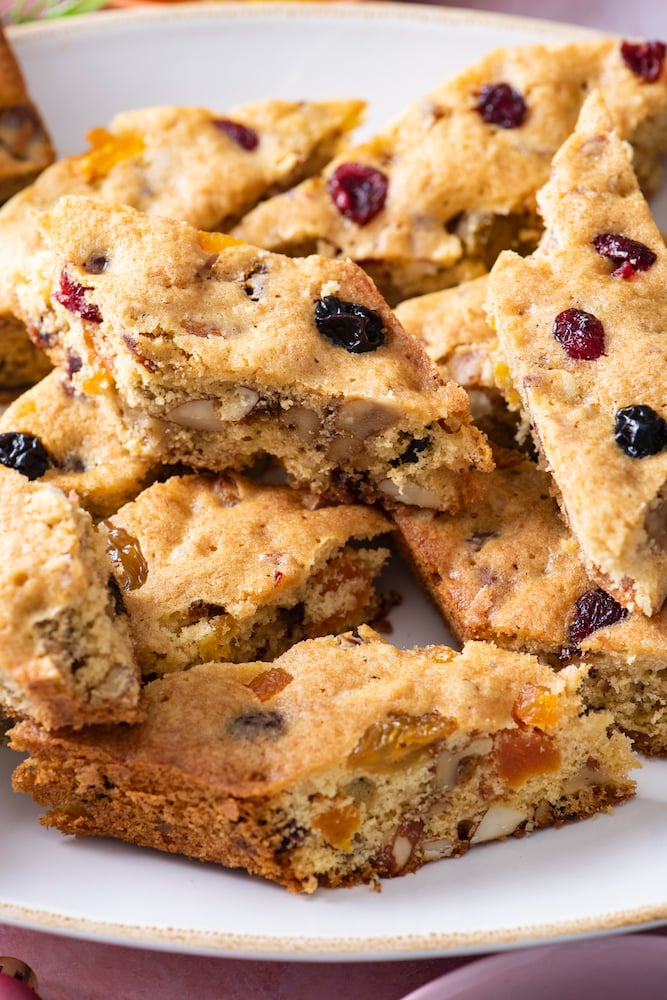 Well, there was always one thing you could count on finding untouched — the dreaded fruitcake. Alone it would sit at the end of the table, where it remained until someone would finally put it out of its misery and toss it into the trash. It was never hard for me to understand why fruit cake was so horrible. From the moment my mother would remove the brightly colored loaf from its impossibly tight wrapping, the overwhelming smell of cheap booze would permeate the whole room.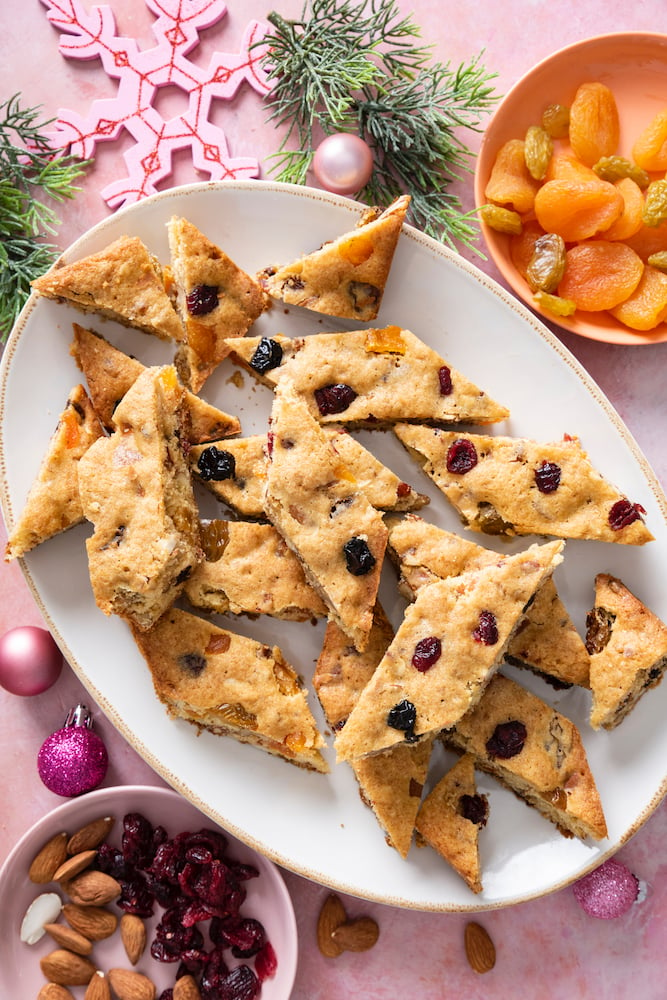 Recently at the farmers' market, I came across a vendor who had boxes overflowing with various natural dried fruits. With the holidays approaching, I felt compelled to take on a much maligned holiday treat and give it another chance at glory. As I started working on my recipe, I wondered if it would be possible to make a fruit cake worthy of actually eating — one without all the alcohol and artificially colored candied fruit that made up the loaves of my youth. My first thought was to make my fruit cake even more party friendly by pouring the batter into a baking dish so they could be cut up into bars for a holiday cookie exchange or other year-end shindig. Not only did this take on fruit cake come out looking beautiful, but the bars tasted crazy good with bits of dried fruit and crunchy nuts in every last bite.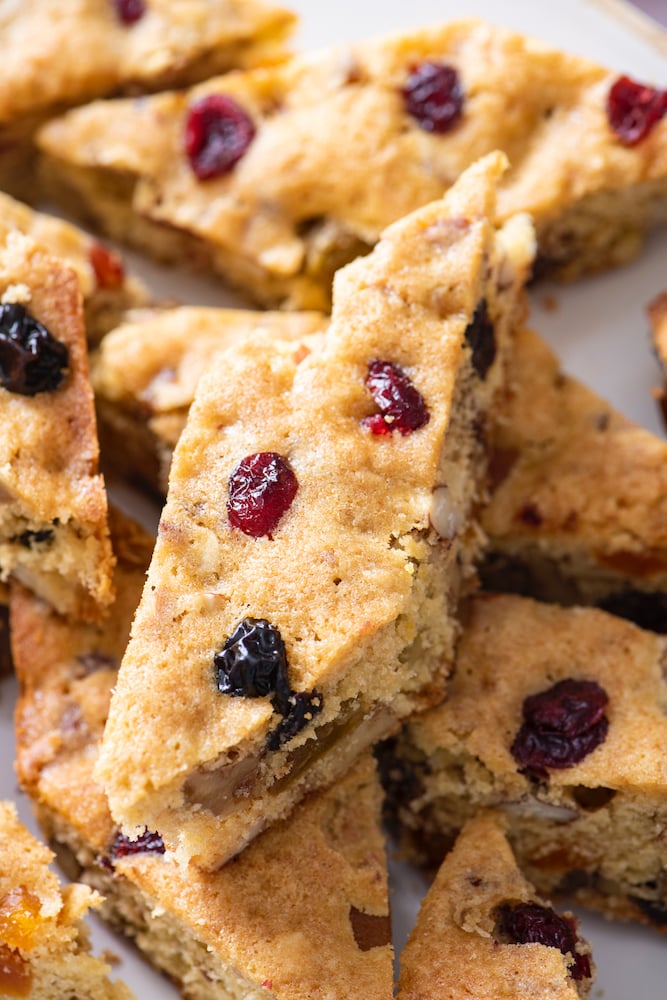 If you decide to make these fruit cake bars this holiday, my only piece of advice is that you make sure to tell everyone to check their preconceived notions at the door…because this isn't your mother's fruit cake!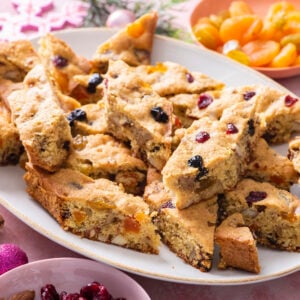 Fruitcake Bars
Ingredients
1

cup

all purpose flour

1

teaspoon

baking powder

1/2

teaspoon

kosher salt

1/2

cup

unsalted butter

1/2

cup

packed brown sugar

2

large

eggs

1

teaspoon

vanilla extract

1

cup

pitted and chopped dates

1/2

cup

dried apricots

1/2

cup

dried cherries or cranberries

1/2

cup

chopped almonds

1/2

cup

chopped walnuts
Instructions
In a bowl, whisk together the flour, baking powder and salt.

In the bowl or a standing mixer, cream together the butter and sugar until light and fluffy, about 3 minutes. Add eggs and vanilla and mix to combine.

Gradually add the flour mixture to the butter mixture until combined. Fold in the fruit and nuts.

Pour batter into a greased 8 x 8 inch baking dish and bake until golden and set, about 45-50 minutes.

Let cool completely then cut into bars.
Nutrition
Calories:
200
kcal
|
Carbohydrates:
28
g
|
Protein:
3
g
|
Fat:
10
g
|
Cholesterol:
15
mg
|
Sodium:
190
mg
|
Fiber:
2
g
|
Sugar:
19
g