This Blackberry Orange Puffy Pancake is a super special weekend brunch or breakfast recipe that you've got to try! It's absolutely gorgeous and not to mention delicious too.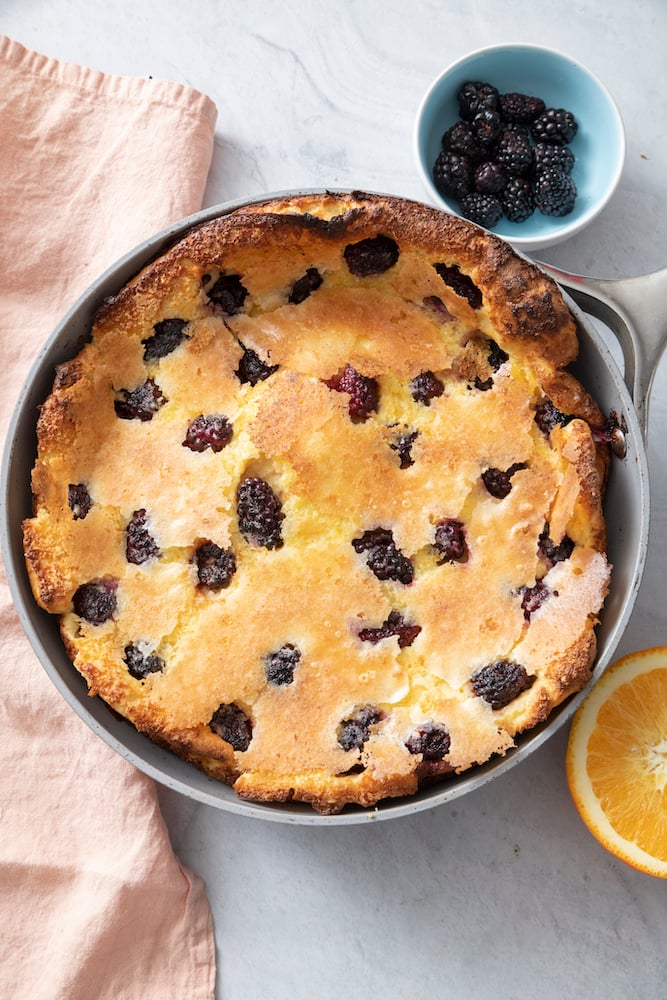 Are you in a breakfast rut? Tired of the same old breakfast recipes you make week in and week out? It's easy to do when your kids cling to their favorite comfort dishes that are just as easy for you to make without too much thought. On the weekends, though, when you have a little more time to plan things out it's fun to try newbies. This Blackberry Orange Puffy Pancake should absolutely be on your list to make!
This puffy pancake is fluffy throughout and filled with juicy, ripe fruit with sweetness and citrus tang all in one. Instead of spending time making a bunch of pancakes to serve your crowd, it's made in one big skillet (preferably my beloved cast iron), so it's also an incredible showpiece to impress your loved ones. There's something fun about looking into the oven and seeing this pancake grow.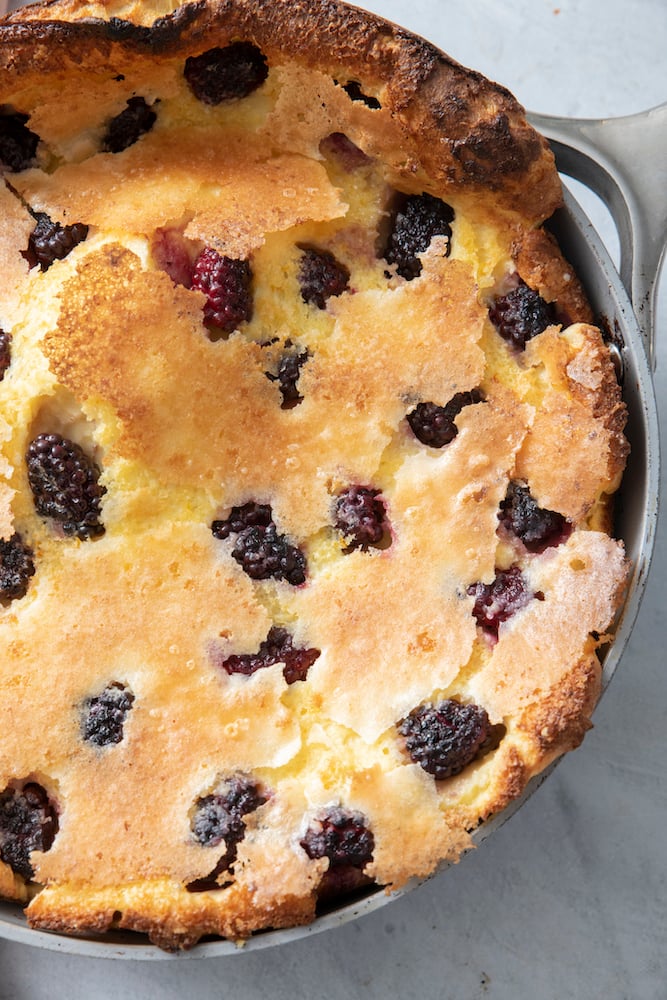 It may seem intricate, but it's actually really simple to prepare especially once you get the hang of it. Before you know it you'll have everyone asking for this beauty to be part of your weekly rotation. If you're looking for more easy recipes to break up your breakfast monotony, try Smash Toast Breakfast Boats, Puff Pastry Breakfast Pies, Cottage Cheese Pancakes or Breakfast Rice Bake.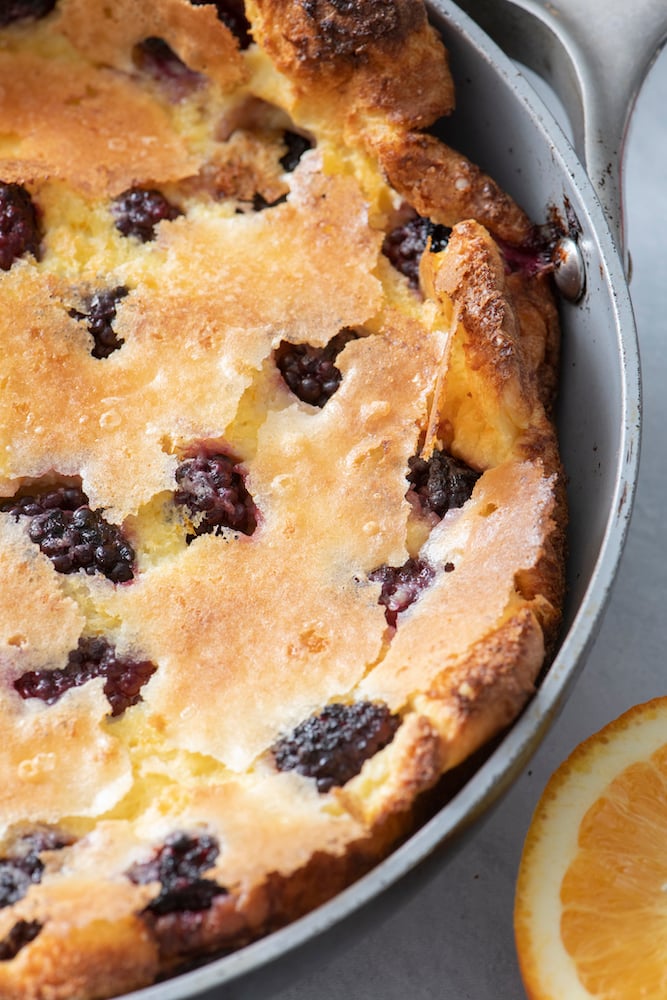 If blackberries are in season, great! But if not, you can use frozen blackberries, defrosted and drained, just as easily. I always have a mixture of frozen berries in my freezer for smoothies and such, so this recipe is a great way to use them too. Feel free to use any of your favorite berries. Blueberries or raspberries I bet would be delicious!
Let me know, of course, what you think about this recipe and tag me on social media if you make it!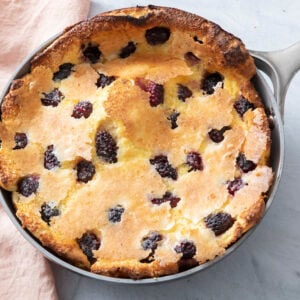 Blackberry Orange Puffy Pancake
Ingredients
2

tablespoons

salted butter

4

large

eggs

1

cup

whole wheat pastry flour, spooned and leveled

1

cup

milk

1/4

cup

pure maple syrup, plus extra for serving as desired

1/2 an orange

1

cup

blackberries, fresh or frozen and defrosted

2

tablesoons

sugar
Instructions
Preheat the oven to 425ºF.

Choose a 10-inch cast iron skillet or stainless steel skillet with an ovenproof handle. Lightly coat the pan with oil or nonstick cooking spray. Cut out a circle of parchment paper about 10 inches in diameter. Press the parchment into the pan so it adheres completely to the oiled bottom and sides. This will prevent sticking. Put the butter on top of the parchment and place the pan into the hot oven to melt the butter.

While the butter is melting, crack the eggs into the bowl of an electric mixer. Beat the eggs on high until pale yellow and a little foamy, about 1 minute. Add the whole wheat pastry flour, milk, maple syrup, orange zest, and 2 tablespoons of juice from the orange. Beat for 30 seconds, scraping down the sides as needed.

Remove the pan from the oven and swirl to coat the parchment paper with butter. Pour the batter into the pan. If using thawed frozen blackberries, drain off the juices and reserve. Gently scatter the blackberries evenly over the top of the batter. Sprinkle with the sugar and put into the oven.

Bake for about 20 minutes, until the pancake puffs, is golden brown, and is just firm to the touch in the center. Remove from the oven. The pancake will quickly deflate (don't worry, it will still be delicious).

Cut into wedges and serve immediately, either plain or with a light drizzle of maple syrup. If you have reserved blackberry juice, stir this into the maple syrup before serving.

Boost It: For a pretty finish, add a light dusting of confectioners' sugar just before serving.