Breakfast Rice Bake is about to be your new favorite breakfast, dessert, snack and really just anytime treat!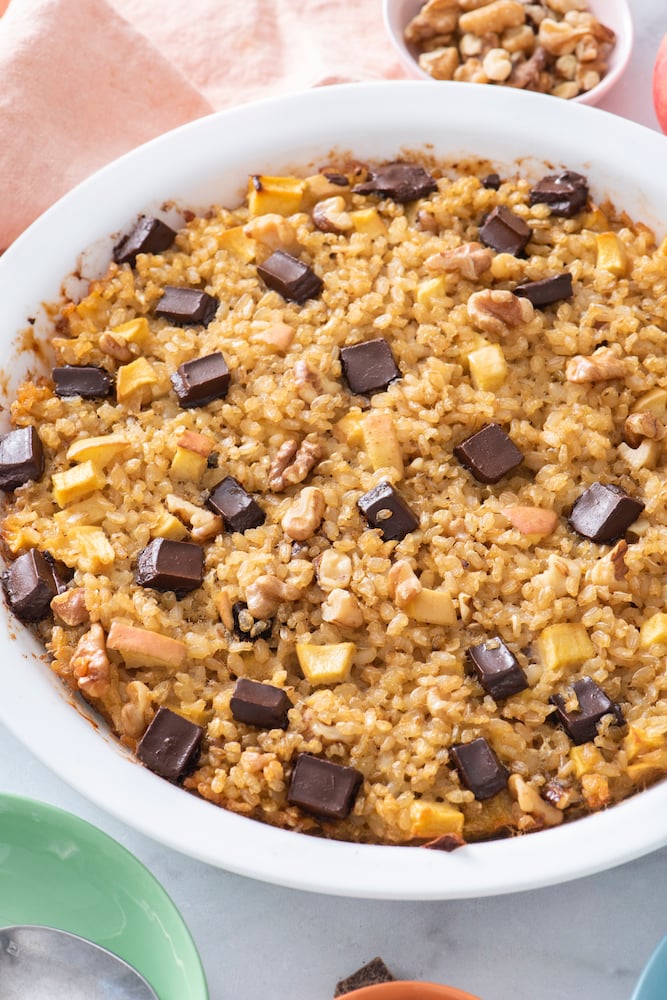 If there is one thing we have in our fridge at any time, it's leftover rice. I love finding new ways to utilize rice. A few years ago, I came up with Leftover Rice Pudding and Brown Rice Cakes and they have become a staple in our household. But this Breakfast Rice Bake might've just taken the number one spot in how we use our leftover rice.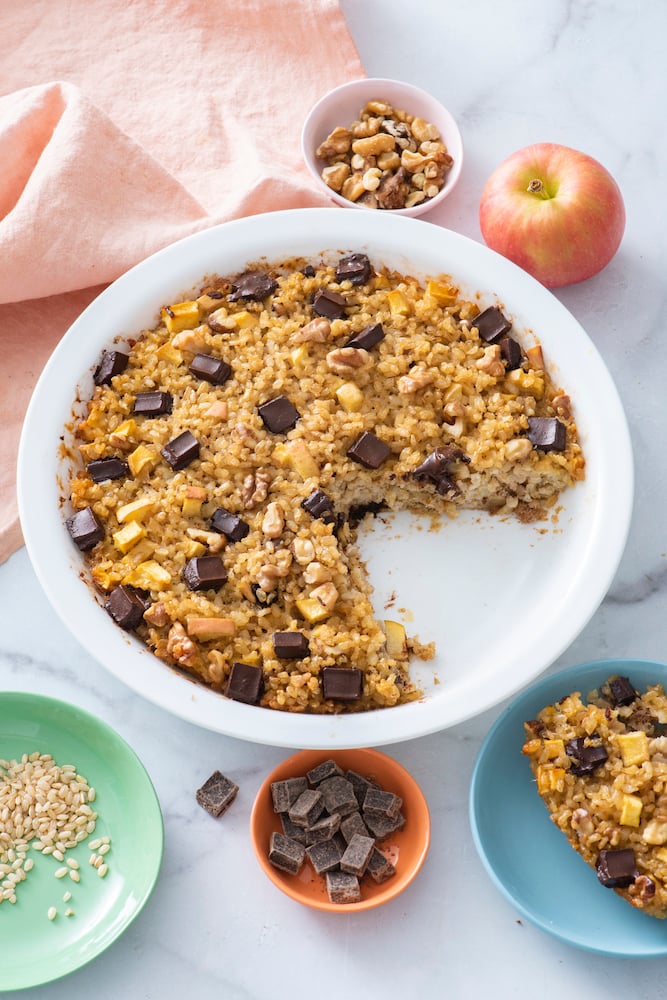 A few weeks ago, my husband had a hankering for something sweet for breakfast. Everything I suggested either sounded too sweet, too decadent, too not what he was looking for. So he whipped out the leftover brown rice, and started to get to work. What he came up with blew our whole family away. It wasn't overly sweet, but still felt satisfied that sweet tooth and was so comforting. We were hooked!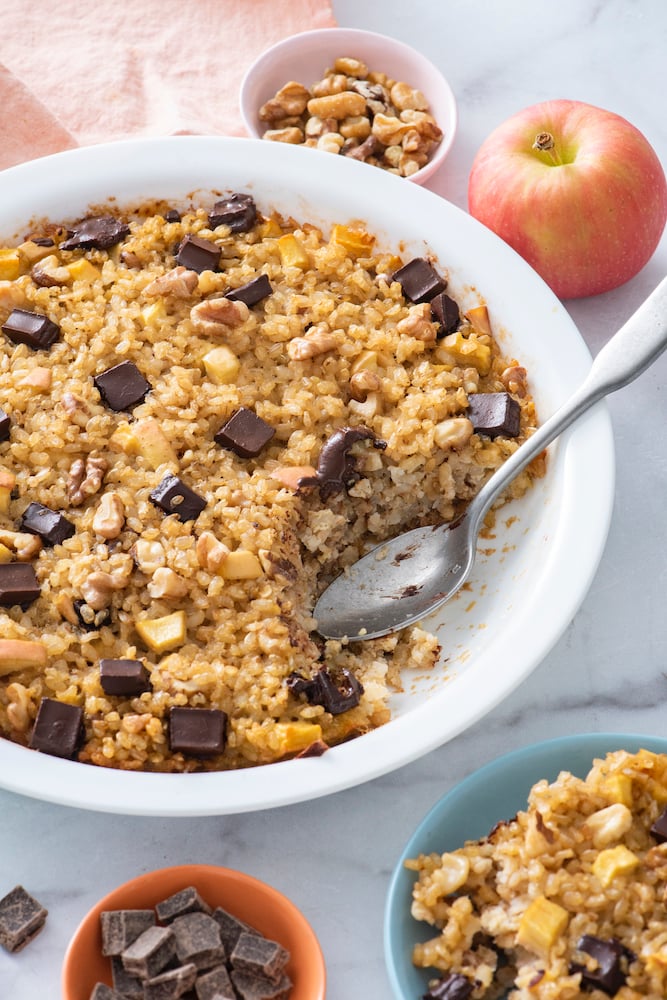 For this rice bake, I used apples, walnuts and I topped it off with dark chocolate chips. The maple syrup, vanilla extract and cinnamon added to this recipe give it just the right amount of sweetness without overpowering it.
The key to this bake, in my opinion, is letting it get just crispy enough. We found that 45 minutes at 350 did the trick.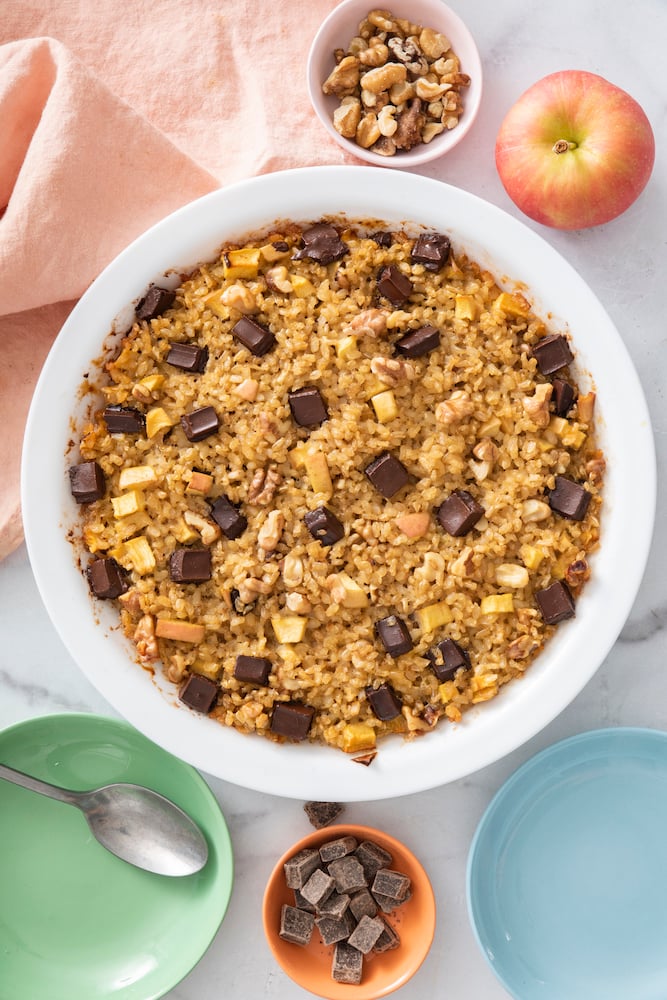 Though I like using leftover rice, you can definitely use fresh rice instead. You can also totally use your own additions in this recipe as well. Almonds, pecans, macadamia nuts, pumpkin seeds would all be delicious in this bake. I like the crunch that the apples add, but you're absolutely welcome to use other fruits. Blueberries, strawberries, blackberries, really any kind of berry would make a wonderful addition to this. Sliced bananas, pears or peaches would also be incredible. The possibilities of this bake are endless!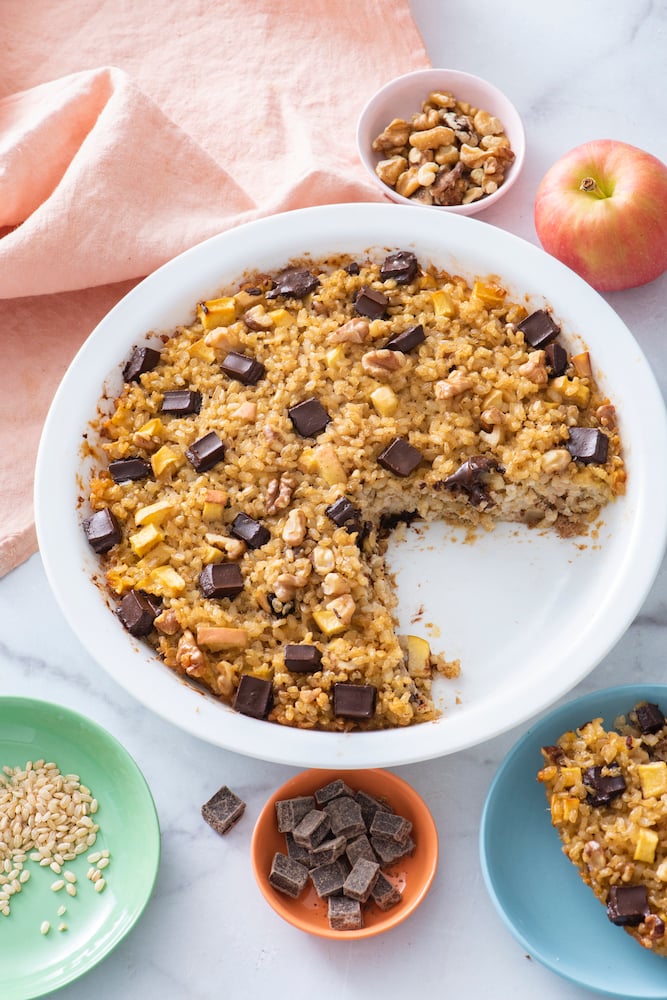 What do you want to add to your Breakfast Rice Bake? Would love to hear what wonderful creations you come up with!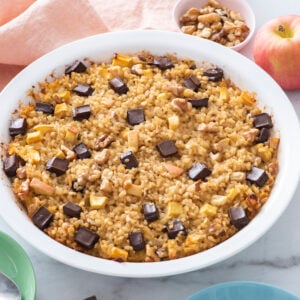 Breakfast Rice Bake
Breakfast Rice Bake is about to be your new favorite breakfast, dessert, snack and really just anytime treat! 
Ingredients
4

cups

cooked brown rice (short or long grain)

1

small apple, diced

1/2

teaspoon

cinnamon

3

tablespoons

maple syrup

1

teaspoon

vanilla extract

1/2

cup

chopped raisins, chocolate chips and/or walnuts
Instructions
Preheat oven to 350 degrees and grease an oven proof pie plate with spray, oil or butter.


Beat the eggs in a large bowl.

Place the remaining ingredients into the eggs and stir to combine.

Bake for 45 minutes or until top is turning golden.