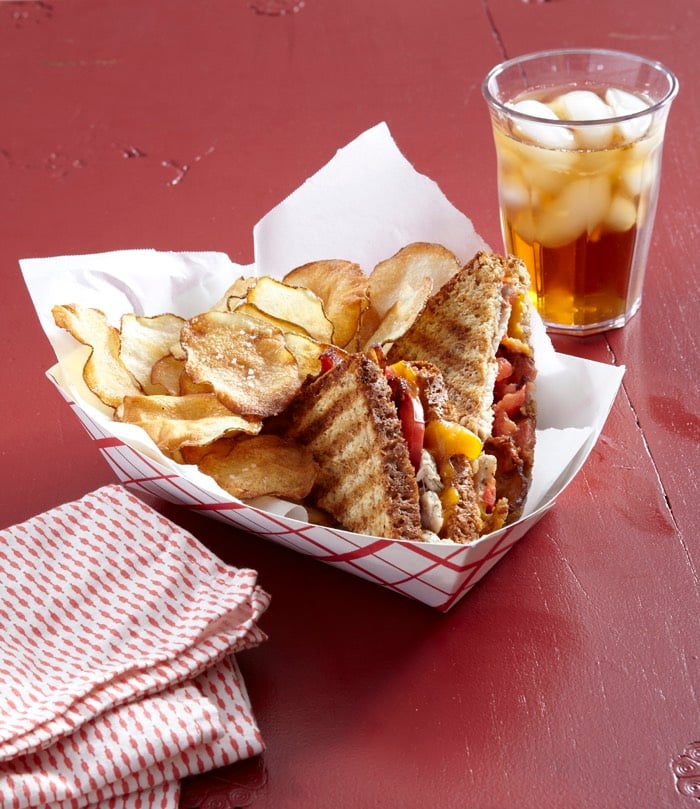 When I was a kid growing up in Kentucky, a Hot Brown was a standard on lunch menus where I lived. It was so popular in fact, you would hear the name roll off of diners' tongues as often as a Reuben or a grilled cheese.
Originally created at the historic Brown Hotel in Louisville, a Hot Brown is a turkey and bacon sandwich with a cheesy sauce that is generally served open faced and, as the name implies, hot. I've seen tons of variations on it over the years, but this recipe is the way that I like it. Fresh slices of turkey, crispy bacon, sliced juicy ripe tomato and sharp cheddar to accompany every last bite. I forgo the sauce because it's very rich and just takes too much time to prepare.
If you're looking to pack an enviable sandwich for your kids' first day of school, I totally suggest this one!
Photo by Maren Caruso
This recipe is part of the FN Dish Comfort Food Feast! Check out the other amazing recipes below!
FN Dish_ Grilled Cheese Goes Beyond Cheese
Jeanette's Healthy Living_ Grilled Cheese With Kale Artichoke Pumpkin Seed Pesto
Cooking With Elise_ Inside-Out Grilled Cheese With Bacon
Red or Green?: Grilled Cheese Sandwiches Red or Green-Style
Napa Farmhouse 1885_ Grilled Ham and Cheese Sandwiches
Virtually Homemade_ Grilled Cheddar, Apple and Arugula Sandwich
The Sensitive Epicure_ Individual Goat Cheese Mac & Cheese (Gluten-Free, Lactose-Free)
Devour_ Caramelized Onion Grilled Cheese
Thursday Night Dinner_ Grilled Cheese and Tomato Soup
The Heritage Cook_ Open Faced Grilled Halloumi Sandwiches
Big Girls, Small Kitchen_ Muhammara Grilled Cheese
Daily*Dishin: Grilled Jarlsberg and Black Forest Ham With a Surprise
Feed Me Phoebe_ Mexi Grilled Cheese With Avocado, Pepper Jack and Refried Black Beans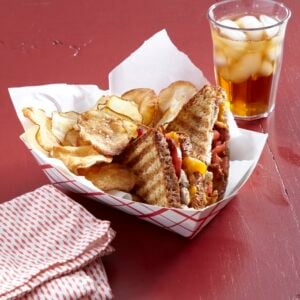 Kentucky Hot Brown Panini
Ingredients
8

slices

whole wheat bread

8

slices

sliced turkey breast

2

tomatoes, sliced

8

slices

crispy cooked bacon (turkey bacon works great too)

1/4

cup

parmesan cheese, grated

4

slices

cheddar cheese
Instructions
Place 2 slices of turkey breast on one slice of toast.

Top with 2 slices of tomato, 2 slices of bacon, 1 tbsp of parmesan cheese and 1 slice of cheddar cheese.

Cover the sammie with another slices of toast and place in a panini maker.

Cook for 3-4 minutes or until bread becomes golden and cheese is melted.

Continue to make the rest of the paninis.

Slice in half and serve.
Nutrition
Calories:
390
kcal
|
Carbohydrates:
34
g
|
Protein:
31
g
|
Fat:
14
g
|
Cholesterol:
55
mg
|
Sodium:
1640
mg
|
Fiber:
6
g
|
Sugar:
9
g