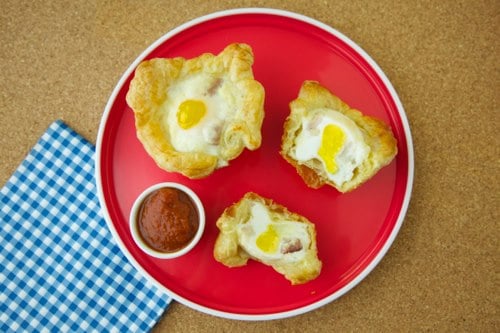 Pin
Watch this video to see how easy these are to make!
I love eggs and wanted to demonstrate how perfect they are any time of day, so I came up with a bunch of recipes that go beyond breakfast and are not only affordable, but also high in protein and easy to prepare. Today's recipe is part of our week long Eggs Beyond Breakfast* series, sponsored by Safest Choice pasteurized eggs and which we started last Thursday with Mexican Fried Rice.
I loved the idea of doing this series since eggs are one food I find most people always have in their refrigerators. I, for one, always have a carton or two on hand because they are one of the few ingredients that last for weeks and everyone in my family enjoys them no matter what time of day it is. One of the reasons I like Safest Choice eggs is that their shelf life is twice as long as most.
Another item I keep year round is frozen puff pastry. It can transform the most simple of ingredients into something spectacular.
Case in point with these Egg and Bacon Muffin Cups. They may look fancy, but they're really quite simple. You may want to keep that fact a secret so everyone will think you slaved away for hours in the kitchen making them something extra special. And if you want to make this dish even more kid friendly, let your kids squirt a dollop of ketchup on their plates to dip away. It only adds to the fun of this out of the ordinary and supremely tasty recipe.
* Safest Choice is sponsoring a sweepstakes to win fabulous kitchen prizes and a year's supply of eggs for your family! Two grand prize winners will also win an autographed copy of my new book, Weelicious: One Family. One Meal. Click here to enter. Every entrant will receive a free download of printable Weelicious recipe cards featuring the full Beyond Breakfast recipe series.
Also, win a year's supply of eggs from Safest Choice — enter before October 29 — by clicking here.
Egg and Bacon Muffin Cups
Ingredients
2

sheet

frozen puff pastry (17.3 ounce box), thawed and chilled

13

large

eggs

2

strips

thick-cut bacon, roughly chopped

4

tablespoons

grated parmesan cheese

greek yogurt

1

tablespoon

water
Nutrition
Sodium:
220
mg
|
Sugar:
1
g
|
Fiber:
1
g
|
Cholesterol:
5
mg
|
Calories:
270
kcal
|
Fat:
18
g
|
Protein:
8
g
|
Carbohydrates:
19
g