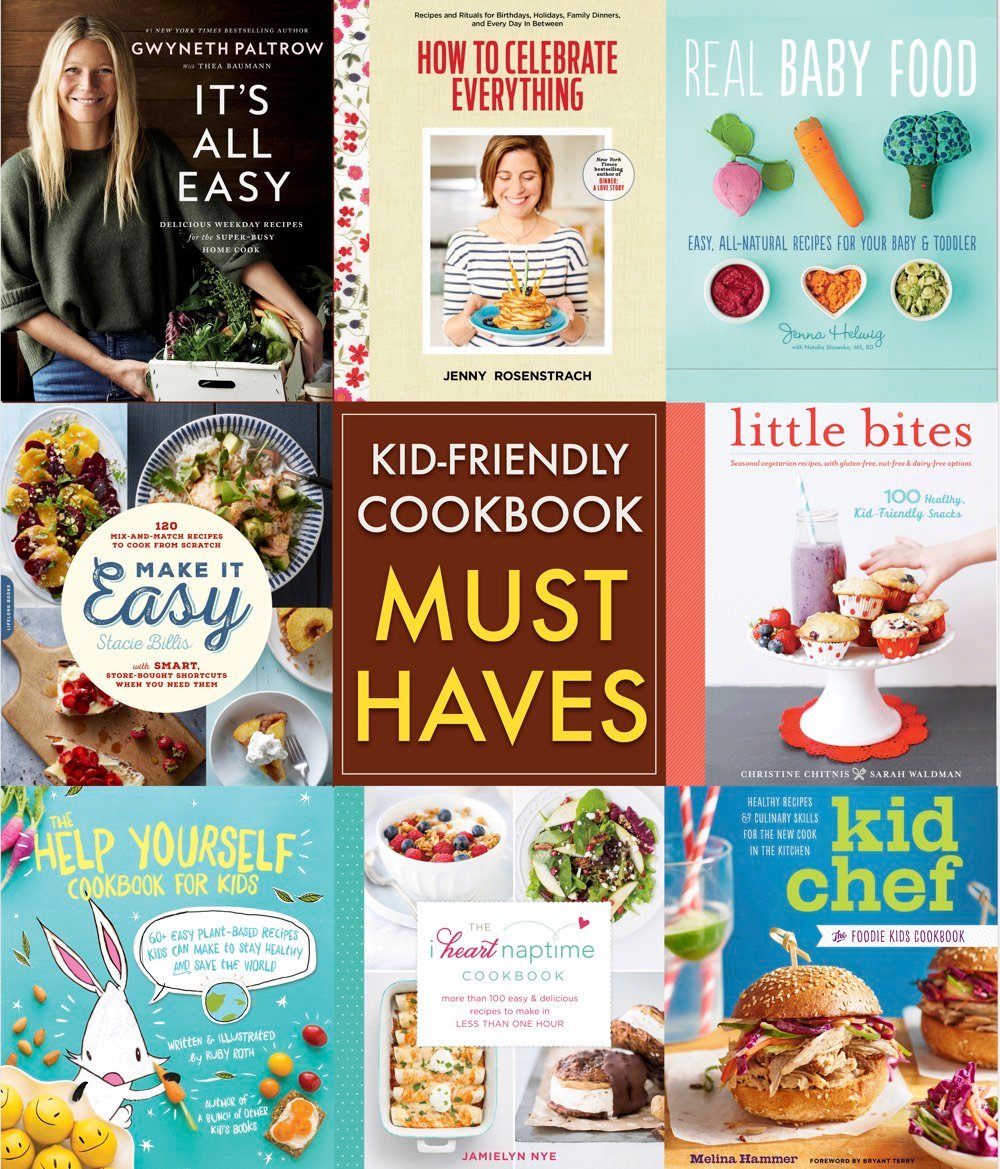 Pin
As many of you know, I have a serious cookbook addiction! I've promised myself yet again that I will purge a bit this year to make room for new favorites, but it's always tough for me to choose which books stay and which ones go! In the past two years I donated 50 or so books to our local public library, so I can at least check them out whenever I miss them. At this point I've got 5 packed bookshelves throughout our house organized by subject. One of my all time favorite shelves is reserved for Kid Friendly Cookbooks. There's a kid in all of us and many of these books are perfect for everything from planning a birthday party to easy family meal ideas to homemade baby food and more. Check out some of my most recent finds if you're looking for a bit of family friendly inspiration this summer!
It's All Easy_ Delicious Weekday Recipes for the Super-Busy Home Cook by Gwyneth Paltrow
Gwyneth is the real deal when it comes to cooking. I've been cooking from her previous books, My Father's Daughter and It's All Good since they came out a few years ago. Her recipes are not only simple, but nutritious and crowd favorites. Her Blueberry Muffins are impossible to top! In her new book, It's All Easy, Gwyneth focuses on recipes that are low in sugar and gluten. She even has an "On-The-Go" chapter for quick to prepare meals to fill the lunchbox or take to soccer practice or a picnic. If you enjoyed her first two books you'll love this one too!
How to Celebrate Everything by Jenny Rosenstrach
Jenny is the creator of the wildly popular book and blog, Dinner A Love Story. I just got my hands on a preview copy of her amazing new book which I will definitely be using as inspiration for Gemma's first birthday party next month. Recipes like Picnic Chicken and her Peach Berry Cobbler are too mouthwatering to resist!
Real Baby Food_ Easy, All-Natural Recipes for Your Baby and Toddler by Jenna Helwig
I've known Jenna since she started as the food editor at Parents Magazine. Her effervescent personality is imbued in her writing throughout this bible for new moms, babies and toddlers. Every page is better than the last and makes you understand the principles of getting kids to become great eaters — a girl after my own heart!
Make It Easy_ 120 Mix-and-Match Recipes to Cook from Scratch by Stacie Billis
Cooking homemade recipes 7 days a week can be painfully challenging for many people. You want to cook, but who's got the time? Stacie, founder of One Hungry Mama and managing editor of Cool Mom Eats gets the struggle. She wrote Make It Easy to help you mix and match recipes which turn into a lot of 2-in-1's. I made this Salmon Two Ways recipe which was the perfect solution for having dinner ready for two nights in just half the time. She puts modern spins on classic recipes to get her own two sons to eat and make cooking much more of a joy!
Little Bites_ 100 Healthy, Kid-Friendly Snacks by Christine Chitnis and Sarah Waldman
If you need healthy, kid-friendly snacks that are vegetarian and designated as gluten, nut and dairy-free throughout, this is the book for you! The book is broken down by season as well, so it's especially fun for families who love shopping, eating and cooking based on the time of year.
The Help Yourself Cookbook for Kids by Ruby Roth
Ruby, one of the leading authors and illustrators of vegan and vegetarian books for kids (Kenya is one of her biggest fans), just released her latest book filled with plant-based recipes to keep your kids healthy and save the world. Each page is a work of art and inspirational for both the young and older set. Her recipes are broken down into the basic 1, 2, 3's but also contain tips throughout the book educating you on ingredients and more (did you know hemp seeds contain Omega-3's that actually form parts of our brain?!). If your child is a vegetarian like mine or you're just looking for more ideas on becoming one, this book delivers!
Kid Chef_ The Foodie Kids Cookbook by Melina Hammer
In a world of kid-themed cooking competitions on TV comes a cookbook focused on your lil' foodie. It's packed with all kinds of healthy recipes and culinary skills for the kid trying to take over meal time (not such a bad thing for you, Mom and Dad). Even though it's geared towards the younger set, this book is for anyone wanting easy-to-prepare, nutritious recipes. Miso Grilled Shrimp Skewers, Pulled Pork Sliders and Easy Tzatziki were two of the ones that Chloe asked me to let her make as she perused the pages. That's a pretty good sign of this book's appeal.
I Heart Naptime by Jamielyn Nye
Inspired by her blog by the same name, Jamielyn, proves exactly why naptime is so precious when it comes to preparing recipes in less than an hour. It includes over 100 recipes, but also fun DIY craft projects that are perfect for any celebration!