Pupusas are an extremely cost effective meal! Fill them with your favorites and you've got a perfect dish!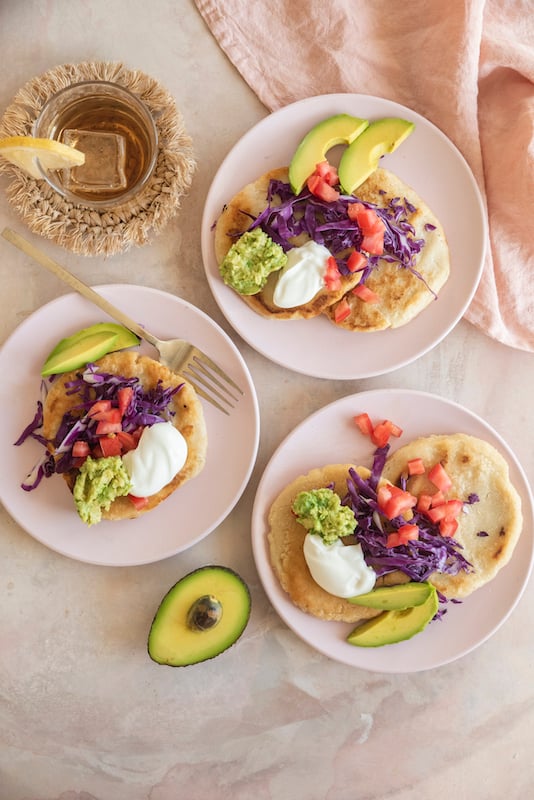 There have been many times I've seen people shy away from an international dish solely based on its name. I totally get that it can be intimidating to order something you know nothing about in hopes that you, or dare I utter, your kids would enjoy it. Just the other day we went to a Mexican restaurant while on vacation in upstate New York and when I named off dishes to the kids that included sopes, huaraches and flautas there was silence in the air for several seconds until Kenya said "do they have tacos or enchiladas?"
It can feel intimidating trying new foods with exotic names, but once you try and enjoy them there's no going back. This is exactly what happened when we had pupusas for the first time at our farmers market years ago. I remembered all of our friends ordering them for breakfast with their kids, but for some reason it took some time before we made the leap.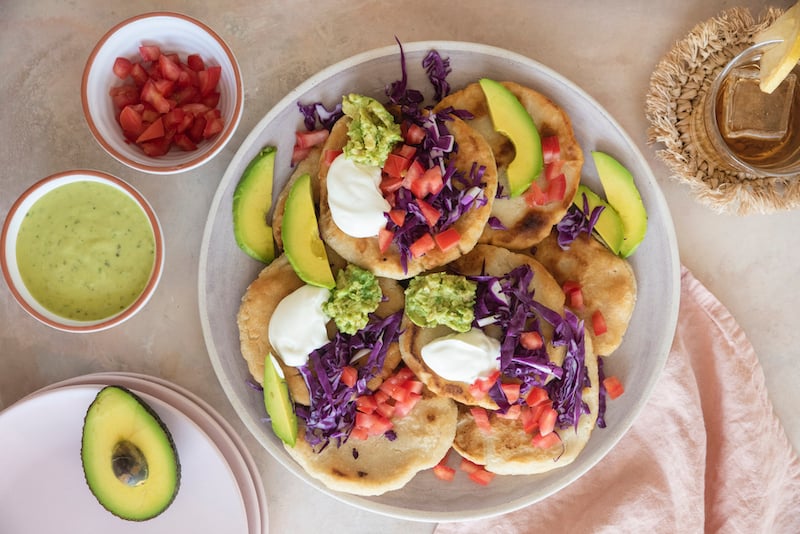 One bite, though, and Kenya was hooked! There was actually shock in his voice (as if he thought they only came from the Salvadorian lady at the farmer's market). Years later our family has had every variation of this Salvadorian dish including cheese, bean, chicken, vegetable and more. They're generally topped with a vinegary slaw, a side of guacamole and crema to add to the simple flavor of the masa that makes these traditional pupusas.
The best part is they only take minutes to make and cost so little per serving, which is great if you're feeding a group or looking to stretch your weekly menu planning budget. If you make them please let me know in the comments below what you added inside (if anything) to make them your own!
Pupusas
Ingredients
2

cups

masa harina (corn flour)*

1

1/2 cups

water

1/2

teaspoon

kosher salt

1/3

cup

cheese, shredded (I used a mexican blend of cheeses)

oil
Instructions
Combine the masa, water and salt in a bowl and stir to combine into a dough.

Divide the mixture into 6 balls and flatten each one into a 3 inch disk.

Place 1 tbsp of shredded cheese in the center of the disk and carefully fold in the edges to enclose the cheese.

Flatten the disk, covering the cheese and form into 1/4 inch thick disks (about 5-6 inches across).

Heat 2 tbsp of oil in a large saute pan. Add 2-3 pupusas at a time and cook for 4-5 minutes on each side for a total of 8-10 minutes.

*Make sure to buy masa harina (sold at most groceries) which is different from cornmeal

To Freeze: After step 4, place on sheet tray and freeze for 30 minutes or until frozen then transfer to a ziploc bag label and freeze up to 4 months. When ready, defrost in fridge for 24 hours and follow steps 5-6.