When I think of summertime these are some of the things that comes to mind:
1. Kids running through the yard and throwing themselves on a wet Slip 'n Slide.
2. Popsicle juice dripping down little fingers gripping a wooden stick.
3. Loose fitting white dresses that keep you cool in the hot sun.
4. Munching on huge wedges of ice cold watermelon while chillin' by the pool.
But most of all…
5. Watching the tomato vines in our garden finally blossom and be overrun with juicy heirlooms in a variety of colors and sizes. Rarely are they perfect in shape, but their flavor? Indescribably delicious.
Sure you can buy a plastic tub or jar of pico de gallo at the grocery, but there's nothing like making it fresh. Big chunks of ripe tomatoes, bite size pieces of red onion, handfuls of chopped cilantro, and zesty lime juice all blended to create a signature flavor. You can follow "my" pico recipe below, but I highly recommend you just take the idea and make it to your taste. Spoon it over grilled chicken or fish or just go classic and scoop it up with crunchy tortilla chips.
What tastes more like summer than that?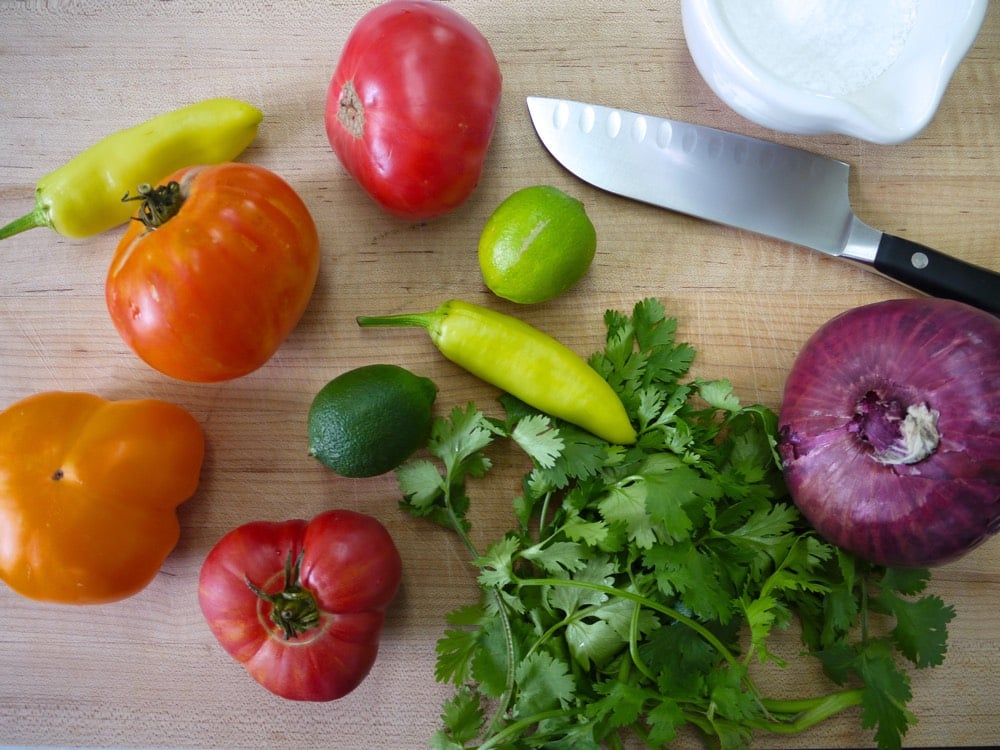 This recipe is part of Food Network's Summer Fest. Click the links below to view all the other fabulous recipes!
Jeanette's Healthy Living: Juicy Summer Heirloom Tomato Fruit Salad
Dishing: Homemade Tomato and Herbs Pasta Sauce
Taste With The Eyes: Pomodorini e Mozzarella Ciliegine
The Sensitive Epicure: Tiny Insalata Caprese
Weelicious: Heirloom Tomato Pico de Gallo
Napa Farmhouse 1885: Slow-Roasted Tomatoes with Bruschetta
Red or Green?: Nachos with Fresh Tomatoes, Pinto Beans and Chiles
Domesticate Me: Spaghetti with Cherry Tomato Sauce, Mozzarella and Basil
Blue Apron Blog: Marjoram-Garlic Chicken with Jersey Tomato Panzanella
The Heritage Cook: Caprese Salad and Caprese Pizza
Daily*Dishin: Garden Vegetable Fresh Pasta Sauce
Pinch My Salt: 20 Tomato Recipes
Feed Me Phoebe: Bloody Marias
Dishin & Dishes: Pesto Rosso (Sun-Dried Tomato Pesto)
Devour: Five Fresh Tomato Salsa Recipes
FN Dish: Tomato Recipes Worthy of a Dinner Party