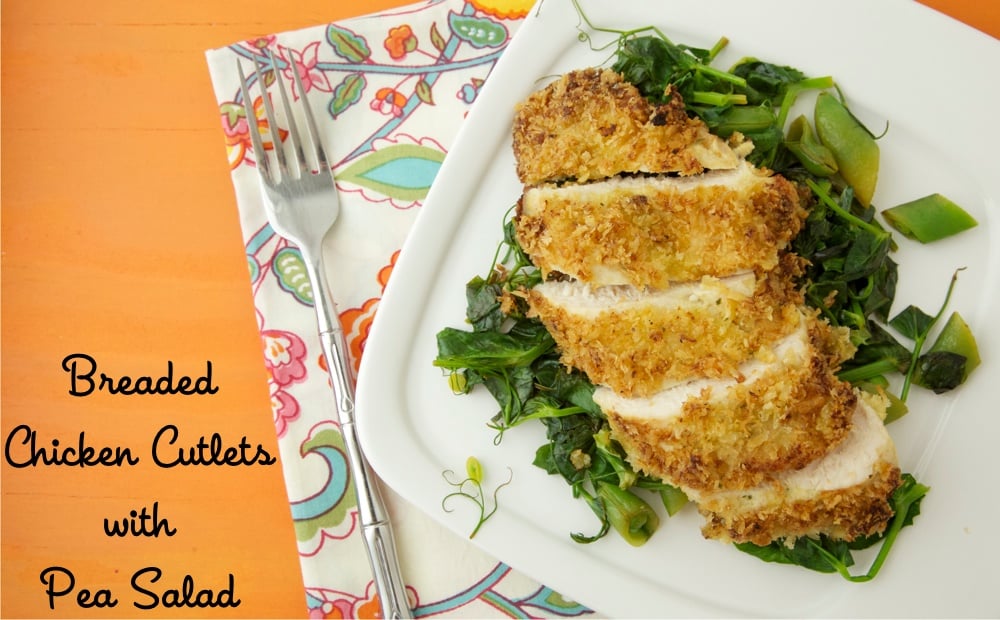 I get so jazzed whenever I find a new cookbook I dig. Recently I bought a copy of Twenty-Dollar, Twenty-Minute Meals (for 4 people). I was intrigued to try it out as that's about the amount of time I have to make most meals. The book's author, Caroline Wright, put together a really terrific collection of simple, fresh, produce-driven recipes and they are all right up my alley.
After spotting pea tendrils at the farmers' market last weekend I made Caroline's recipe for Breaded Chicken Cutlets with Pea Salad. It sounded delicious and I was excited for my family to try a vegetable that rarely graces our dinner table. As the book's title promises, the dish did not take long to prepare and the chicken came out super juicy on the inside and perfectly crunchy on the outside. I planned on using the leftovers for school lunch the next day, but by the end of dinner nothing was left. Oh well, guess I'll just have to make them again!
Breaded Chicken Cutlets with Pea Salad
Ingredients
1/4

cup

dijon mustard

1

tablespoon

finely chopped tarragon leaves

4

tablespoons

olive oil, separated

1/2

teaspoon

kosher salt, separated

1

cup

panko bread crumbs

1

pound

chicken cutlets (4 cutlets)

3

cups

pea tendrils, roughly chopped

6

ounces

sugar snap peas, cut into 1/2 inch pieces

1

tablespoon

lemon juice
Instructions
In a shallow dish, stir together the mustard, tarragon, 1 tablespoon olive oil and 1/4 teaspoon salt. 2. Place the panko in a separate shallow dish.

Dip the chicken cutlets in the mustard sauce to coat well and let excess drip off. Then press the chicken cutlets in the panko breadcrumbs to thoroughly coat.

In a large sauté pan, heat 2 tablespoons olive oil. Cook the cutlets until browned and cooked through, Turning once, about 6-8 minutes total (3-4 minutes per side). Add more oil if necessary to cook all cutlets. Wipe out the sauté pan and reuse for the salad.

In the wiped out saute pan, heat the remaining 1 tablespoon oil. Saute the pea tendrils for 1 minute, add the sugar snap peas and saute for 1 more minute. Sprinkle with the remaining 1/4 teaspoon salt, drizzle with lemon juice and toss to combine.

Serve the breaded chicken cutlets on top of the warm pea tendril salad.
Nutrition
Calories:
400
kcal
|
Carbohydrates:
24
g
|
Protein:
29
g
|
Fat:
20
g
|
Cholesterol:
75
mg
|
Sodium:
900
mg
|
Fiber:
2
g
|
Sugar:
3
g