This Butternut Squash Macaroni and Cheese is the creamiest, cheesiest, most delicious recipe you'll make this fall.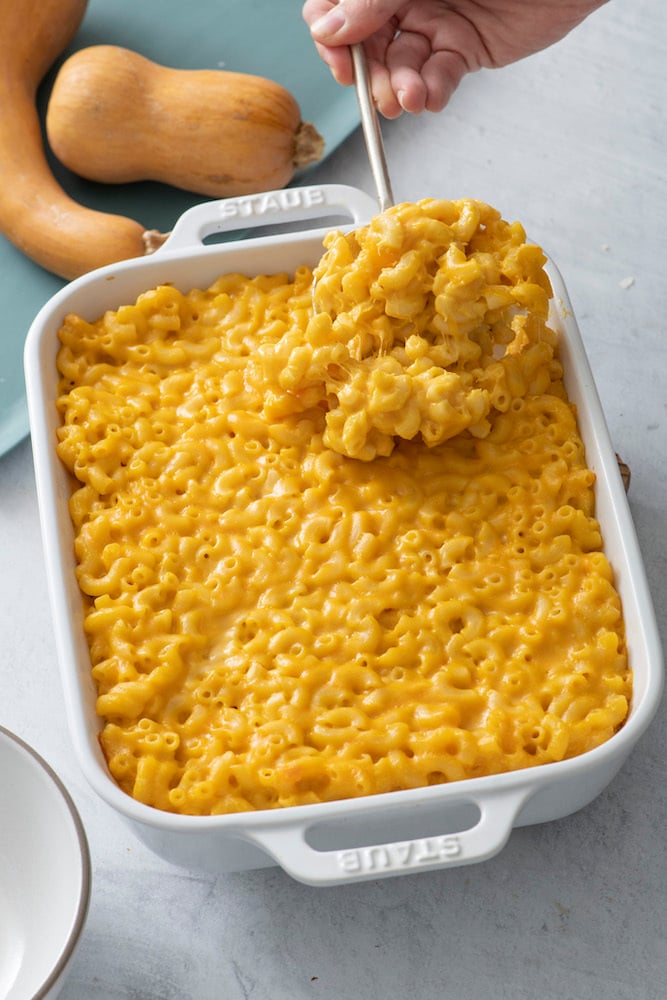 Lately, I've been wanting to dive in and make some simple recipes that feel hearty and appeal to everyone in our family. This week I'm making a bunch of dishes perfect for cold weather like Slow Cooker Chicken Burrito Bowls, Baked Beans in the Crock Pot and this Butternut Squash Macaroni and Cheese in hopes of hunkering in for a cozy week with the fam.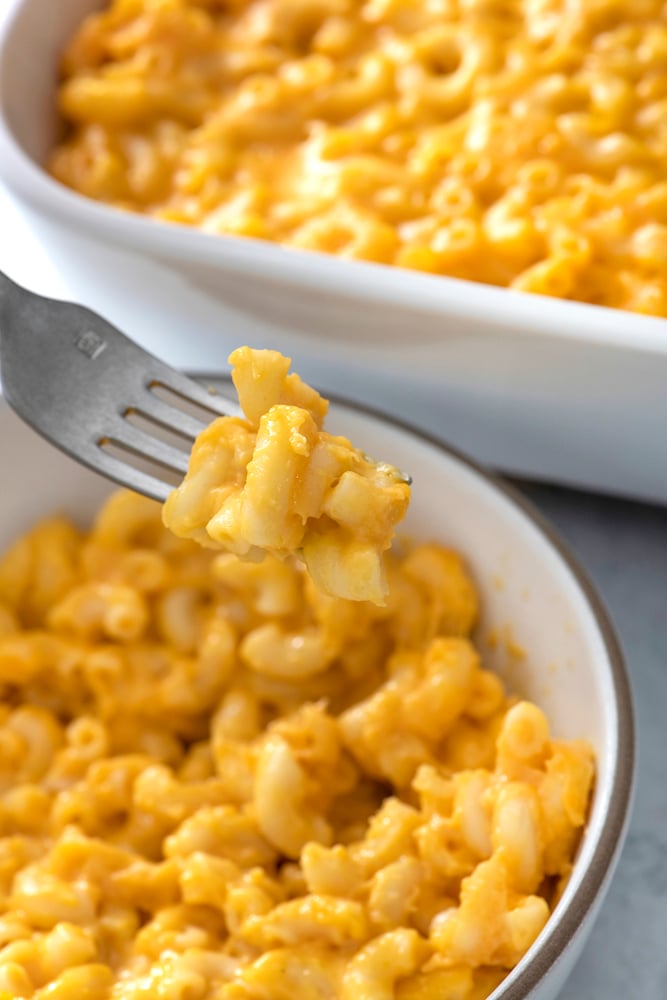 The sauce is incredibly smooth and creamy with a touch of sweetness that clings to every bite of pasta. This isn't mac and cheese with chunks of butternut squash cooked into it, though. I use butternut squash soup, so it's also much lighter than most mac and cheese recipes without sacrificing any of the delicious cheesiness you know and love from a mac and cheese. Sure you could get your veggies eating Green Mac and Cheese, but the butternut squash soup adds tons of bright flavor, nutrition and replaces much of the milk and cream you would typically use!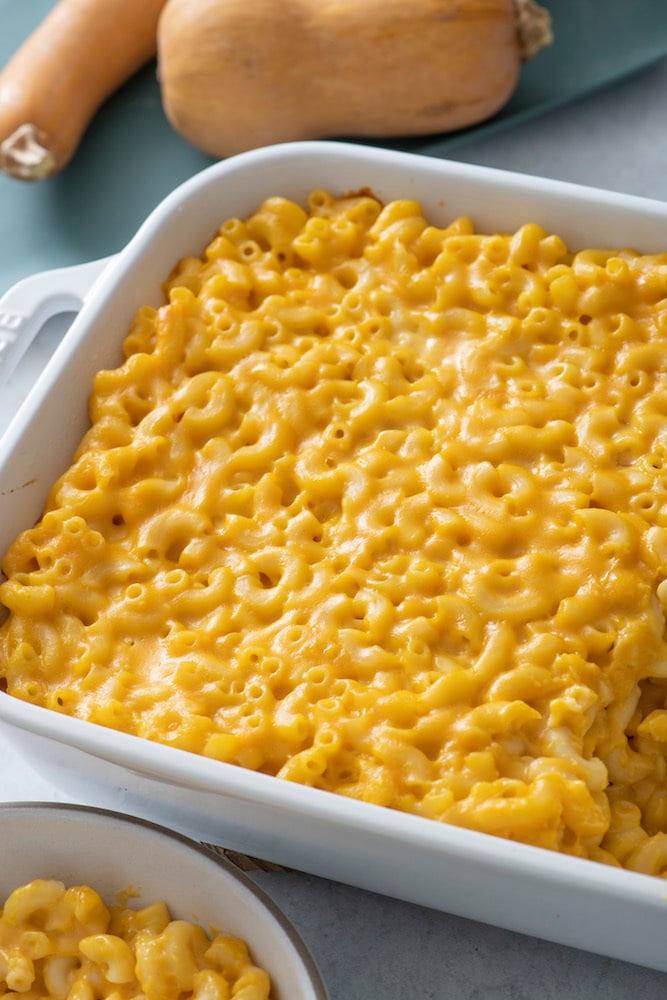 Not only did my kids absolutely devour it, but it made enough for us to enjoy as leftovers for the following days. In the time it takes to cook the pasta you can mix and prepare the other ingredients making this a super simple recipe so you can relax and enjoy more time with your kids. Serve this Butternut Squash Macaroni and Cheese with a Winter Citrus Salad for a kid friendly get together that will have friends asking for the tricks to the dish their kids are eating up.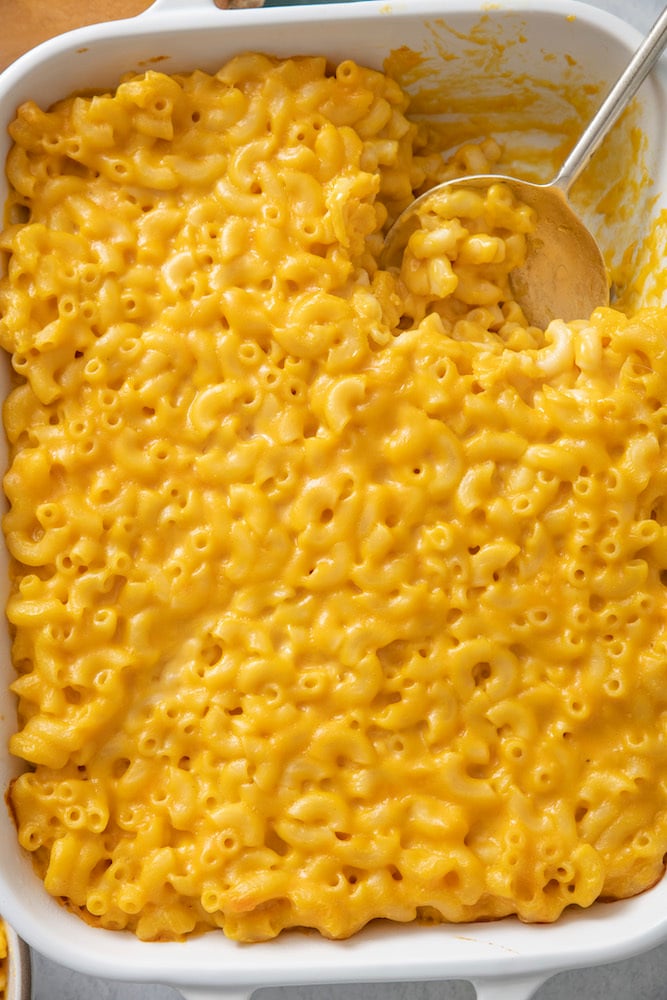 Butternut Squash is such a versatile vegetable. When it's in season, you can guarantee I have some ready to go for some of my favorite fall time recipes like Cinnamon Roast Butternut Squash, Butternut Squash and Apple Soup and Air Fryer Maple Sage Squash. I just love any type of squash so much. I'm always dreaming up recipe for them.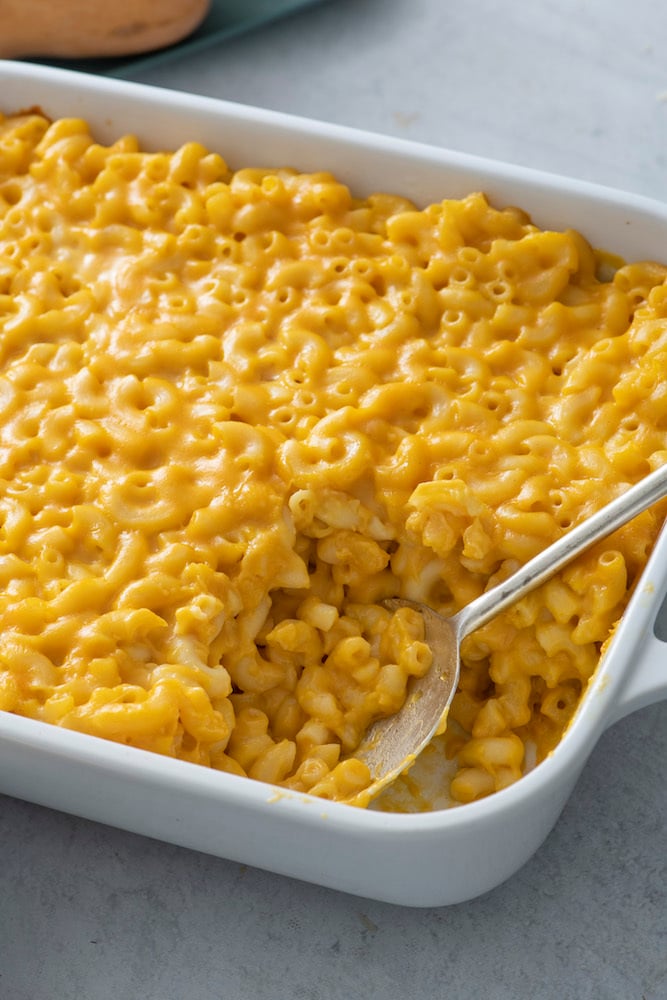 If you make this mac and cheese let me know what you think by tagging me on social media!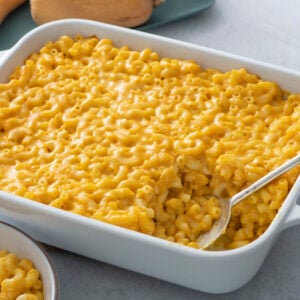 Butternut Squash Macaroni and Cheese
This Butternut Squash Macaroni and Cheese is the creamiest, cheesiest, most delicious recipe you'll make this fall.
Instructions
Cook pasta in salted water for about 3 minutes less than package directions call for, until al dente.

While the pasta is cooking, in a large pot melt the butter and then add the flour, whisking continuously over low-medium heat for 2-3 minutes to make a roux. Slowly whisk in the milk and bring to a boil.

Reduce heat and simmer, whisking occasionally for 3-4 minutes, or until the sauce is gently bubbling and starting to thicken.

Add the cheese, butternut squash soup, and salt. Whisk until cheese is melted.

Stir in the pasta, transfer to a greased 13 x 9 inch baking dish and bake for 20 minutes, until the cheese is bubbling and the pasta is set. You can also serve this straight off the stove top without baking.
Video