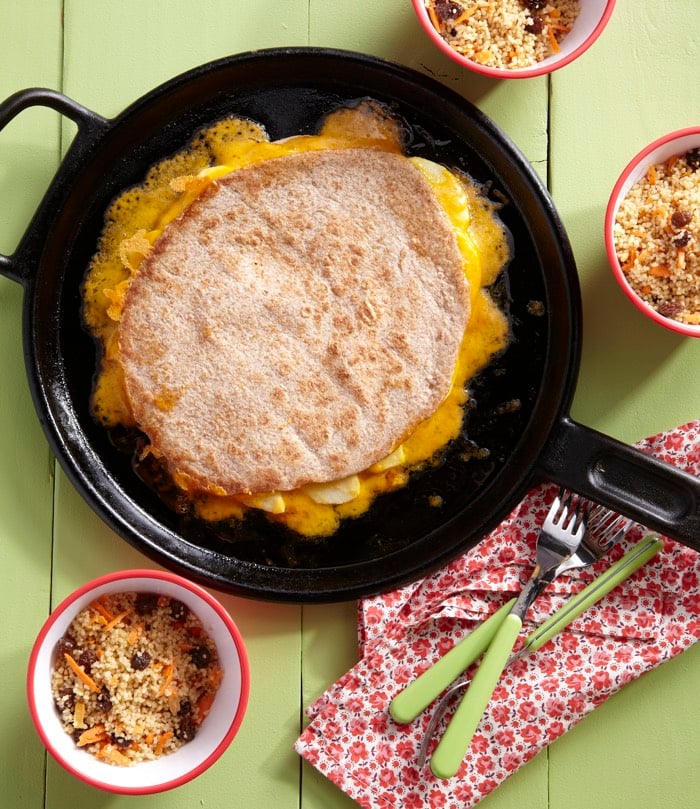 We've been going through a big quesadilla making phase in our house. Whenever we have fun eating or making something, we do it nonstop until we just burn out on the idea for a while. The most recent cooking adventures have been all different kinds of pancakes and homemade gelatos in any form or flavor. We've been whipping up banana almond, sweet potato and veggie pancakes, and coconut, strawberry, and burnt honey yogurt gelato (recipes coming soon!). We all love getting in on the act of creating ideas just based on what's in our fridge and this past week's food obsession was quesadillas. Going beyond the traditional, I went so far as to put cream cheese and kiwis on some quesadillas before cooking them up (trust me_ not a good idea, they were totally gross).
You rarely see sweet quesadilla recipes, but I thought this cheesy quesadilla with apples and honey was a fun idea and Kenya enjoyed helping me prepare them. We made a few with apple sauce and some others with thinly sliced apples and they were equally delicious. Whenever you need a quick recipe that will satisfy a sweet and savory craving, try making your kids a batch of these.
Photo by Maren Caruso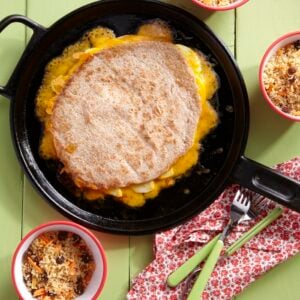 Apples Honey Cheese Quesadilla
Ingredients
4

Whole

Wheat or Spelt Tortillas

1

1/3 Cup

Cheddar Cheese, divided

1

Granny

Smith Apple, peeled and sliced thin, divided OR 1/3 Cup Apple Sauce
Instructions
Place 1/4 of the apple slices (or 2 tbsp apple sauce) on a tortilla, top with 1/3 cup of the cheese and a drizzle of honey.

Cover with another tortilla.

Slide the tortilla "sandwich" into a saute pan over medium heat and cook for 3 minutes on each side.

Cut into wedges.

Serve.
Nutrition
Calories:
310
kcal
|
Carbohydrates:
28
g
|
Protein:
13
g
|
Fat:
16
g
|
Cholesterol:
40
mg
|
Sodium:
530
mg
|
Fiber:
2
g
|
Sugar:
4
g