I'm thinking of pitching a competition show to the Food Network called What Can You Make From Leftover Ingredients In Your Refrigerator? I feel like it would catch on like gangbusters, don't you? While this is generally a competition I have with myself in the privacy of my own home, I would love to see what others do with the extra food they have in their fridge or the tiny amounts leftover from a recipe. I for one am the queen of having 1/2 cup of this and a few tablespoons of that sitting in my refrigerator begging to be used.
Peering into my fridge at this very moment, I see a container with about 2 teaspoons of almond butter in it, maybe a teaspoon of mustard in a jar and a bit of leftover coconut milk from some Vegan Whipped Coconut Sweet Potatoes in my Wean Green glass containers. I would have lost this week's challenge of my competition show if that's all I had in my fridge, but my point is that I hate wasting food or throwing out even the smallest amount of food, so I always try to come up with recipes using whatever I have on hand.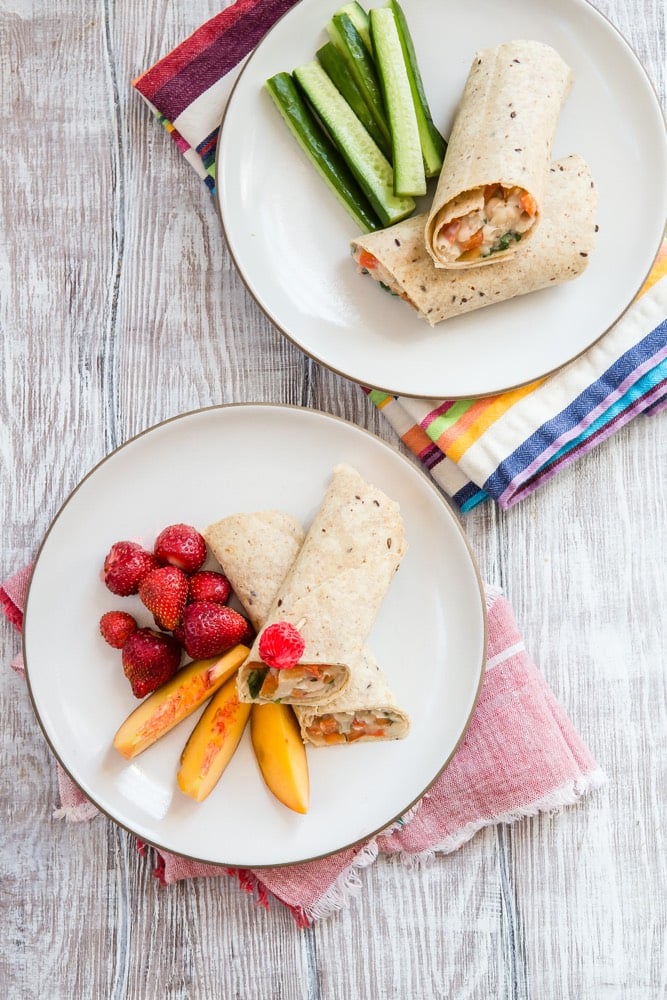 Today's recipe resulted from one of those days. With the cup of leftover beans, 1/2 a bell pepper, two tortillas and handful of cilantro I had lying around, I made these Mexican Bean Tortilla Wraps for school lunch. They're extremely simple to make and easy to hold, making them super kid friendly.
The next time you've got a hodgepodge of leftovers on hand try tossing them together to play my game and let me know what you come up with — maybe I'll feature your recipe here on Weelicious!
Mexican Bean Tortilla Wraps
Ingredients
1

cup

cannellini beans, drained and rinsed

1/2

cup

diced red bell pepper

1

tablespoon

roughly chopped cilantro

1

teaspoons

veganaise or mayonnaise

1/2

teaspoon

kosher salt

2

corn or flour tortillas
Instructions
In a bowl, combine the beans, bell peppers, cilantro, mayonnaise and salt. Mash with a fork until desired consistency is reached and the ingredients are thoroughly combined (I like to leave it chunky).

Spread half of the mixture on each tortilla and roll them up like burritos.