Chloe's just over 5 months old now and we're gearing up for an exciting end of summer and fall full of baby food purees. I've just started freezing purees using peaches, nectarines and mangoes and we're gearing up for butternut squash, cauliflower, sweet potatoes and so many other delicious fall fruits and veggies. I made one of Kenya's favorites, Plum & Banana Puree, so I could freeze a batch for Chloe and put a few spoonfuls on yogurt for my little guy.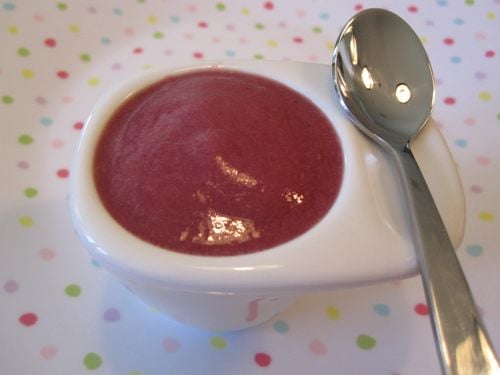 Pin
There are THE most beautiful Santa Rosa plums at our local Farmer's Market right now. I have to say that of all the fruits I love, when stone fruit is in season I could not be more excited. The dark purple hue of the plums is so beautiful and the meat is sweet and when pureed, perfect for a baby. I like adding banana to this recipe because it thickens the puree, adds extra nutrients such as potassium and makes a sweet food that babies adore.
You could easily peel the skin off of ripe plums and skip the step of pushing it through a sieve, but just in case your plums aren't super soft, my directions call for simply cutting up the fruit, tossing it in the food processor and whizzing it up.
No matter how you make it, I guarantee your baby will love it!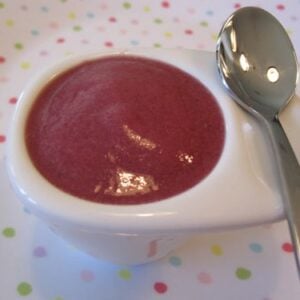 Plum & Banana Puree
Ingredients
2

Plums, chopped and pitted

1

banana
Instructions
Place the ingredients in a food processor and puree.

Place the puree in a sieve over a bowl and using a spoon or ladle, push it through so the puree is in the bowl and plum skins remains in the sieve.