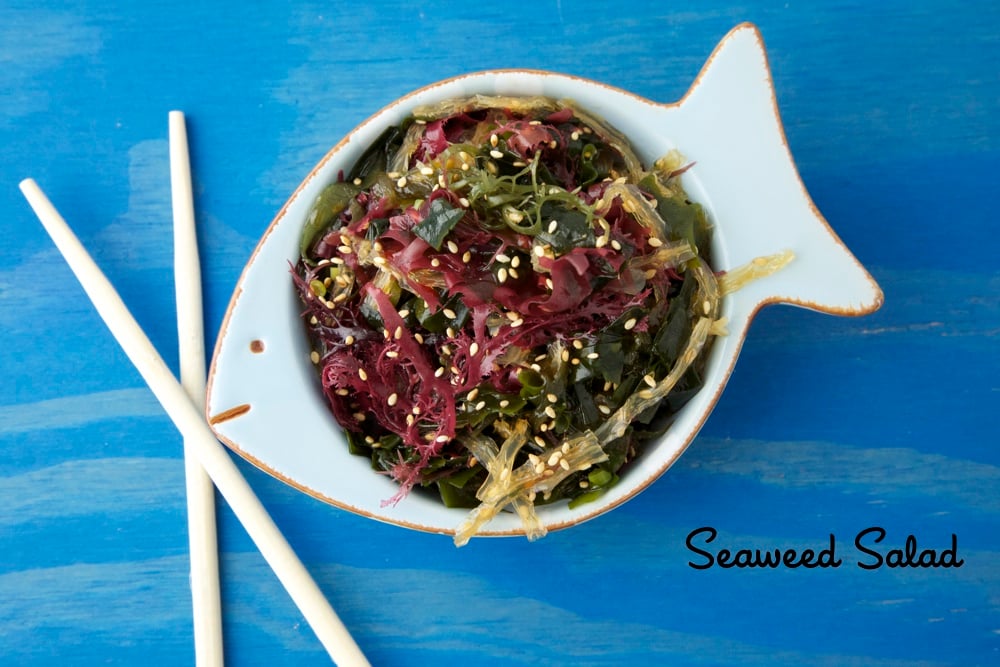 There are plenty of holidays that Kenya and Chloe want to celebrate, but for the past few years one of the most important ones to me has been Earth Day. Teaching my kids about the importance of caring for their world has been an educational experience for our whole family. I certainly did not benefit as a kid from exposure to the same information they have, and answering their questions about where our trash goes when the garbage truck picks it up, what global warming is, and how can we protect all the animals in the sea is a constant daily reminder of how important this special day is. Similarly, I try to expose the kids to as many of the magical foods the earth naturally produces as possible, including ones they may never before have thought about eating.
Here are a few things I assume come to mind for most kids when they hear the term seaweed salad_ gross, slimy, weird, no way am I eating that! It may seem strange to some people but I promise you, seaweed salad is incredibly delicious. So much so that from the time hubby and I first started taking the kids to Japanese restaurants they'd scarf it down so fast we'd always end up having to order another bowl.
Similar to dark leafy greens, seaweed is about as nutrient dense as it gets, packed with such vitamins as C (more than even broccoli), B12, and A. I bought the seaweed for this salad at Trader Joe's, but different varieties can be found at Whole Foods and most health food stores. Just a touch of toasted sesame oil, a dash of soy sauce, and a splash of tangy rice vinegar turns this nutritional powerhouse from the sea into something every kid can enjoy.
And when your little ones tell you how much they love eating seaweed you can remind them that it's yet another reason we have to keep our oceans clean!
Sesame Seaweed Salad
Instructions
In a large bowl, soak the seaweed salad mix in cold water for 5 minutes or according to package directions. Drain.

In a small bowl, combine the rice vinegar, soy sauce, sesame oil, sugar, scallions and sesame seeds.

Pour the dressing over the seaweed and toss to thoroughly combine.
Nutrition
Calories:
90
kcal
|
Carbohydrates:
8
g
|
Protein:
2
g
|
Fat:
5
g
|
Sodium:
460
mg
|
Fiber:
2
g
|
Sugar:
2
g