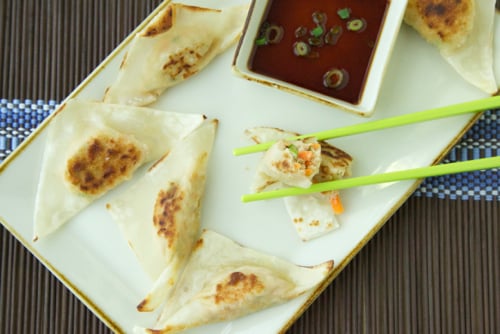 Over 30 years ago, my mother-in-law took a Chinese cooking class. While she wasn't a passionate cook, she did it because she loves Chinese cuisine and wanted to learn how to make it for her family. She always tells me how much she enjoyed that class and that she regrets not following through over the years recreating the meals she learned. Whenever it comes up, my hubby never fails to remind her how he's still waiting for the big Chinese banquet she promised him decades ago (as if she's forgotten or stopped feeling guilty about it). Believe me, I'm patiently waiting for the guilt my kids will dump on me years down the road for something I will promise them and no doubt never quite get around to. But I digress.
Without fail, whenever we go out for Chinese food, my kids (following hubby's lead) order dumplings. If you happened to walk past our table on any given occasion, all you would see is a blur of hands big and small grabbing for and dipping a variety of different dumplings, each kind filled with an array of delicious ingredients. This dumpling craving of my husband's dates back to his childhood and his family's Sunday night tradition of eating in and ordering takeout from New York City Chinese restaurants.
As delicious as dumplings are, whenever we're in a restaurant and I look at the heavenly little stuffed pillow-like gems in front of us, I'm daunted by the work that must go into preparing them. But recently, Kenya pointed won ton wrappers out to me at the grocery and I decided to take a leap of faith, set aside a good amount of time, and try making homemade dumplings.
It wound up being seriously easy and not taking me much time at all. Why I made such a big deal about all the effort it would require to make these is beyond me. And when it was time to serve them for dinner, the hands started flying and it was just like when we go out — not a darn one remained on the plate.
Now I just have to get my MIL to prepare that long overdue chinese meal she's been promising so we can both be absolved of that horrible mommy guilt that we all hold onto way too often!
Simple Pan Seared Dumplings
Ingredients
1

lb. ground

chicken or turkey

1/2

cup

grated carrot

1/2

cup

grated zucchini

1/4

cup

chopped scallions plus 1 tablespoon, divided

1/2

teaspoon

garlic powder

1/4

teaspoon

onion powder

1

large

egg

4

tablespoons

low sodium soy sauce, divided

1

teaspoon

sesame oil

1

tablespoon

Rice Vinegar

wrappers
Instructions
In a bowl, mix together the chicken, carrot, zucchini, 1/4 cup scallions, garlic powder, onion powder, egg, 2 tablespoons soy sauce, and sesame oil until combined well (this part is easiest to do with your hands).

Place 2 teaspoons of the mixture in the center of a wonton wrapper.

Moisten the edges of the wrapper with a fingertip moistened in water, fold over into a semicircle or triangle (depending on the shape of the wrapper you buy) and pinch the seams together to seal.

In a small bowl, mix together the remaining 2 tablespoons of soy sauce, rice vinegar and the 1 tablespoon of scallions. This will be the dipping sauce.

Use enough oil to just coat the bottom of a large sauté pan over medium heat. Pan-sear dumplings for 1 1/2 minutes on each side, until the chicken is cooked through and the dumpling is crisp.

Serve with dipping sauce.
Nutrition
Calories:
320
kcal
|
Carbohydrates:
28
g
|
Protein:
29
g
|
Fat:
11
g
|
Cholesterol:
80
mg
|
Sodium:
850
mg
|
Fiber:
2
g
|
Sugar:
2
g