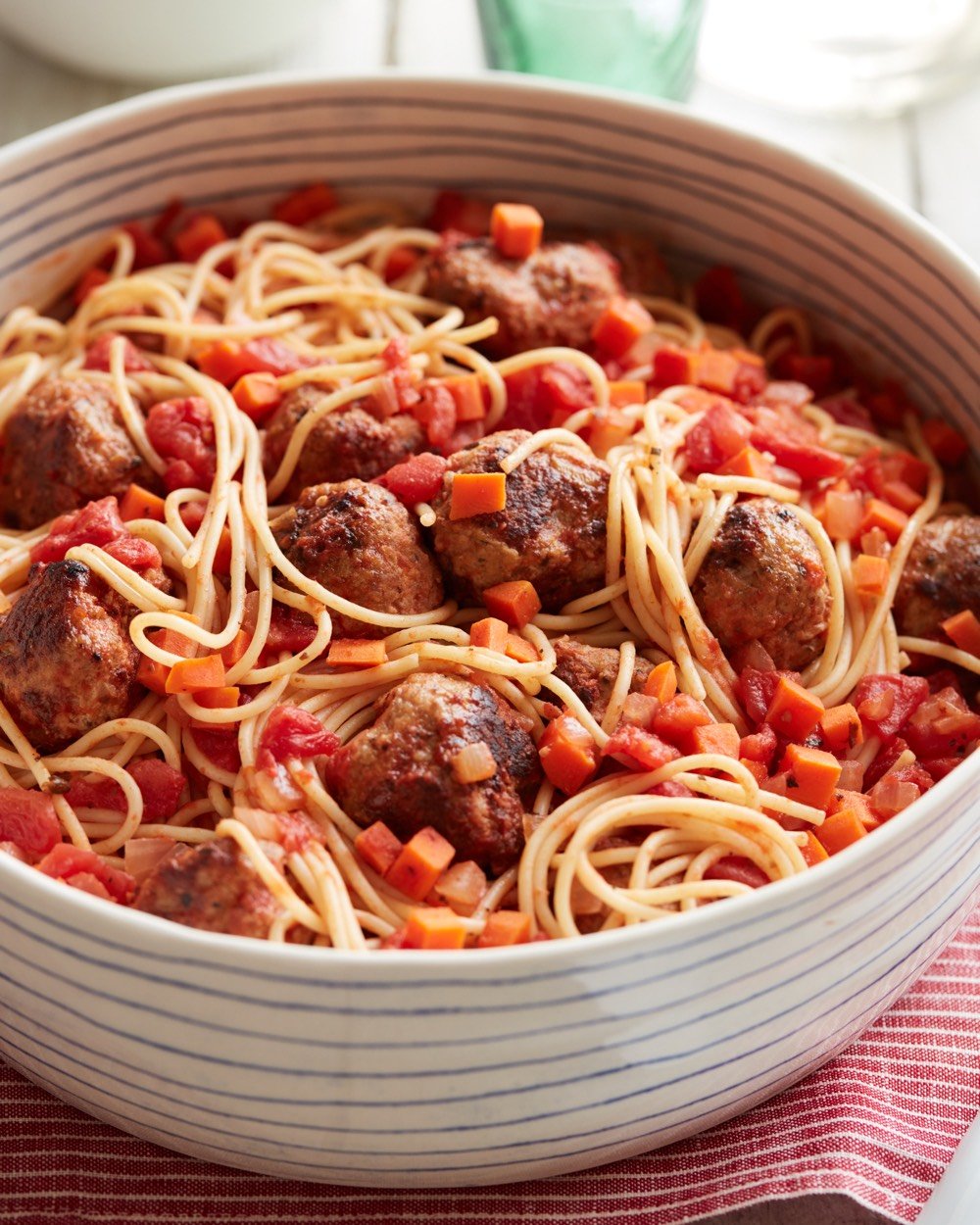 Pin
Is there anything better than classic spaghetti and meatballs? It's one of those recipes that when you say the name, people's eyes light up! I put a Weelicious spin on it by making spaghetti and turkey meatballs! It makes the meatballs slightly healthier than traditional meatballs made with ground beef, and they're just as, if not more, tasty than their carnivorous cousin.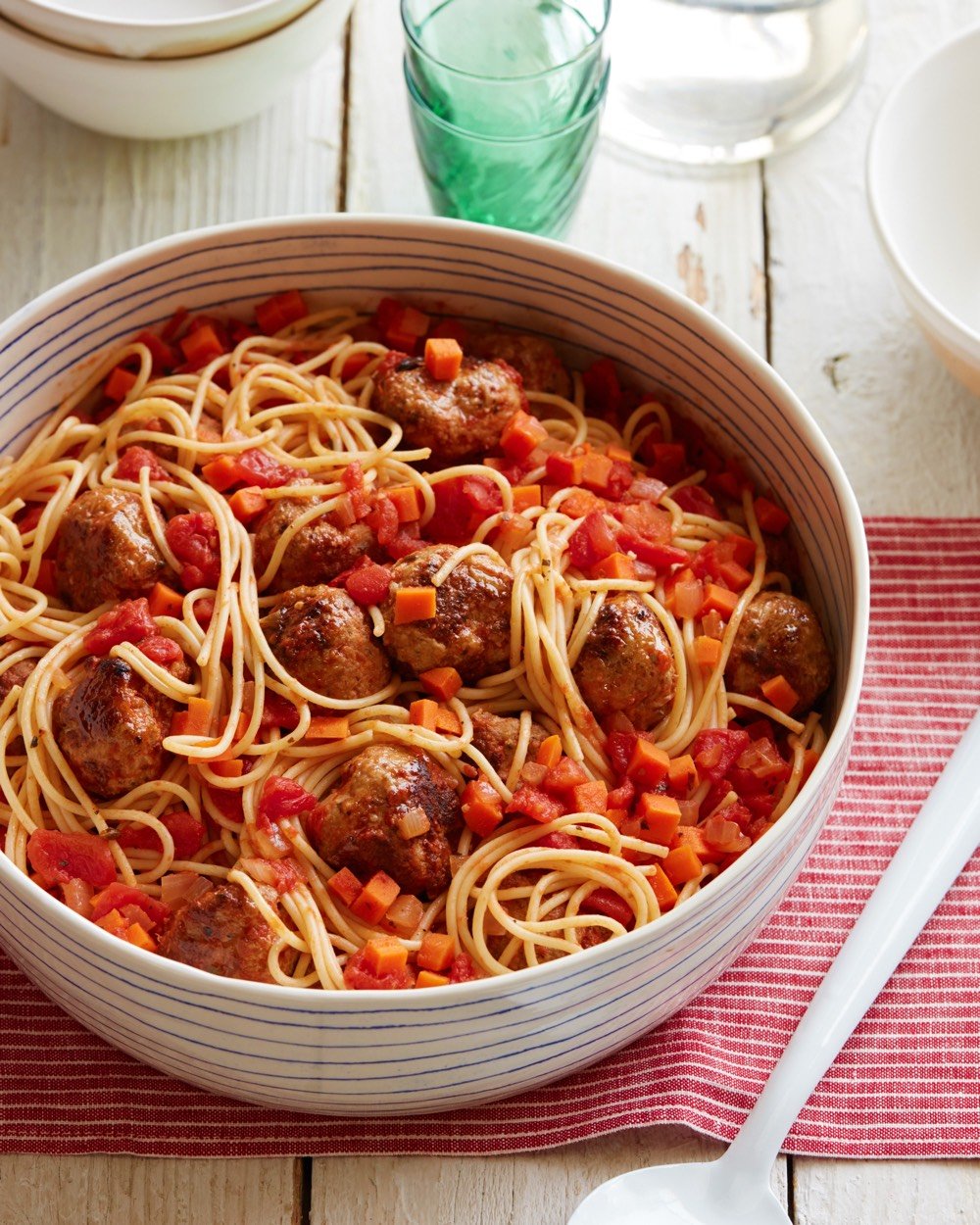 Pin
When we go for dinner to Italian restaurants, Chloe orders spaghetti and meatballs without fail. It's her total go to meal and if you ask what's on her top 3 favorite dishes of all time this would be one of them. While I love meatballs made with beef, lamb or veal, I especially love them made with lean or dark ground turkey. As they soak up the delectable red sauce in this dish, you can use either meat and they will stay juicy and tender. I love tossing on top a handful of grated parmesan to give it a slight cheesy flavor to boot. Doesn't a little cheese make everything taste better and that much more kid friendly?
Pin
There's nothing cuter than watching a kid navigate their way through a big bowl of meatballs and super long strands of spaghetti while they slurp up the tomato sauce coating every last strand. This Spaghetti and Turkey Meatballs recipe is a beloved comfort dish that's the perfect choice for big family dinners for young and old.
Photos by Matt Armendariz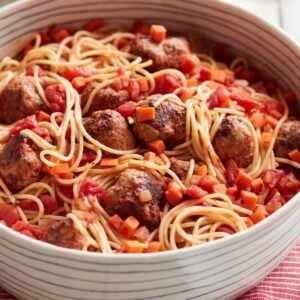 Spaghetti and Turkey Meatballs
Ingredients
For the Meatballs:
1

pound

lean or white meat ground turkey

1

small

onion, diced

2

teaspoons

italian seasoning

1

teaspoon

garlic powder

1/4

cup

grated parmesan cheese

1/2

cup

bread crumbs

1/2

teaspoon

kosher salt

1

large eggs, whisked

1

tablespoon

olive oil
For the Sauce:
1

small

onion, diced

3

garlic cloves, minced

1

28-ounce can

diced tomatoes

2

carrots, peeled and diced

1

tablespoon

olive oil

2

teaspoons

italian seasoning

1

teaspoon

kosher salt

1

pound

spaghetti noodles
Instructions
Meatballs:
Place the first 8 ingredients in a bowl and stir to thoroughly combine with a spoon or your hands.

Using wet hands, take a heaping tablespoon of mixture and form into balls placing on a plate until ready to cook.

Heat oil in a sauté pan, add meatballs in batches and cook on each side for 1 minute for a total 4 minutes. Set meatballs aside. The meatballs will not be finished cooking, and will continue to cook in the sauce.
For Sauce:
Heat a large sauce pan over medium high heat. Add onion and garlic and sauté for 2 minutes. Add carrots and sauté for another minute.

Add tomatoes, Italian seasoning and salt and simmer for 10 minutes. Add par-cooked meatballs and simmer for another 5-6 minutes.

While meatballs cook, heat water and 2 tablespoons of salt in a large pot and cook spaghetti according to package directions.

When pasta is al dente, drain, return to it's pot and toss in meatballs and sauce. Top with parmesan and serve