Obsessed! That's how I feel about this pesto.
While thinking of something new to do with the pounds of fresh basil growing in our garden I came up with the idea of adding fresh tomatoes to a classic pesto, making it even thicker and more hearty. I dug what I made so much I ended up making a massive extra batch to freeze in individual containers so I'll have it for weeks — if not months — to come.
This pesto is ideal to serve on pasta, mix into rice or quinoa for a solid vegetarian meal, or even spread on fish or chicken before baking for a simple recipe. It's that versatile and a mealtime life saver whenever you need one. Is it me or isn't that most of the time?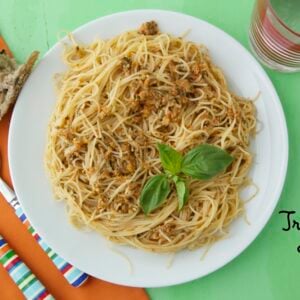 Fresh Trapanese Pesto
Instructions
Preheat oven to 400°F.

Place the almonds on a baking sheet and toast in the oven until golden brown, about 10 minutes, stirring once. Cool slightly.

Place all the ingredients in a food processor and pulse until smooth.

Serve over warm pasta with crusty bread for dipping.