The farmers' market right now is sample heaven. One of the best parts about Sunday mornings for me is that I get a morning off and don't have to cook breakfast for my son OR my husband. That's because most farmers' markets feature tray after tray of freshly cut-up fruit and vegetable samples that farmers are begging you to try (of course so you'll actually buy a bag full of their produce, but how can you resist?!).
Stone fruit (any fruit with a seed in the middle such as apricots, peaches and plums) at this time of year is incredible. Last summer when Kenya was just starting purees, I made this for him every few days. This luscious puree of white peaches and pluots ( a hybrid of plums and apricots which is 3/4 plum and 1/4 apricot to be precise) is heaven for babies.
The main difference between yellow and white peaches, besides the color, is that white peaches are generally sweeter. Pluots are known for their super sweet flavor, juiceiness and for being rich in Vitamin A.
You can really use any type of stone fruit for this recipe such a nectarines, plums, apricots or yellow peaches. If your baby is in the puree stage right now you're so lucky because purees don't get anymore beautiful and delicious than this one.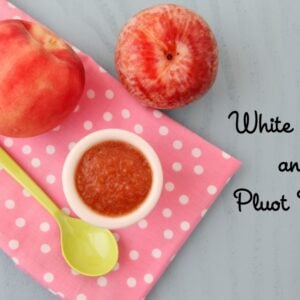 White Peach and Pluot Puree
Instructions
Using a knife, make an X at the bottom of the peaches and pluots, just cutting through the flesh. Make sure to leave them whole.

Place the fruit in a steamer pot over boiling water for 2-3 minutes or until the skin starts to peel back from the fruit.

Let the fruit cool for a minute or two. Peel all of the skin off the fruit (if you're using ripe fruit, it should come right off).

Cut the fruit into large chunks, discarding the pit and place in a food processor.

Puree until smooth.

Cool and serve.

*Place in Baby Cubes and freeze.