After having my third baby last month pulling off dinner 7 days a week has become a curious adventure. Keeping a freezer full of food has been a big help as well as making simple recipe with basic ingredients and anything that's made in parchment like this fish recipe or Lazy BBQ Chicken. I've been using everything from salmon to sole to make this delicious entree that takes minutes to prepare with no clean up. For this Rewind Wednesday I'm offering you one of my dinnertime safety nets!
You come home from work, your little one's hungry, you're exhausted, and the last thing you want to do is cook and clean (isn't that every day?) Well, the name of this recipe may sound fancy, but it's actually my 1, 2, 3 super-easy, super-fast, no clean-up dinner. It's extremely healthy and fun to make because you can tailor it to you or your little one's favorite tastes and flavors. My husband asks for this meal at least twice a week and so now of course Kenya has followed suit. Since it takes me only minutes to prepare, I can actually make one dinner for the whole family and I'm thrilled that it makes them so happy.
We seem to love this recipe most with asian flavors such as ginger, garlic, sesame oil and soy sauce, but you could make it Italian using basil and tomatoes or Mexican using cilantro and a scoop of mild salsa. Be creative! The options are endless. You can add any vegetable or cooked grain that you have in the refrigerator that you don't want to go to waste. And as I said, the best part is that there's NO clean up since this whole dish is made in a piece of parchment paper. So, when you're finished, you're really finished -- no pots and pan to clean. Now that's my idea of easy, fast and fresh.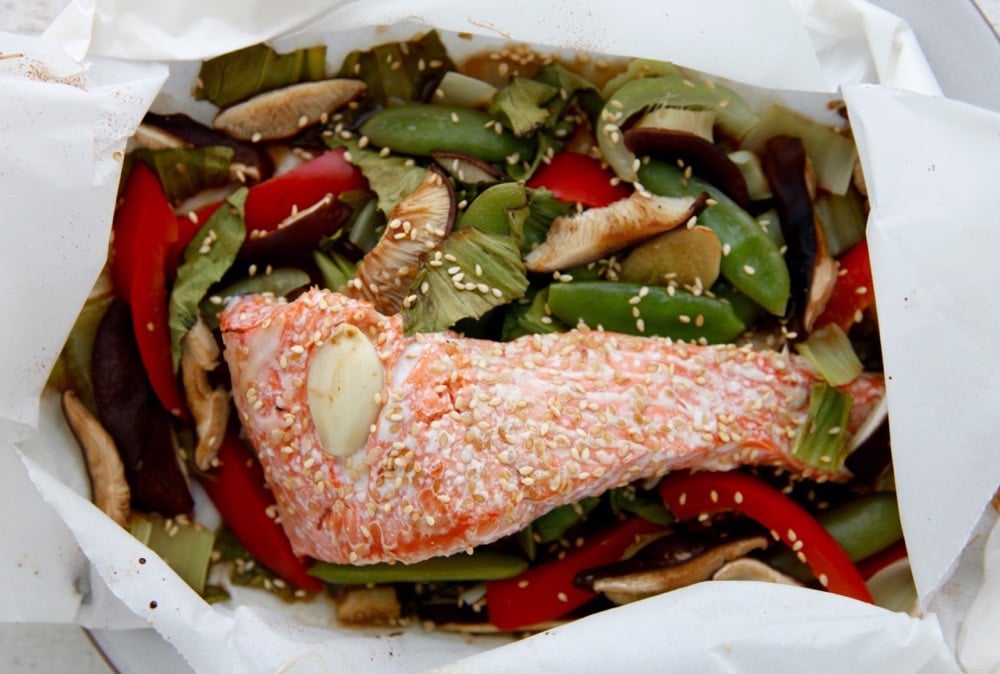 Check out this Fish in Parchment Paper video for more help with this recipe!