Want a recipe that gets you out of your comfort zone, but will be quickly added to your family's favorite meals? You HAVE to make these Arepas with Poblano Pulled Chicken!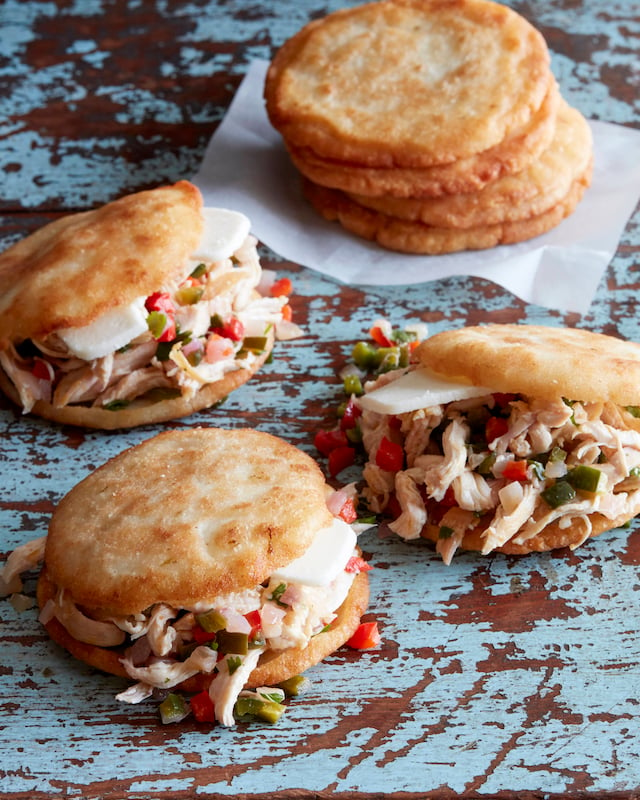 We started making one of the kids favorite foods, pupusas, at home after countless Sundays of buying them at the Hollywood Farmer's Market. After years of eating them weekly after shopping for our weekly food there I became determined to learn how to make authentic pupusas, a beloved Salvadorian dish topped with slaw, crema, guacamole, and pico de gallo that Kenya, Chloe and now even Gemma love.
The first time I tried an arepa, a Latin American cousin to pupusas, I fell in love. They're similar to a pupusa in the fact that they're both made with corn and water, flattened into a disk and pan seared, but totally different in other ways. It's like comparing Kansas city and North Carolina barbecue if you know what I mean.
Traditional Venezuelan arepas are made with corn flour (also known as Masarepa which is easy to find at Latin American markets or even your local grocery store), mixed with water, cooked up and then cut in half and stuffed like a biscuit with all kinds of fillings. We recently sent out this recipe on my organic meal delivery company, One Potato, and it was a huge hit with kids and adults. We sent this juicy pulled chicken with tons of poblanos, slaw and cotija cheese, so they're a perfect DIY meal. If you've never tried cooking with poblano peppers the first thing you should know is that they're not hot! Good news for kids with an aversion to anything spicy, but those who want tons of delicious flavor. You may want to double this chicken as it's totally irresistible mixed with rice, quinoa or even on it's own.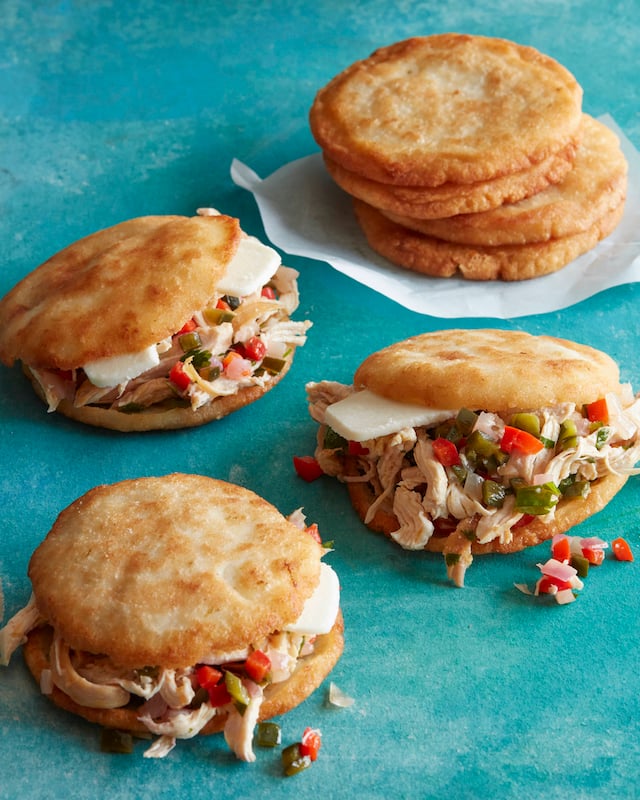 If you make these Arepas with Poblano Pulled Chicken, take a picture, post it on Instagram and tag @weelicious so I can see your creation!
Photos by Matt Armendariz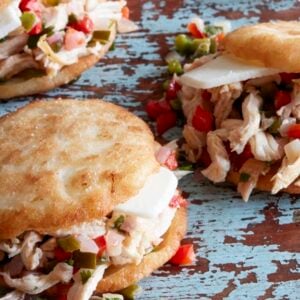 Arepas with Pulled Poblano Chicken
This recipe will get you out of your comfort zone, but will be quickly added to your family's favorite meals!
Ingredients
6

teaspoons

olive oil, divided

1

large red onion, chopped and divided

2

garlic cloves, minced

2

boneless skinless chicken breasts (about 1 pound)

1

poblano pepper seeded, ribs removed and diced

1

red bell pepper, seeded, ribs removed and diced

1

lime, zested and juiced

1

teaspoon

kosher salt, divided

1 1/2

cups

Mararepa or PAN pre-cooked white cornmeal

1 1/2

cups

water

4-5

ounces

Cotija, thinly sliced
Instructions
In a large sauté pan heat 2 teaspoons olive oil, add half the onion, the garlic and cook for 1-2 minutes. Add the chicken, peppers and lime juice. Cook chicken 7-8 minutes or until chicken is cooked through. Set aside. Once chicken is cool enough to handle, take 2 forks and shred chicken. Add chopped cilantro and 1/2 teaspoon salt. Set aside.

In a large bowl, add Masarepa, lime zest, 1 ½ cups water, 2 teaspoon olive oil and ½ teaspoon salt Stir to form a stiff dough. Transfer dough to clean, dry work space and knead dough for about 30-40 seconds or until smooth. Set aside for 3-4 minutes to rest. Form into 8 equal size balls. Flatten the balls with the palm of your hands to create 1/4 inch thick discs.

In a large sauté pan, heat 2 teaspoons olive oil (you may need a little more during cooking) until very hot, add dough discs, and lower the heat to medium-low. Cook arepas for about 8-10 minutes per side or until cooked through.

When cool enough to handle, cut Arepas horizontally in half. Place chicken mixture and cheese on the bottom half of Arepas. Top with other half and serve.