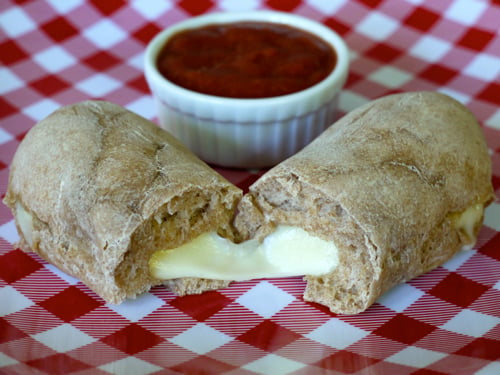 When it comes to convenience and making sure your kids have a wholesome snack, cheese sticks can truly be a mom's best friend. They have major kid appeal and when your little ones are on the go, cheese sticks are an easy to hold, protein-rich food (that won't make a total mess!). Whenever my kids are hungry in between meals, they know where to go_ straight to the drawer in our fridge which I always keep stocked with a healthy supply of cheddar and mozzarella sticks.
My kids will also eat pizza pretty much any time of day, but it's not exactly a food I want them running around the house with. I don't know why, but one day I thought about marrying the convenience of cheese sticks with pizza — kind of a mess-free meal for active kids. The results were pretty popular with Kenya and Chloe. All I have to say these days is, "who wants a Cheesy Bread Stick," and before I can even offer one to my kids it's been grabbed out of my hand.
I wouldn't say this is the healthiest recipe on weelicious, but I sure as heck don't have to twist anyone's arm to take a bite of the crusty pizza dough filled with oozing cheese. Sometimes that's reason alone to make them!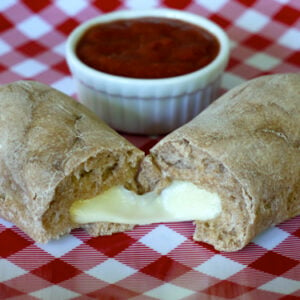 Cheesy Bread Sticks
Ingredients
1

pound

white or whole wheat pizza dough

1

package

mozzarella cheese sticks
Instructions
Preheat oven to 450 F.

Shape dough into a rectangle, about 10 x 6 inches wide, and cut into 6 rectangular pieces just big enough to wrap around the cheese stick.

Take one cheese stick and place in the middle of the rectangle of dough. Fold the ends over the cheese, then fold over the sides, pinching as you go so the dough sticks together. Roll the dough to evenly shape into a cylinder.

Place sticks onto a parchment or greased foil lined baking sheet and bake 14-15 minutes.*

Serve with pizza sauce for dipping.

* To spice this recipe up for parents, drizzle some olive oil on top of the cheese sticks followed by a sprinkling of some garlic powder, sesame seeds and/or salt before you bake.
Nutrition
Calories:
290
kcal
|
Carbohydrates:
33
g
|
Protein:
14
g
|
Fat:
10
g
|
Cholesterol:
30
mg
|
Sodium:
560
mg
|
Fiber:
4
g