These Cheesy Meatballs are stuffed with mozzarella and make a great easy appetizer. Especially with the big game coming up, you've got to try these!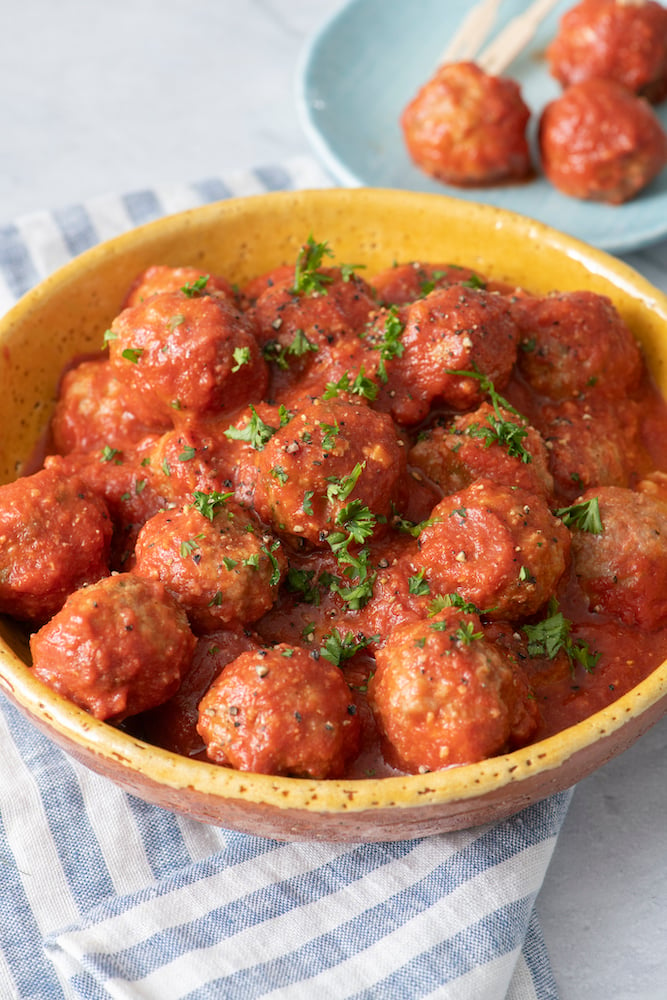 A few weeks ago a walked into the kitchen and Chloe, my little carnivore, was rifling through the refrigerator wanting to make meatballs. I'm always up for some kitchen bonding with any of the kids, so we set out to make the best meatballs we could dream up. What makes them so special? Each one is stuffed with gooey, melty mozzarella cheese that takes them to the next level!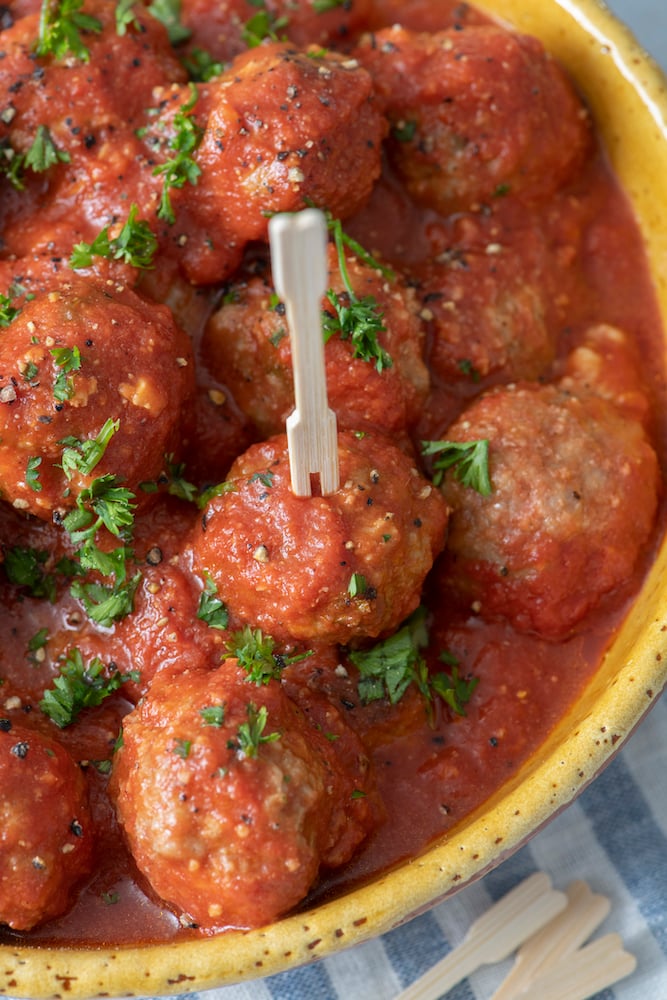 After we made these meatballs, I knew I had to share them with all of you. The sauce is simple to make, yet flavorful and the Cheesy Meatballs themselves are out of this world. With the big game coming up this Sunday, there's no better appetizer option. If football isn't your thing, toss these on top of some spaghetti for a quick and easy weeknight dinner or put the leftovers on a hoagie and have a delectable meatball sub for lunch!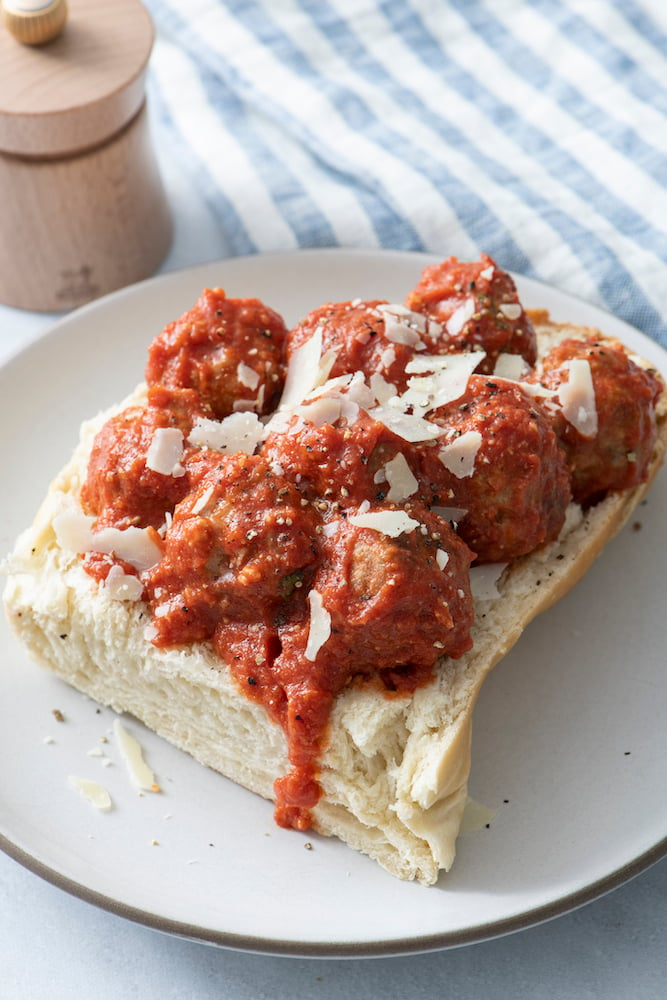 If you're planning on serving these meatballs as an appetizer, toothpicks are a great way to make it easy for people to grab them. It's a win-win too because if I know anything about kids (at least mine), toothpicks make any type of food more fun so they'll eat them too! If you're looking for other meatball recipes to try go for my Cheesy Turkey Meatballs, Chicken Teriyaki Meatballs or Turkey Pesto Meatballs!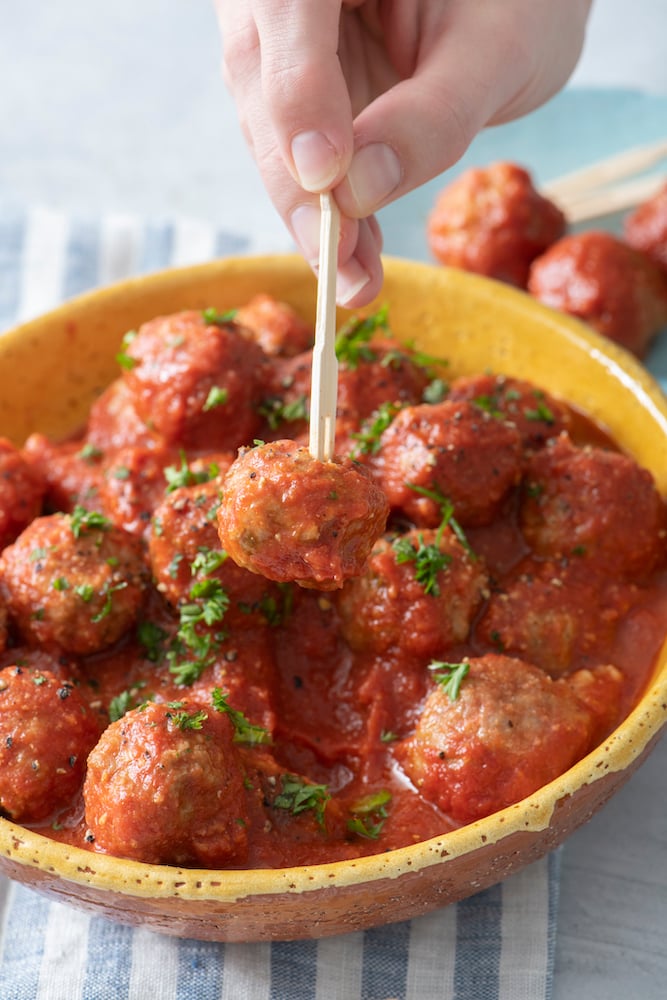 A few helpful tips when making these Cheesy Meatballs:
Keeping your hands moist will help the mixture not stick to your hands when you're forming the meatballs. Don't be afraid to get a little messy!
If you wanted, instead of filling them with shredded mozzarella, you could cut mozzarella cheese sticks into small pieces and use that instead.
Feel free to use gluten free breadcrumbs if you need to!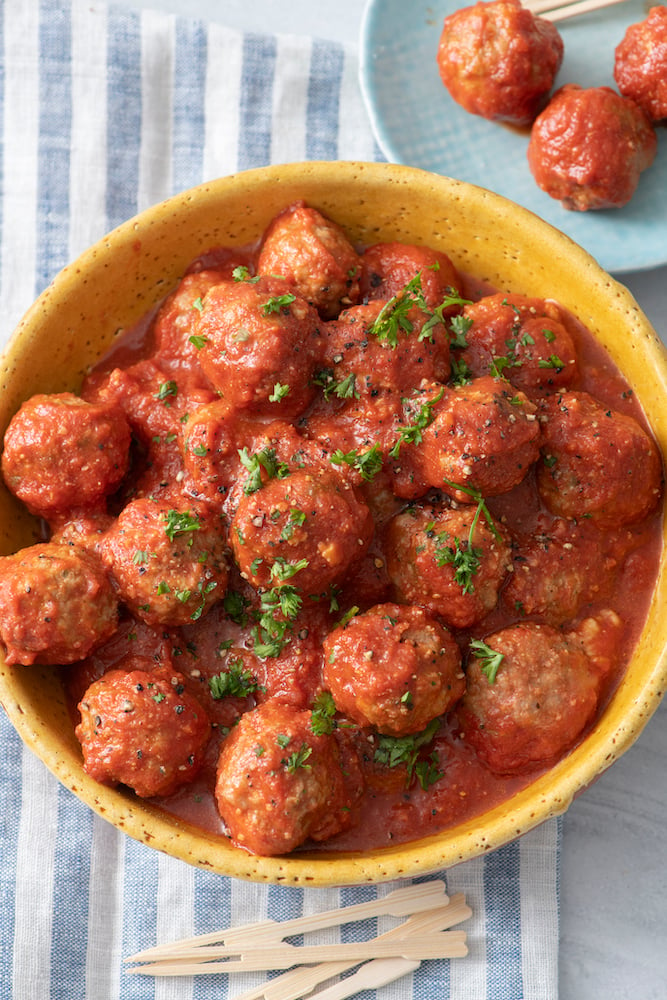 What is your go-to appetizer? Add these Cheesy Meatballs to your list and let me know what you think by tagging me on social media!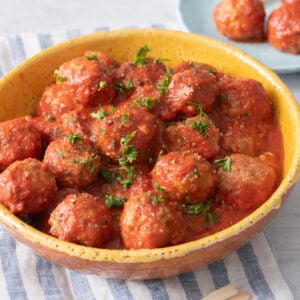 Cheesy Meatballs
These Cheesy Meatballs are stuffed with mozzarella and make a great easy appetizer.
Ingredients
1

pound

ground meat (beef, pork and/or veal)

1/2

cup

panko bread crumbs

1/3

cup

water

2

tablespoons

parsley, chopped

2

teaspoons

kosher salt

1/2

teaspoon

onion powder

1

cup

mozzarella, grated or 4-5 mozzarella cheese sticks cut into 8 pieces each

2

tablespoons

olive oil

2

cloves

garlic, chopped

1

28 ounce can tomato purée

cooked spaghetti, hoagies or french rolls for serving
Instructions
Place the first 7 ingredients in a bowl and using a spoon or your hands, mix to combine.


Using a 1 tablespoon ice cream scoop or spoon, portion our meat balls on parchment or a plate. Using damp hands, place a meatball in your palm, flatten the center and place mozzarella in the middle. Pinch sides around the cheese to cover and roll into balls. Alternatively mozzarella can be stirred into the mixture.

Heat a large pot over low to medium heat, add olive oil and sauté garlic for 2 minutes or until just starting to turn golden.

Add the tomato puree and cook for 10 minutes.

One at a time, place the meatballs gently into the sauce, cover and cook for 20 minutes or until cooked through and cheese is melted.

Serve with toothpicks on a plate, over spaghetti or in a hoagie.