Do you have little time, but still want a nutritious, delicious and easy meal everyone in your family will enjoy? Chicken in a Crockpot only takes minutes to prepare and basically cooks itself.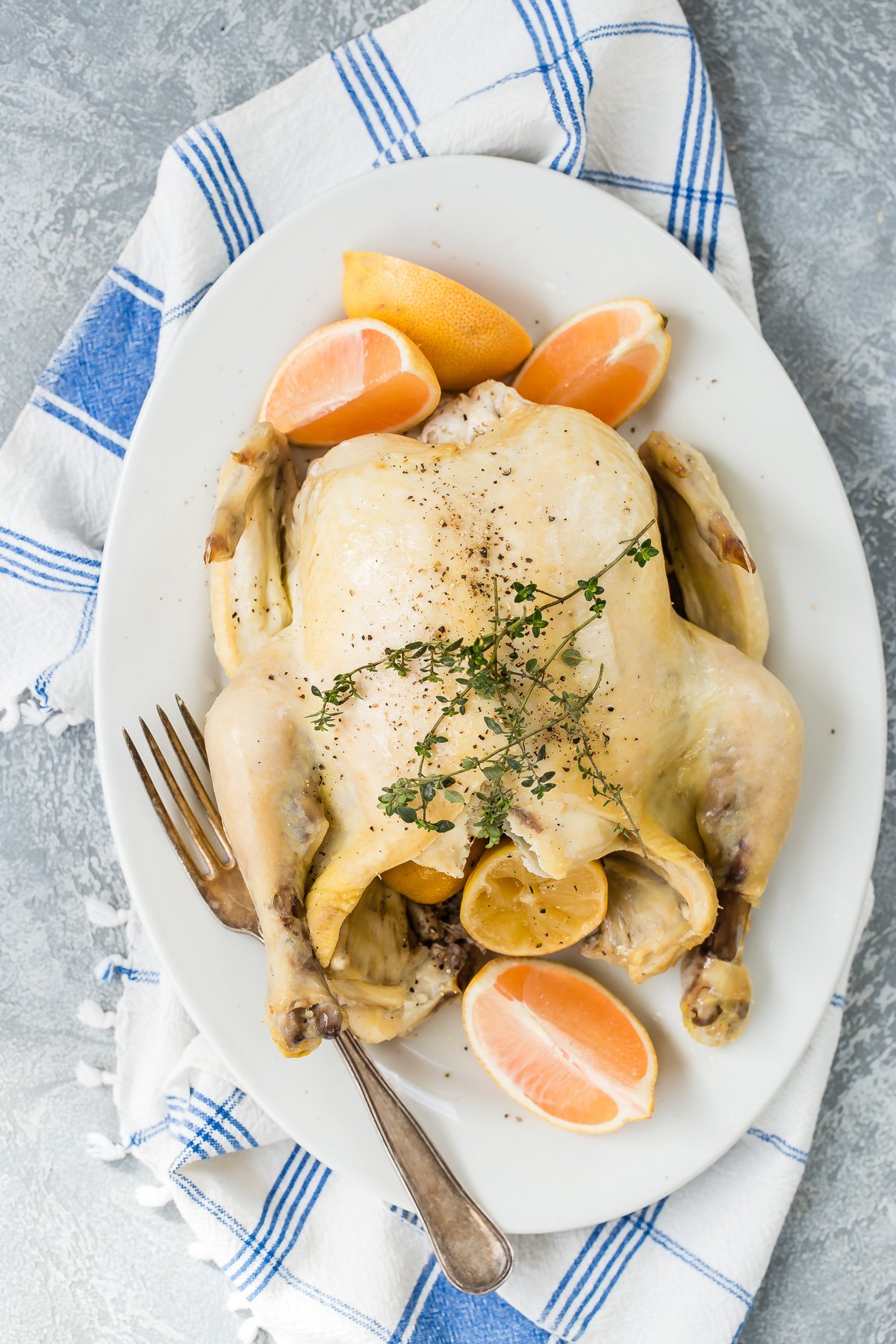 Every Sunday at our local farmer's market, I buy a whole chicken from the great folks at Healthy Family Farms (we also get our eggs from them). I like to make a Simple Roast Chicken every Sunday, but several weeks ago the farmer that sells the chickens asked if I had ever tried cooking a whole chicken in a slow cooker. I had not. I listened as she told me just how easy it was to prepare, but I was still in disbelief at how simple her description was. No oil? No butter? No broth? Just a few herbs, lemon and salt? Really?! I immediately went home that afternoon and with practically no effort, prepared a chicken that was about as good as any I had ever tasted. My whole family was wide-eyed as we took our first bites — the chicken was moist, tender and juicy and the consistency is almost like pulled pork because the meat literally falls off the bone.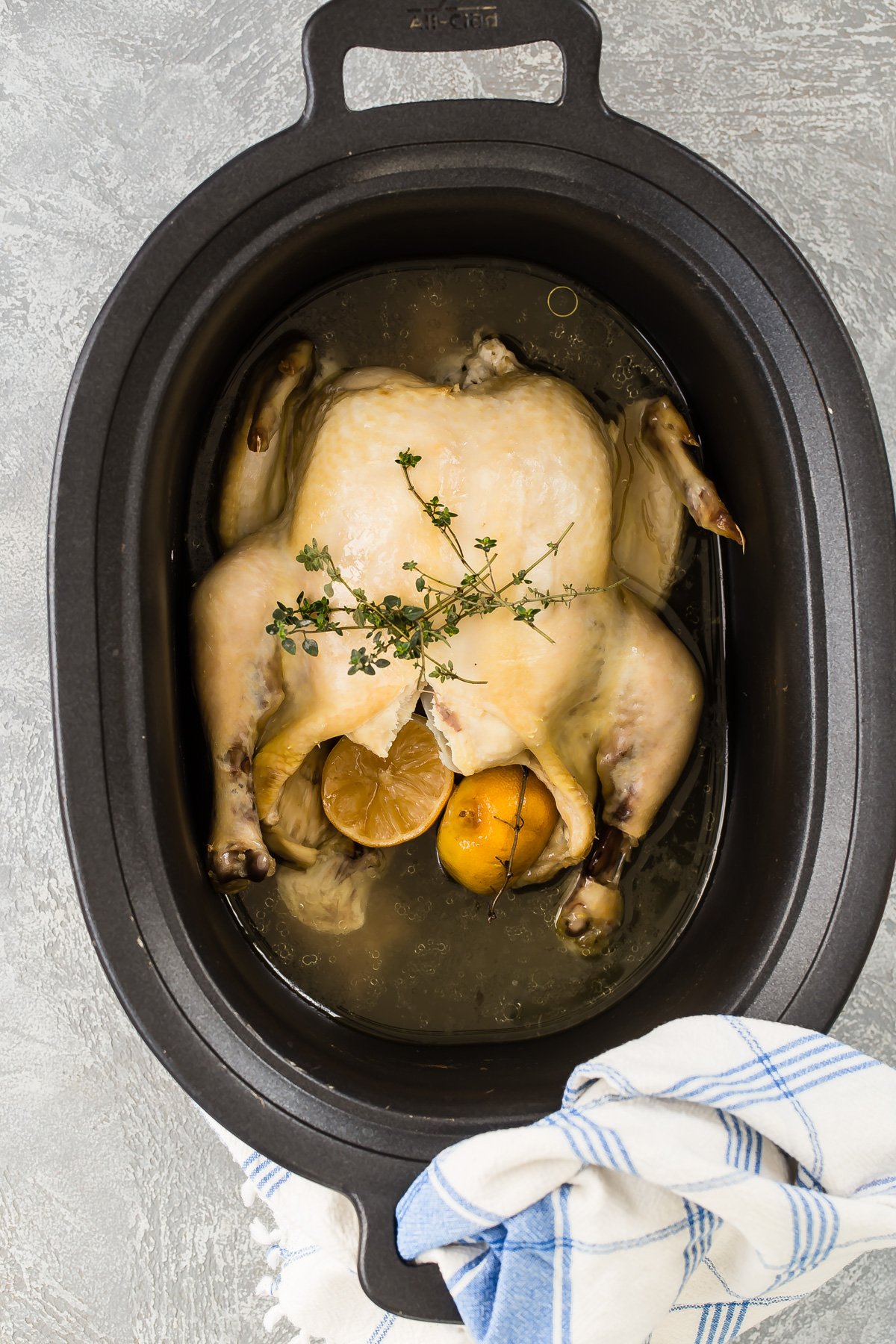 This recipe is embarrassingly simple and incredibly healthy, but the best part is that it essentially cooks itself. There's almost no work involved, and I love that I can cook a whole chicken and then keep the meat in the fridge to make Mac, Chicken and Cheese Bites, Chicken, Bean and Cheese Quesadillas or Chicken and Rice Burritos throughout the week!
Not only did Kenya, our friends, my hubby and I fall in love, but guess who ate more then her fair share of chicken? That's right, baby Chloe. She was like a little chicken eatin' machine, putting piece after piece into her mouth.
If cooking a whole chicken in the oven has always seemed daunting to you, try this crock pot version. It's so simple, you'll have a hard time finding reasons not to. Check out the video if you want to see how we did it!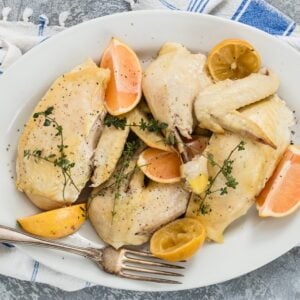 Chicken in a Crock Pot
If the idea of cooking a whole chicken in the oven seems daunting, make it in the crock pot instead. Super easy and delivers a super moist, tender chicken.
Instructions
Stuff the chicken with the thyme and lemon halves and sprinkle the outside with salt.

Cook on high for 3 hours (increase time to 4 hours for a 5 pound chicken).

Using a meat thermometer, make sure the chicken is cooked to 160 degrees (the times on different slow cookers may vary).

Allow the chicken to rest for 10 minutes before cutting it into pieces (this allows the juices to redistribute and the chicken to remain extremely juicy).

Note: The skin on the chicken won't be golden because this is more of a steaming method, but the meat will be outrageously moist, tender and juicy.
Video
Nutrition
Calories:
980
kcal
|
Carbohydrates:
1
g
|
Protein:
78
g
|
Fat:
72
g
|
Cholesterol:
330
mg
|
Sodium:
310
mg