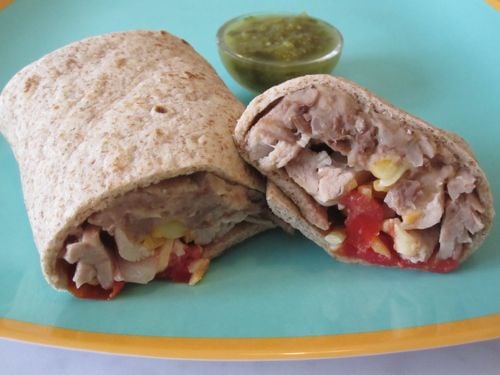 On special occasions, we love going out to dinner as a family and one of our favorite outings is for Mexican food. Every time we drive by Kenya's favorite Mexican restaurant, he screams out it's name and his favorite waiter's name, Victor, with glee. We usually order Kenya beans and rice with a side of guacamole and corn tortillas, but he still loves stealing bite after bite of my husband's chicken and rice burrito.
We've been trying to eat at home a lot more lately and part of the fun is recreating dishes from our favorite restaurants. The burrito my husband usually gets at our neighborhood Mexican restaurant is $11, but if I make it at home, even using organic chicken, I can make 4 burritos for the same price!
You should have seen Kenya's face the other night when I gave him an entire burrito just for him. He's only used to seeing them at a restaurant in front of his daddy so getting his own at home blew his mind. The little things in life that make kids happy are truly the best.
Chicken & Rice Burritos
Instructions
Heat tortillas over a gas flame or in a microwave covered with a moist paper towel for 10 seconds.

Spread 1/4 of refried beans on each tortilla.

Cover the beans with 1/2 cup chicken, 1/4 cup rice, salsa and 1/4 cup cheese.

Fold in the sides of the tortilla and roll into a burrito.

Serve.
Nutrition
Calories:
700
kcal
|
Carbohydrates:
57
g
|
Protein:
36
g
|
Fat:
37
g
|
Cholesterol:
110
mg
|
Sodium:
1580
mg
|
Fiber:
6
g
|
Sugar:
4
g