If you've never made Chicken Curry because you were intimidated by the complex flavors, now is the time to give it a whirl! This recipe is super simple, yet has tons of flavor, tender morsels of chicken and vegetables in every single bite.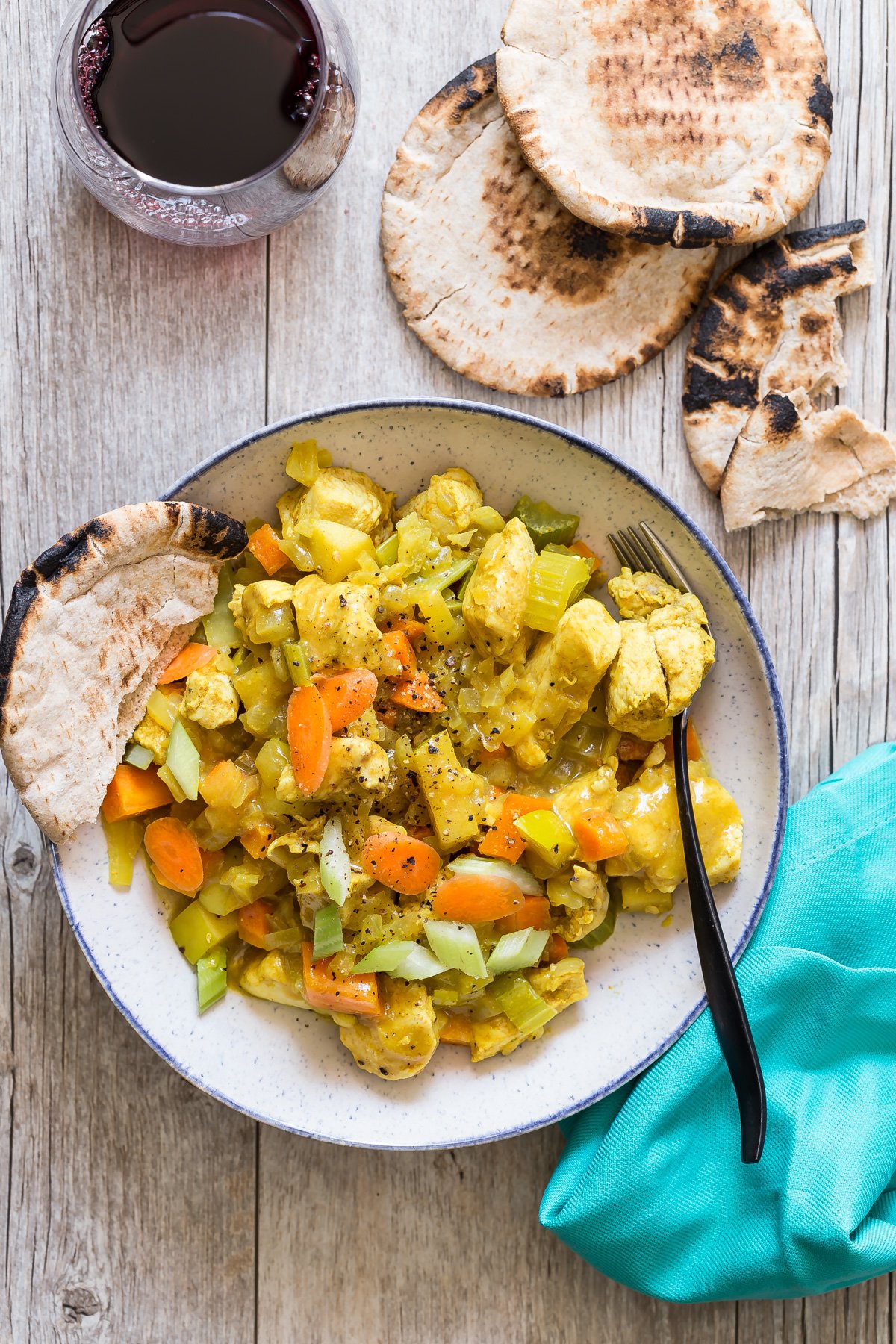 Pin
We cook at home 5-6 nights a week, but one of those other nights we love taking the kids out to eat. Not for the obvious reasons: no dirty dishes, food all over Gemma's highchair or the clean up (which are all totally valid reasons), but because we love turning the kids on to new cuisine. Living in Los Angeles we live in a melting pot of international cuisines.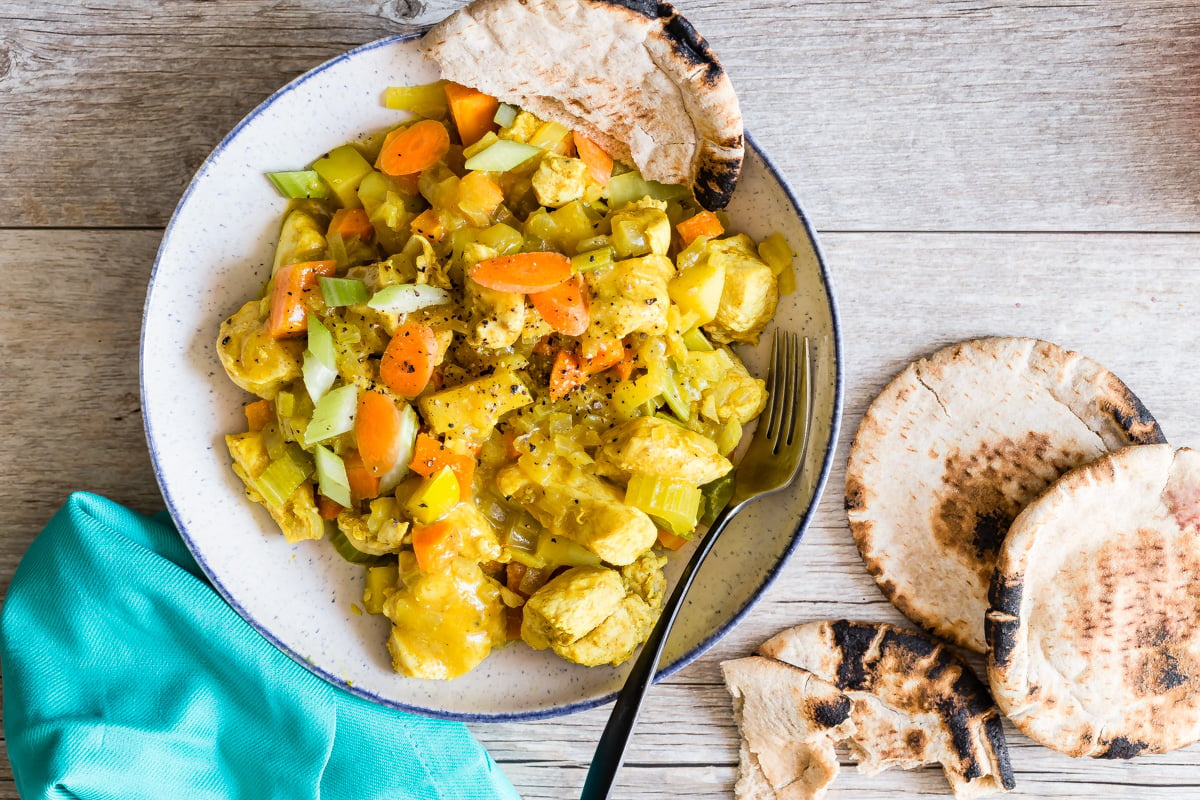 You would think that it would be an odd choice to take a baby out for Thai food, but just this weekend we ordered a medium spice shrimp and green papaya salad that Gemma was slurping the juice off of. By exposing the kids to different foods, spices and textures it has opened them up to trying foods we never thought possible.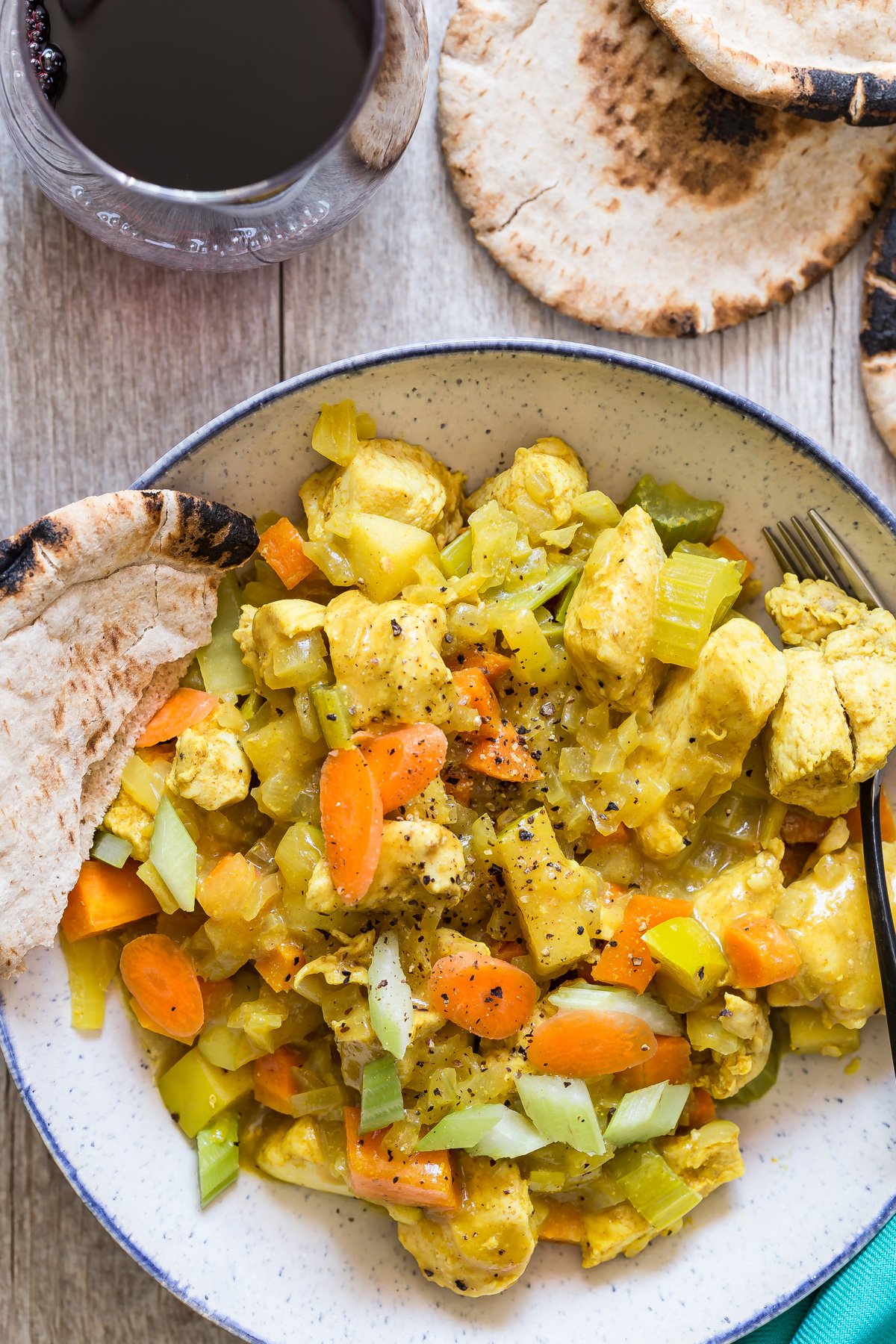 Pin
Another one of our favorite cuisines to try is Indian. The first time we took Kenya and Chloe to try it we were in the Turks and Caicos on vacation. It might seem like an odd choice on an island, but we heard it was a local favorite, so we gave it a whirl. We were shocked as the kids devoured dish after dish, a variety of sauces and Chloe has asked for Chicken Curry several times since then.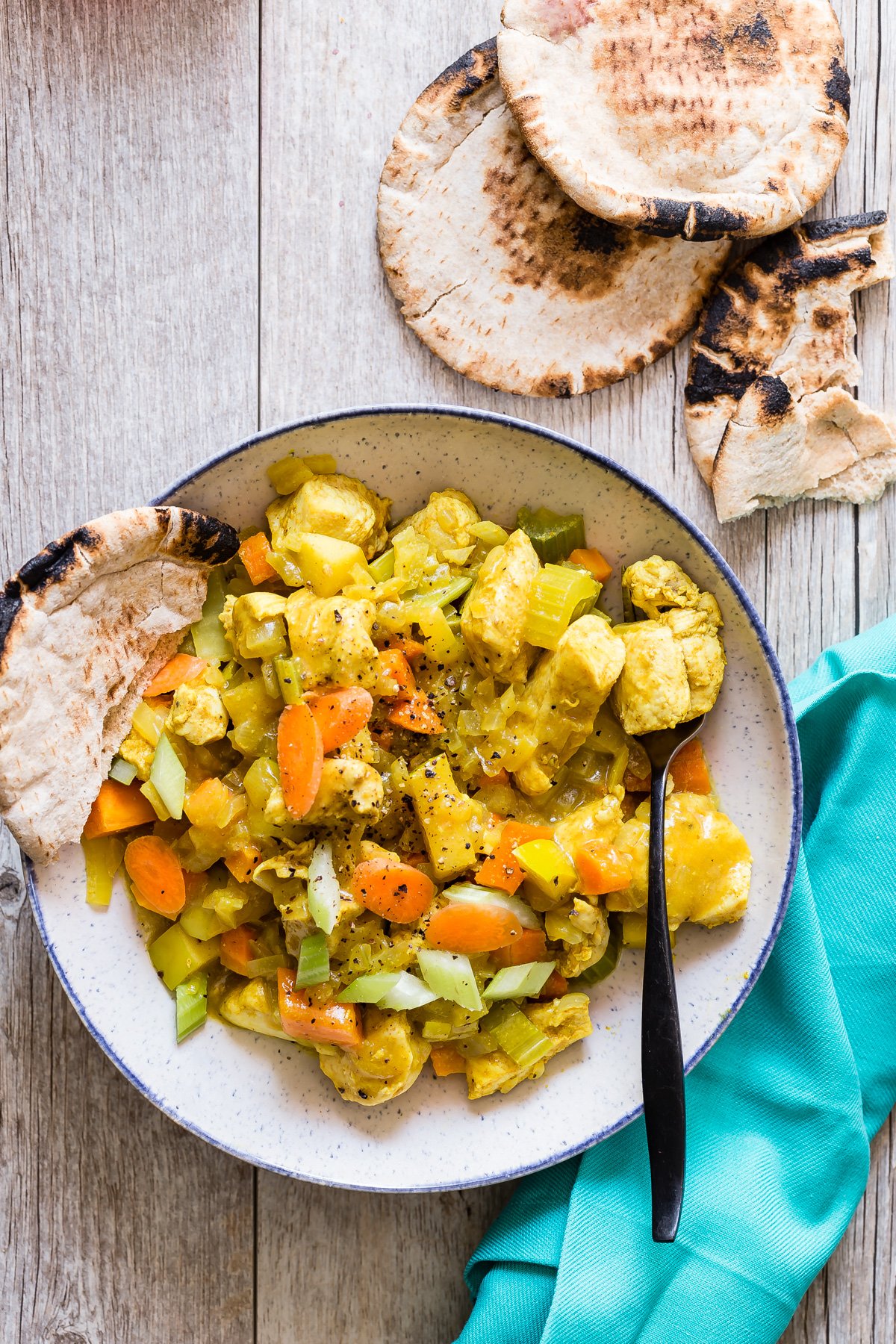 Pin
The best part of this Chicken Curry dish is you can keep it totally mild and let the bright flavors speak for themselves or you can boost the heat for adults and kids with stronger palates. Whether you go out, carry in or make it yourself opening kids experiences to dishes from around the world will be another step to broadening the array of foods they will get excited about trying!
Chicken Curry
Ingredients
2

Tbsp

curry powder

2

Tbsp

water

1

Tsp

cumin

3

Garlic

cloves, minced

1

Tsp

tomato paste

3/4

Tsp

kosher salt

1/4

Tsp

Fresh Ground Black Pepper

1

Tbsp

olive oil

1

large onion, chopped

1

apple, cored, skin-on and cut into 1/2-1 inch cubes

1

Cup

Carrots, cut into ½-1 inch pieces

1

Cup

Celery, cut into ½-1 inch pieces

1

.5 lbs

Chicken, boneless/skinless breast and/or thighs, cut into ½-1 inch cubes (about the size of your apples, carrots and celery)

1

Cup

chicken broth
Instructions
Place the first 7 ingredients in a bowl, combine and set aside.

In a large skillet or pot over medium heat add 1 tbsp of oil and onions and sauté for 3-4 minutes until tender.

Add spice mixture to the onions and sauté another 30 seconds.

Add apples, carrots, celery and chicken and stir to combine to coat with the spice mixture and onions.

Add chicken broth, bring to a boil then reduce to a simmer and cover.

Simmer for 30 minutes until vegetables are tender and chicken is cooked through. Stir every couple of minutes to prevent the curry from sticking to the bottom of the pot/skillet.

Cool and serve over Jasmine or Basmati rice.
Nutrition
Calories:
210
kcal
|
Carbohydrates:
12
g
|
Protein:
27
g
|
Fat:
6
g
|
Cholesterol:
75
mg
|
Sodium:
720
mg
|
Fiber:
3
g
|
Sugar:
6
g