Deep Dish Cast Iron Pizza is inspired by the classic Chicago style deep dish pizza so many people (including my whole family) know and love. It's perfectly crispy on the outside, doughy on the inside, and piled with lots of cheese and toppings! What's not to love?
Pizza. Is there anything better? Almost every Friday my family and I do pizza night and have come up with a lot of new fun ways to make pizza like Pizza Pinwheels, Pizza Muffins or Pizza Balls, but there's something about a classic deep dish pizza that we absolutely love. I set out to make this recipe for Kenya (he loves deep dish), and the results were so incredibly yummy that he's begged me to make it once a week ever since!
Since we make pizza quite a bit, once a week I make my favorite homemade pizza dough and keep it on hand for impromptu pizza nights. This recipe can absolutely be made with store bought pizza dough (there are a lot of quality ones out there) and be ready in just about 45 minutes. It's really pretty simple and a great dinner or lunch option that only requires a few ingredients – dough, sauce, cheese and toppings!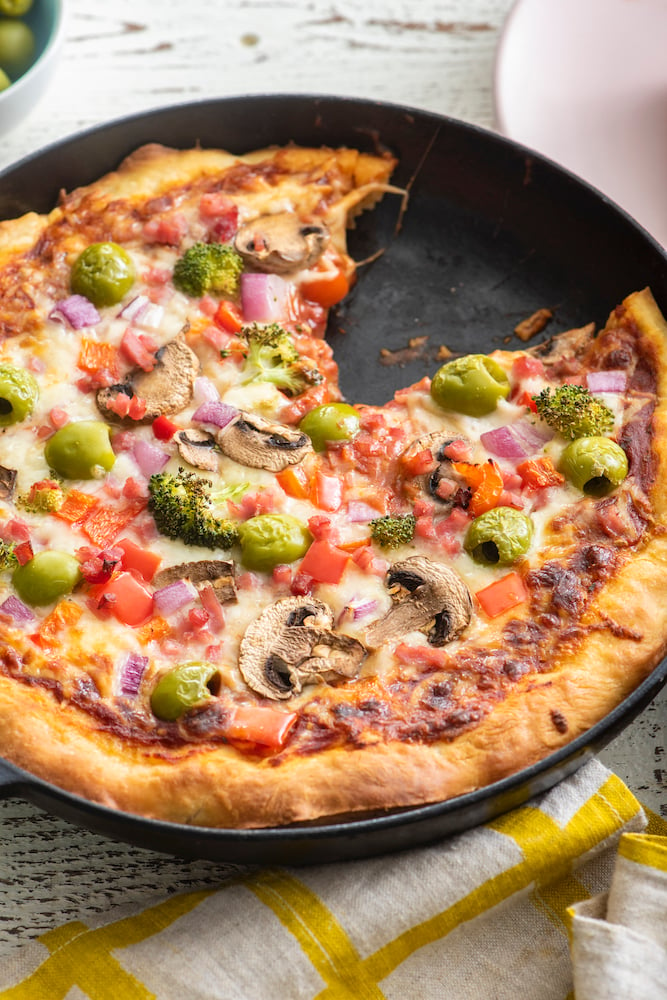 I think the reason our family is so pizza obsessed is because it's such a customizable dish. We can make one with only vegetarian toppings for Kenya or with dairy-free cheese for Gemma, and maybe a meat lovers for Chloe. It's always a win-win with everyone leaving the dinner table fully satisfied. It's a great recipe to get kids involved in the kitchen too, which I'm always a big fan of.
My favorite part about Deep Dish Pizza is how deliciously crispy the crust gets because of the cast iron skillet it's cooked in (we use 6″ to 9″ cast irons so that the crust doesn't get too thin). I love cooking in cast iron whenever I can because it's a nice non-toxic alternative to traditional nonstick pans that tend to have a lot of harmful chemicals. The way the crust remains doughy, while being crisp on the outside is so delicious. I can't even explain how good! You just have to try it.
Deep Dish Cast Iron Pizza should definitely be the recipe for your next family pizza night. Everyone will love it! Tag me on social media with your creations. I want to see all the toppings you choose!
Deep Dish Cast Iron Pizza
Ingredients
1

pound

pizza dough, room temperature

all purpose flour

2

tablespoons

butter or olive oil

1

cup

marinara or pizza sauce

2

cups

mozzarella cheese, grated
toppings of choice:
pepperoni, olives, bell peppers, onions, pineapple, ham, mushrooms, broccoli, etc
Instructions
Remove pizza dough several hours before baking pizzas to bring the dough to room temperature. This step makes it easier to stretch the dough.


Preheat oven to 450 degrees.

Sprinkle work surface lightly with flour, divide the dough in half and using your hands or a rolling pin, roll out the dough into an even circle. Leave the dough for a few minutes to rest and then roll out one more time to be 1 inch larger than the cast iron pans.

Grease the cast iron pans with butter or oil and place the dough in the pans to just come up the sides. You can press it down with your fingers to keep its shape.

Top with half of the marinara sauce, sprinkle with cheese and desired toppings.

Bake for 20-25 minutes or until golden and bubbly.

Using a pizza cutter or sharp knife, cut the pizza into slices. You can also slide the pizza onto a cutting board and then cut into wedges.