When I've told friends and family about my recent obsession with Fattoush Salad the general response is "what's Fattoush". As soon as they saw the picture of the recipe I posted last week, though, the light bulbs went off and they knew immediately.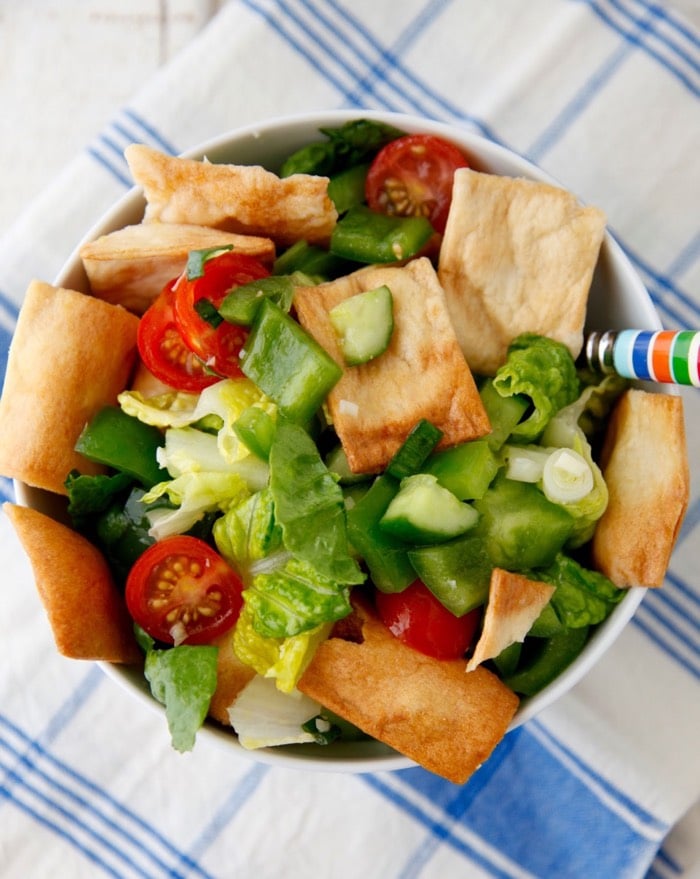 Pin
When we were on vacation at farm camp in New York this summer, my hankering for Greek food hit an all time high. My poor children have been dragged through all of my pregnancy food needs for the past few months and it's been exciting and interesting to see what they've enjoyed most.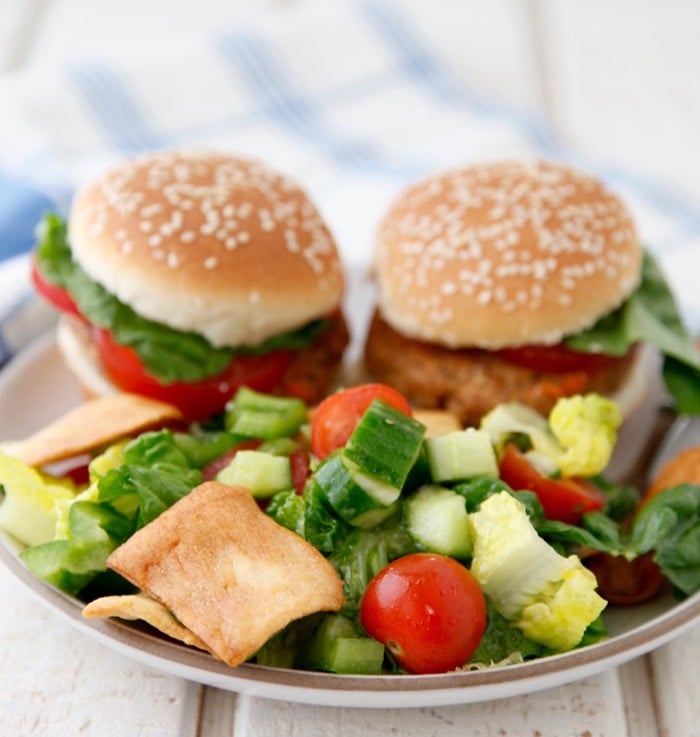 Pin
International food has been at an all time high on my list of food cravings and Greek right at the very top. I love anything grilled, crunchy or briny, so Greek cuisine makes a ton of sense. When we go out Chloe and I always order a double portion of grilled octopus, Kenya a meze platter with hummus, baba ghanoosh and tabbouleh and we all love a large side of Fattoush Salad. If you've never had Fattoush Salad now is the time to give it a try as it's really simple with the most basic of ingredients of cucumbers, tomatoes and pita chips. I've seen people use sumac (a delicious spice) into the dressing, but I really enjoy it with just a squeeze of lemon juice and olive oil keeping it as simple as possible.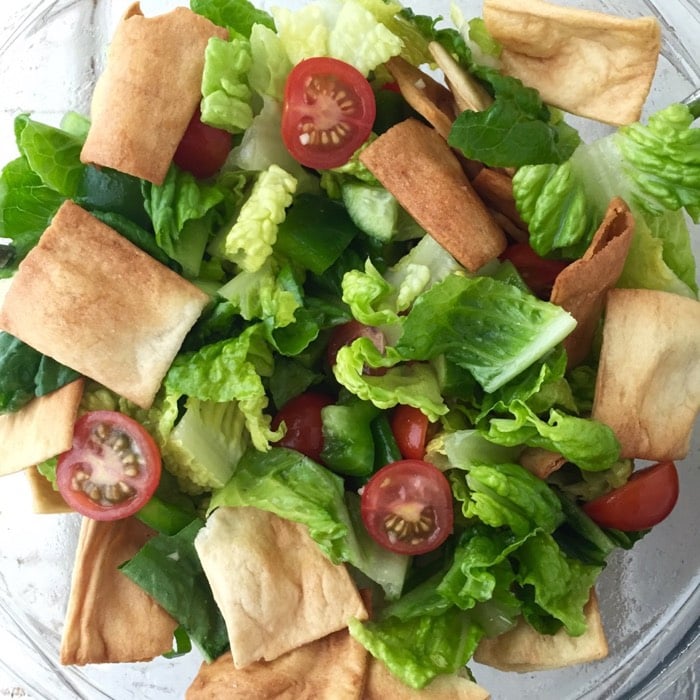 Pin
Besides the fact that this is easy to prepare it's a great dish to make with your kids as it's really easy. Even for kids who don't like the idea of eating "salad", the pita chips add the same excitement that croutons do in a Caesar salad making it extremely memorable!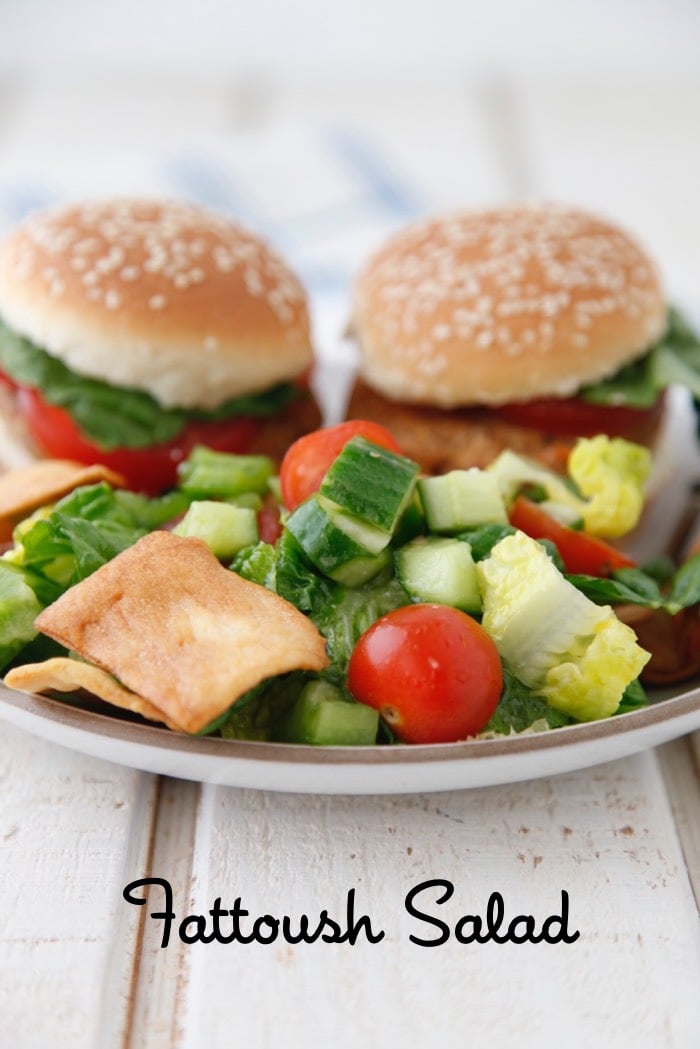 Pin
Especially in summertime when tomatoes and cucumbers are at the peak of perfection, there's another excuse to whip up a bowl of this salad to serve at a picnic or pool party! If you can't seem to wrap your head around something simple to make for dinner, just keep these ingredients on hand as it only takes minutes to throw together.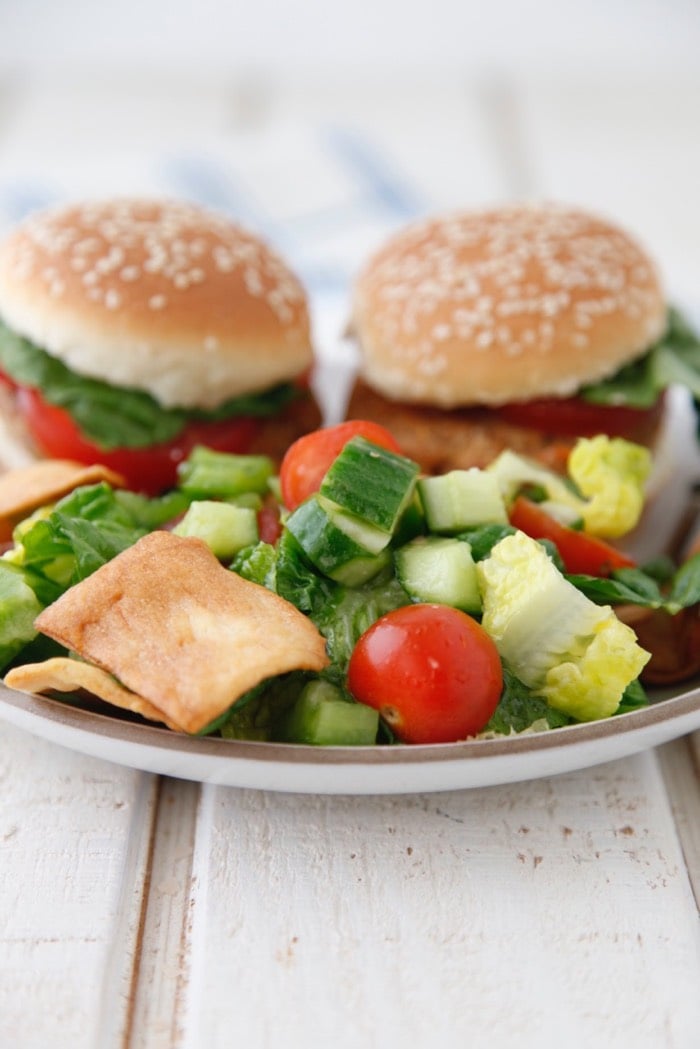 Pin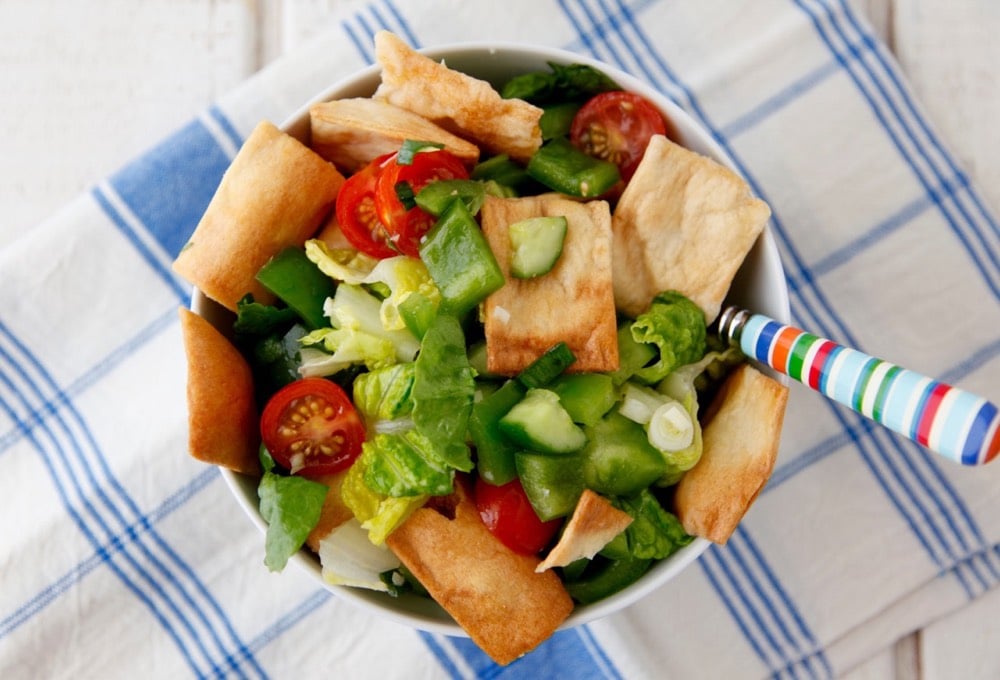 Pin
Fattoush Salad
Ingredients
4

cups chopped

lettuce

1

cup

halved cherry tomatoes

2

persian cucumbers

1

green bell pepper, diced

2

Green Onions, chopped

of 1 lemon

2

tablespoon

olive oil

1

garlic clove, minced

1/2

teaspoon

kosher salt

2

cups

baked pita chips
Instructions
In a large bowl, combine the lettuce, tomatoes, cucumbers, bell peppers and green onions.

In a small bowl, whisk together the lemon juice, olive oil, garlic and salt. Pour the dressing over the salad and toss to combine well.

Add the baked pita chips and toss to combine.